Tesla has been releasing FSD Beta updates on a semi-regular schedule, about once every two weeks. The latest version is 10.6.1, but it was only rolled out to select beta testers. Most FSD testers are still on beta 10.5.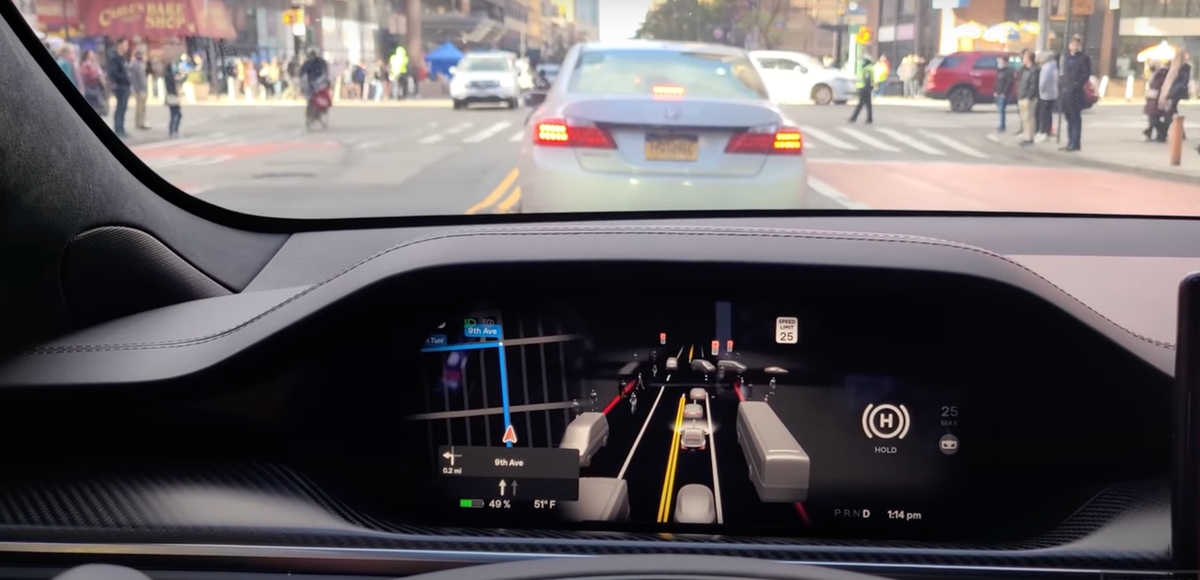 According to Elon Musk, Tesla is set to release FSD Beta 10.8 this week, skipping over version 10.7.
However, it looks like v10.7 was released internally, as the technical release notes have now been leaked to Sawyer Merritt on Twitter.
FSD Beta 10.7 is version 2021.44.5.5. The technical release notes state:
- Improved object attributes network to reduce false cut-in slowdowns by 50% and lane assignment error by 19%.
- Improved photon-to-control vehicle response latency by 20% on average.
- Expanded use of regenerative braking in Autopilot down to 0mph for smoother stops and improved energy efficiency.
- Improved VRU (pedestrians, bicyclists, motorcycles, animals) lateral velocity error by 4.9% by adding more auto-labeled and simulated training examples to the dataset.
- Reduced false slowdowns for crossing objects by improved velocity estimates for objects at the end of visibility. Reduced false slowdowns by adding geometric checks to cross-validate lane assignment of objects.
- Improved speed profile for unprotected left turns when visibility is low.
- Added more natural behavior to bias over bike lanes during right turns.
- Improved comfort when yielding to jaywalkers by better modelling of stopping region with soft and hard deadlines.
- Improved smoothness for merge control with better modelling of merge point and ghost objects positioned at the edge of visibility
- Improved overall comfort by enforcing stricter lateral jerk bounds in trajectory optimizer.
- Improved short deadline lane changes through richer trajectory modeling.
- Improved integration between lead vehicle overtake and lane change gap selection.
- Updated trajectory line visualization.
There are a lot of changes in this FSD release. Based on the release notes it sounds like this release may help fix some of the larger complaints testers have had, mainly around false slowdowns and jerkiness when taking a turn.
It looks like there will also be an updated visualization for the car's trajectory, which we will be sure to add to our full list of FSD Beta visualizations.
Tesla is set to release beta 10.8 with the holiday update as early as this Tuesday. Between the FSD Beta release and the new holiday features, it's likely to be the most anticipated and exciting release of 2021.
| Beta | Released | Version |
| --- | --- | --- |
| Beta 9.0 | July 10th, 2021 | 2021.4.18.12 |
| Beta 9.1 | July 31st, 2021 | 2021.4.18.13 |
| Beta 9.2 | August 15th, 2021 | 2021.12.25.15 |
| Beta 10.0 | September 11th, 2021 | 2021.24.15 |
| Beta 10.0.1 | September 18th, 2021 | 2021.24.16 |
| Beta 10.1 | September 25th, 2021 | 2021.24.17 |
| Beta 10.2 | October 11th, 2021 | 2021.32.25 |
| Beta 10.3 | October 24th, 2021 | 2021.36.5.2 |
| Beta 10.3.1 | October 25th, 2021 | 2021.36.5.3 |
| Beta 10.4 | November 6th, 2021 | 2021.36.8.5 |
| Beta 10.5 | November 22nd, 2021 | 2021.36.8.8 |
| Beta 10.6 | December 4th, 2021 | 2021.36.8.9 |
| Beta 10.6.1 | December 11th, 2021 | 2021.36.8.10 |