Details
Release Date
October 24, 2021
FSD v10.3 Release Notes
- Added FSD Profiles that allow drivers to control behaviors like rolling stops, exiting passing lanes, speed-based lane changes, following distance and yellow light headway.
- Added planning capability to drive along oncoming lanes to maneuver around path blockage.
- Improved creeping speed by linking speed to visibility network estimation and distance to encroachment point of crossing lanes.
- Improved crossing object velocity estimation by 20% and yaw estimation by 25% by upreving surround video vehicle network with more data. Also increased system frame rate by +1.7 frames per second.
- Improved vehicle semantic detections (e.g. brake lights, turn indicators, hazards) by adding +25k video clips to the training data set.
- Improved static obstacle control by upreving the generalized static object network with 6k more video clips (+5.6% precision, +2.5% recall)
- Allowed more acceleration when merging from on-ramps onto major roads and when lane changing from slow to fast lanes.
- Reduced false slowdowns and improved offsetting for pedestrians by improving the model of interaction between pedestrians and the static world.
- Improved turning profile for unprotected turns by allowing ego to cross over lane lines more naturally, when safe to do so.
- Improved speed profile for boosting onto high speed roads by enforcing stricter longitudinal and lateral acceleration limits required to beat the crossing object.
Autopark
Available in specific regions
Autopark now identifies perpendicular parking spots using painted markings and road edges.
Full Self-Driving (Beta)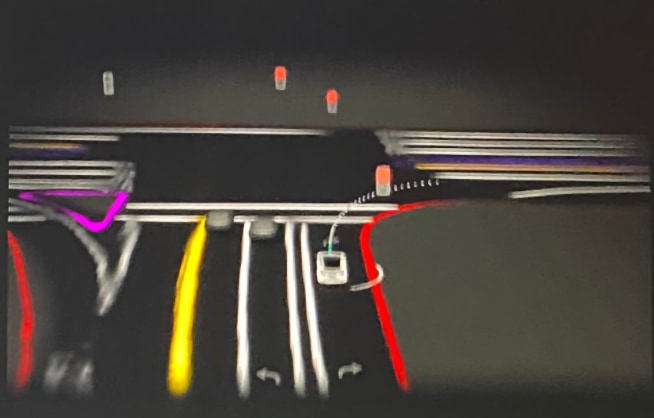 Full Self-Driving is in early limited access Beta and must be used with additional caution. It may do the wrong thing at the worst time, so you must always keep your hands on the wheel and pay extra attention to the road. Do not become complacent. When Full Self-Driving is enabled, your vehicle will make lane changes off highway, select forks to follow your navigation route, navigate around other vehicles and objects, and make left and right turns. Use Full Self-Driving in limited Beta only if you pay constant attention to the road, and be prepared to act immediately, especially around blind corners, crossing intersections, and in narrow driving situations.
Driving Visualization Improvements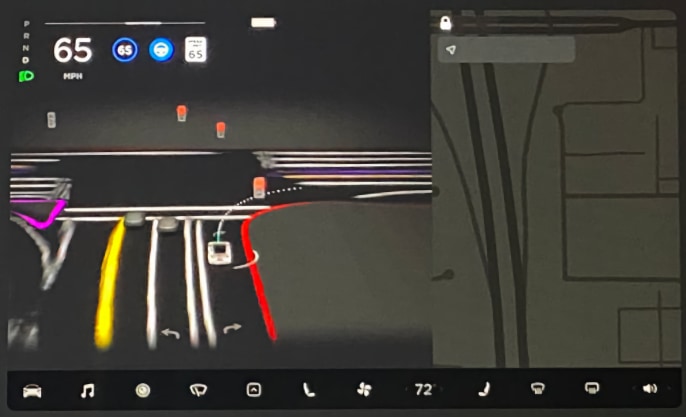 The driving visualization has been improved to better support Full Self-Driving capabilities. When Full Self-Driving is engaged and apps are not displayed, the driving visualization will expand to show additional surrounding information. To disable the Expanded Full Self-Driving Visualization, tap Controls > Autopilot. With the larger visualization, select items have slightly moved but will continue to look and behave the same.
Cabin Camera Updates
Available in specific regions
Cabin Camera
The cabin camera above your rearview mirror can now detect and alert driver inattentiveness while Autopilot is engaged. Camera data does not leave the car itself, which means the system cannot save or transmit information unless data shared is enabled. To change your data settings, tap Controls > Safety & Security > Data Sharing on your car's touchscreen.
This is an early look at this update's release notes. There could be other features included that are not shown below.
Energy App
Learn more about your vehicle's energy consumption with the updated Energy app. You can now:
- Monitor the amount of energy used while driving and parked.
- See how much energy is consumed by different vehicle components, driving behaviors, and environmental conditions.
- View energy used in comparison to trip projection and the battery indicator.
- Receive personalized suggestions for using energy more efficiently.
Supercharger Additional Details
The redesigned Supercharger map popup will now display historical site occupancy in addition to the associated charging fees when available. To view these details, tap on any Supercharger pin that is in the vicinity of your vehicle.
Car Left Open Notifications
Car Left Open Notifications will now notify you when the doors have been accidentally left unlocked.
New Language Support
You can now select Lithuanian as your touchscreen language. To update your language settings, tap Controls > Display and select your preferred language from the Touchscreen Language' drop- down menu.
Please check back shortly. If you have received 2021.36.5.2, you can share release notes with us below.
Alternate Routes
View up to three routes when navigating to a destination. Quickly compare the total travel time and traffic information for each route.
Note: Traffic information is only displayed with Premium Connectivity.
Editor's note: Tesla is rolling out Alternate Routes selectively. The feature is enabled by Tesla remotely and not all vehicles will receive it at the same time. Tesla appears to be gathering feedback before rolling out the feature to everyone.
Theater Mode
Available Worldwide
MCU 2
MCU 3
Full screen Theater Mode can now be minimized, allowing access to vehicle controls without video playback interruption. Tap the minimize button on the top left corner of the window to toggle full screen mode.
Status Bar
A status bar with select quick controls has been added to the top of the touchscreen map.
Sonic
Available Worldwide
No Data Front USB Ports
Jump into the original Sonic the Hedgehog! Use the supersonic spin attack or defy gravity to defeat Dr. Eggman as the fastest hedgehog of all time. To access Sonic in PARK, tap the Application Launcher > Arcade. A game controller plugged into the glovebox USB port is required.
Cat Quest
Available Worldwide
No Data Front USB Ports
Leap into a grand adventure of dragons, magic and cats to pursue the evil Drakoth and your catnapped sister. To access Cat Quest in PARK, tap the Application Launcher > Arcade. A game controller plugged into the glovebox USB port is required.
Cuphead
Available Worldwide
No Data Front USB Ports
Traverse strange worlds with new weapons and powerful super moves to repay your debt to the Devil with this classic run-and-gun action game. To access Cuphead in PARK, tap the Application Launcher > Arcade. A game controller plugged into the glovebox USB port is required.
Portuguese Voice Navigation
Available Worldwide
Select Regions
Your navigation voice guidance is now available in Portuguese. To switch your language setting, tap Controls > Display > Voice Navigation Language.
Smart Summon
Smart Summon allows your vehicle to remotely drive to you or a location of your choice, maneuvering around objects and stopping as needed. To activate Smart Summon from the Tesla app, select Summon from the menu and hold "Come to Me," or set a destination on the map and hold "Go to Target."
Note: To use Smart Summon in this region, please stand within six meters of the vehicle.
Radio Icon
Available Worldwide
Undocumented Change
The radio icon has also been updated to be more ambiguous with this update. The traditional analog radio markers have been flipped so that they now run vertically instead of horizontally.
The letters 'FM' have also been replaced with a generic circular icon so that it's more inclusive of other supported bands such as DAB, which is supported in many parts of the world.
Spotted by @roslan3d
HomeLink Buttons
Available Worldwide
Undocumented Change
The HomeLink buttons have once again been relabeled. When pulling up to your garage door, the buttons will once again be labeled with the name you've given your garage doors (top photo). However, if you have auto-open or auto-close enabled, then you will see the 'Cancel' text inside of the button for the specific door that will be opened or closed. The rest of the buttons will still show their given labels (bottom photo).
Photo by daniel454/Not a Tesla App forums
Safety Menu Reorganized
Available Worldwide
Undocumented Change
The vehicle options under Controls > Safety have been slightly rearranged. Sentry Mode, PIN to Drive and Glovebox PIN have moved up. This allows you to quickly enable or disable them without needing to scroll.
Suggested Destinations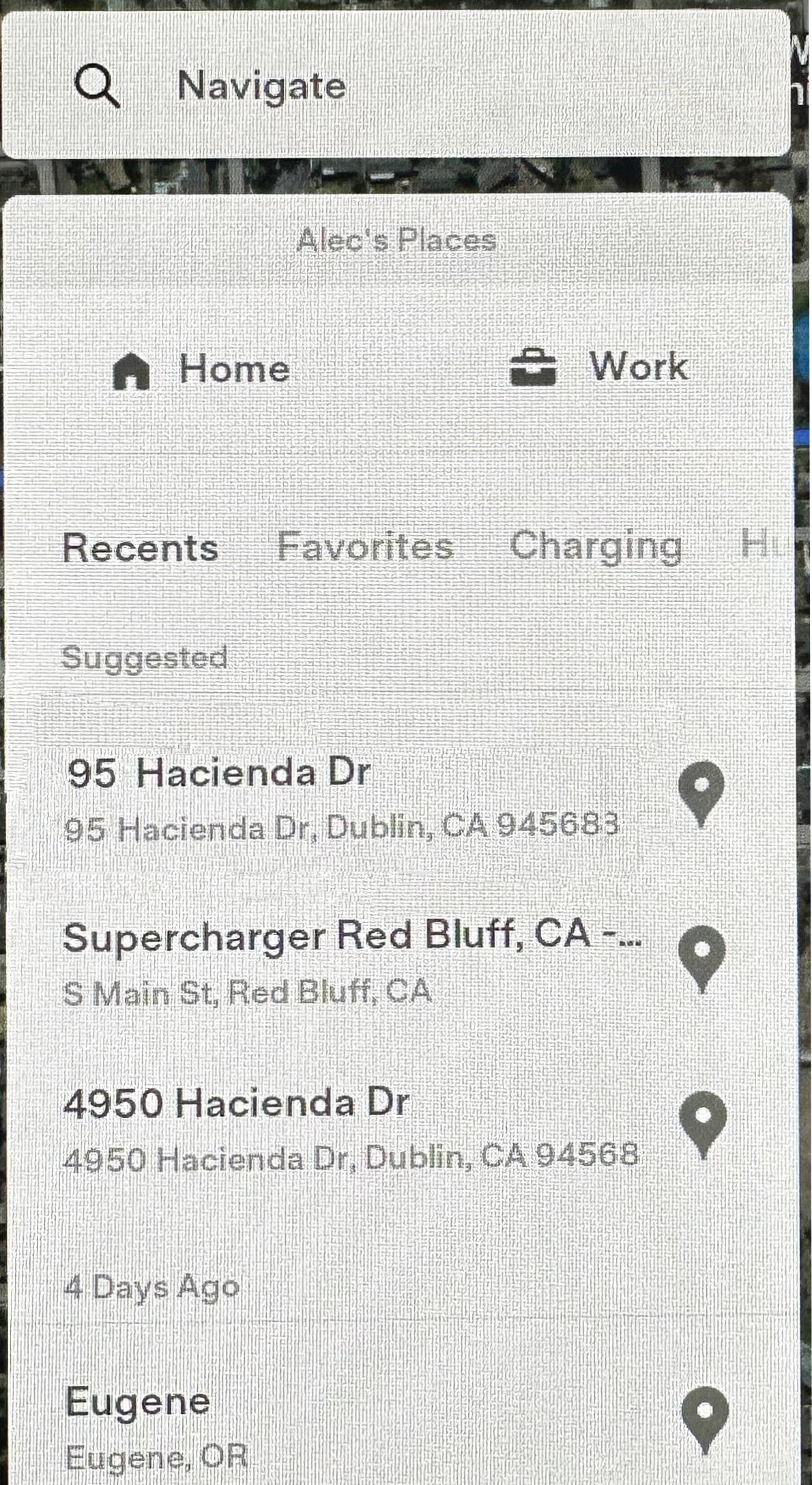 Available Worldwide
Undocumented Change
When tapping on the 'Navigate' button, you will now be presented with various suggested destinations. You will receive up to three suggested destinations that will appear at the top of recent destinations. These suggestions will automatically change depending on various factors.
Dark Mode
Available Worldwide
Undocumented Change
The dark mode color scheme has been adjusted so that various screens now use lighter gray tones. For example, prior to this update the car visualization and apps like the media player both used the same dark gray color for the background.
However, with this update Tesla has changed the background color of apps from a dark gray to a much lighter gray so that they stand out from the vehicle visualizations.
Photo by @ ClemensBecher
Tesla Theater Status Bar
Available Worldwide
Undocumented Change
With this update Tesla introduces the ability to minimize Tesla Theater, allowing you to access vehicle menus and settings without leaving your streaming video.
Previously while streaming video in full screen, there was a quick access bar at the top of the video that could be revealed by tapping near the top of the screen. This status bar lets you access some vehicle controls without leaving the video. Video controls such as cabin temperature, screen brightness and volume could easily be changed.
Since you can now minimize a full-screen video without leaving the video app, Tesla has mostly removed the options that once appeared at the top of a video.
When tapping near the top of the screen, the number of options has been reduced to minimize theater, a back button and the state of charge of your battery.
A gray line has also been added to the top of the screen to let you know that you can now swipe down on the full-screen video to access other car functions.
Photo by @ ClemensBecher
Phone Icon
Available Worldwide
Undocumented Change
When you're on a call in the vehicle, the green phone icon will now always remain visible in the status bar, regardless if the phone card is hidden or not. The icon in the status bar has also changed shape slightly, going from a pill shape to a square.
Photo by Corey2002 in the Not a Tesla App forums.
Vehicle Alerts
Available Worldwide
Undocumented Change
Some vehicle alerts will now contain an arrow that could be tapped for additional information.
Tapping the arrow will open the vehicle's manual to the appropriate section and display additional details regarding the alert.
Photo by @StianWalgermo
Battery Calibration
Available Worldwide
Undocumented Change
Your vehicle will now display 'Calibrating,' when charging is nearing completion. This will be displayed for all vehicles, regardless of their battery type.
Photo by @roslan3d
Sponsors

TeslaFi is a service that logs your drives and charging sessions so that you can later refer back to them. We highly recommend checking them out if you use your car for business trips and would like to keep track of reimbursements, if you like to see how much you spend on charging or if you just love statistics. View their about us page and see everything they have to offer!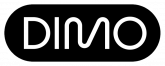 DIMO is building a web3, user-owned network dedicated to supporting the next generation of mobility infrastructure. As a user, you can start today by accessing the best connected vehicle experience via the DIMO Mobile App. It works for nearly any vehicle and across any OEM; users are in control of their data and their DIMO wallet is a conduit to other apps and services, saving time and money. Learn more
Although we share official Tesla release notes, we are not affiliated with Tesla Motors. We are Tesla fans and supporters.