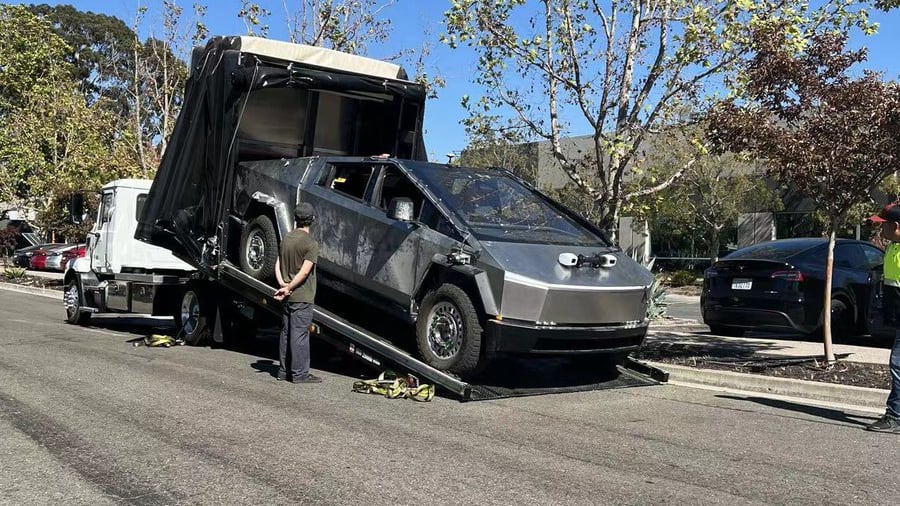 A recent spotting of Tesla's Cybertruck shows that it's being tested with what seem like additional cameras.
Twitter user Whole Mars Catalog shared a photo on Twitter of the Cybertruck. The highly anticipated vehicle was seen being unloaded with what seemed like a number of sensors, including some camera calibration equipment.
The pictured Cybertruck appears to be pretty battered up and covered in dirt, suggesting that Tesla has been putting it through rigorous real-world testing.
With the expected Cybertruck deliveries to begin in roughly one year, the picture seems to confirm that Tesla's team is working diligently to complete the truck's final sensor and camera alignments ahead of the production ramp.
During an interview with the Tesla Owners Silicon Valley, Musk stated that the Tesla team had "got too carried away with the…" and then paused, which hinted that they struggled to bring a handful of the Cybertruck's original features to fruition.
But these struggles certainly are no match for Musk and the dedicated Tesla team. They have continued to prove to the world that they are the company that is solving humanity's issues by fighting for renewable energy, making electric vehicles affordable, fun, safe, and stylish.
The Cybertruck is built for strength from the ground up. The vehicle's frame is made entirely of stainless steel, which was infamously demonstrated by Tesla's Chief of Design Franz von Holzhausen by bashing it with a sledgehammer at Cybertruck's unveiling. Its glass is made of Tesla Armor Glass.