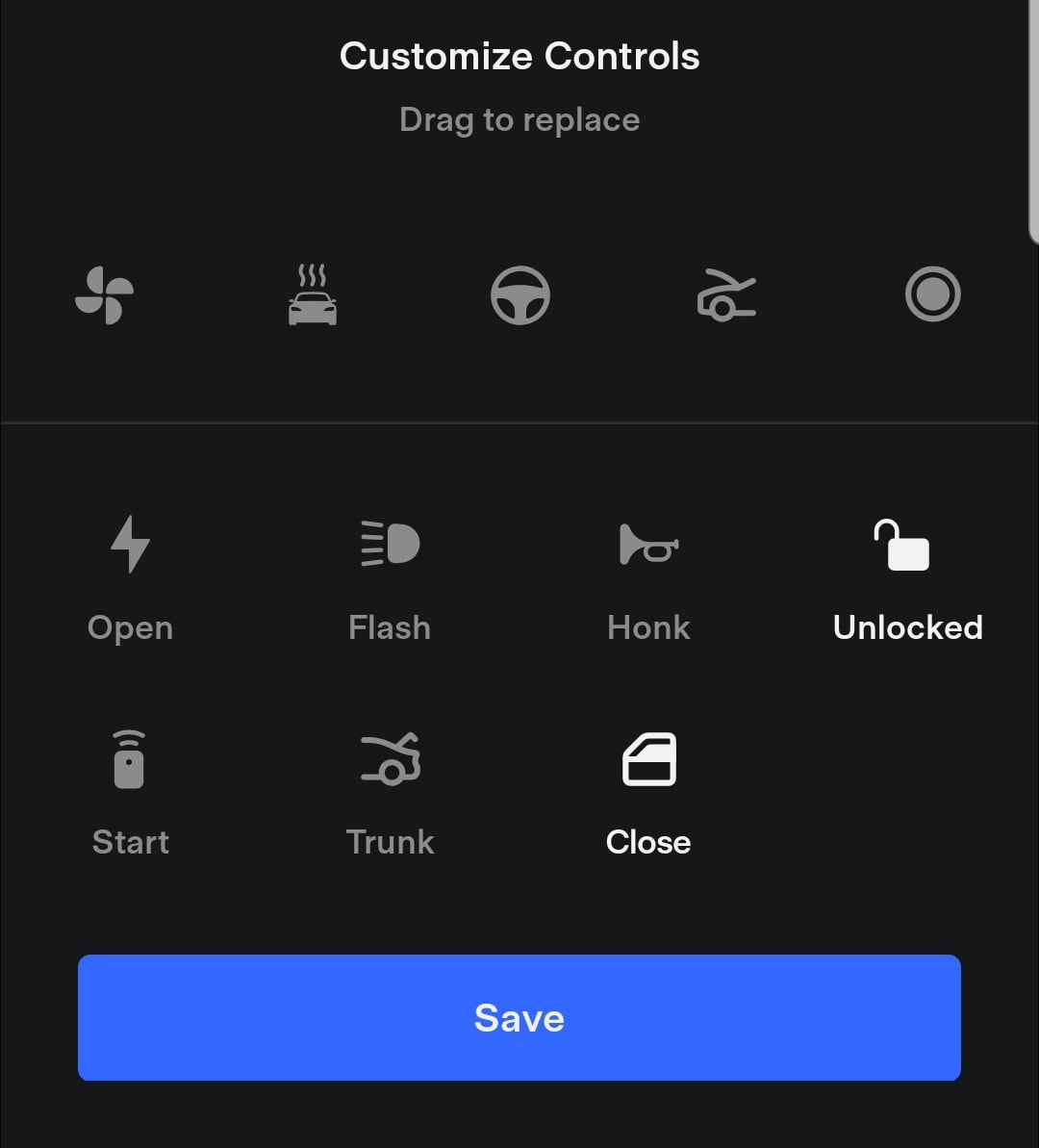 Tesla completely redesigned their app with version 4.0 last year. Since then Tesla has been quickly iterating on its features with updates and new features coming every few weeks.
With version 4.3 of the Tesla app, Tesla added the ability to customize the Quick Control buttons on the main screen.
You can add up to four buttons, but with this little trick, you can also add a fifth icon.
Add a Fifth Icon to the Tesla App
To add a fifth icon start by long-pressing the row of icons to bring up an editing screen to sort or replace those icons with the ones you use most frequently.
Now here is where the fun starts because it will take a little manual dexterity to add the additional icon but when you do it correctly your sense of accomplishment will out weight your initial frustration.
Here is the trick:
With your right thumb, pick up one of the available icons and drag it over the fourth icon (in the screen above it is the Front Trunk icon), but do not release it.
While keeping your right thumb held down, use your thumb on your left hand to press on the 1st icon (in the screen above it is the HVAC icon), and drag it to the second icon (the Defrost icon). The icon you have brought up will move offscreen to the right into the invisible fifth spot.
Release both fingers simultaneously and VIOLA a fifth icon will magically appear.
Have fun mixing and matching your icons as your needs change. You can update the icon bar as often as needed.
Video
Tesla used to allow users to continue to add an unlimited amount of icons, but it wasn't a great experience so the total number of icons is now limited to five.
Additional Tips
There are several other useful bits of information about the Tesla app that could make it more useful.
For example, you can tap the battery icon at the top of the screen to access charging information. This brings up the same information as tapping on the Charge Quick Control icon.
If you prefer tapping the battery icon, you can remove the Charge icon from the Quick Controls area, allowing you to free up a spot, essentially giving you an extra Quick Control slot.
Wake Up Your Vehicle Quicker
When using the app most commands are executed through the vehicle's internet connection, which requires your vehicle to be awake.
Waiting for your vehicle to wake up could sometimes take up to a minute, but there is a way to speed it up if you're within Bluetooth distance (around 30 feet).
Some commands are sent via Bluetooth, which allows them to be completed even if the vehicle is asleep. This includes locking and unlocking the doors.
When completing one of these commands, your Tesla starts to turn on almost immediately.
If you're waiting for your vehicle to turn on, you can send a command to lock/unlock your vehicle and your vehicle should wake up quicker than just waiting.
Widget
If you've added a fifth icon to your Quick Controls and use the Tesla app widget, then the widget will now display all five icons as well.
No Need to Wait
With the introduction of the Tesla app version 4.0 last year, Tesla quietly rolled out a feature that changes the way you use the app.
Previously, you needed to open the Tesla app, wait for your vehicle to wake up, and then you could send a command to the car, such as using turning on the climate system or using HomeLink.
However, now you can simply open the app, tap your desired function (it'll show a spinning circle) and you can quit the app.
Instead of the command going directly to your car, it will now be sent to Tesla. Tesla's servers will be the ones who wait for your vehicle to wake up, and when it does, Tesla will execute the command.
If for some reason Tesla isn't able to wake up your vehicle due to a poor connection or another error, then you'll receive a notification saying the command failed.
This makes turning on the HVAC system a much more enjoyable experience.