In the controls menu, under the suspension tab, the usual image of the Tesla is replaced by the submarine version of the Lotus Esprit that James Bond drove an off a pier into the ocean in the movie The Spy Who Loved Me. A new "Depth (Leagues)" drop down menu appears next to the Esprit. The air suspension will raise and lower depending on the selected depth.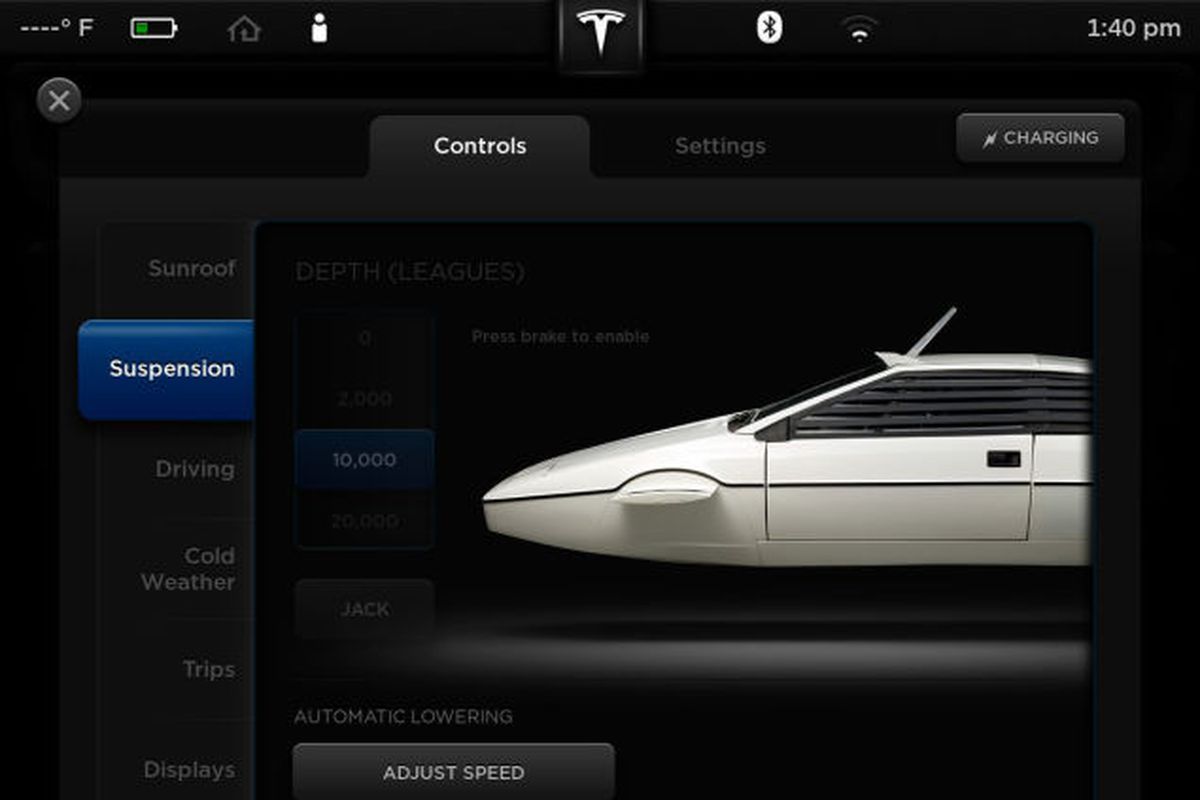 Activating the easter egg a second time will result in the submarine fins being replaced by wheels. Once again, adjusting the "Depth" will adjust the air suspension, changing the position of the esprit with respect to the wheels.
Tesla, Inc., Elon, and 007 have other notable connections besides the easter egg. In 2013, Musk won an auction and is currently in possession of the original Bond submersible used in the film. In 2019, Elon Musk announced at a shareholder meeting that Tesla had a design for a real, electric submarine car.
This easter egg works on the Model S and Model X. Vehicle must have the air suspension package.
To activate this easter egg: A prolonged (5 second) press of the Tesla "T" icon at the top of the touchscreen display results in a graphic which appears as a single water ripple away from the center of the "T" icon. Once the "T" is released, a text box is revealed along with a keyboard for entering text. The text box says "please enter access code" with a text entry field below and button options "OK" and "Cancel" below that. This text box is mainly used by service centers and showrooms for things like service mode and showroom mode, but does also allow access to certain easter eggs. Entering "007" and pressing "OK" will activate the Lotus Esprit submarine easter egg.