Model S
Model 3
Model X
Model Y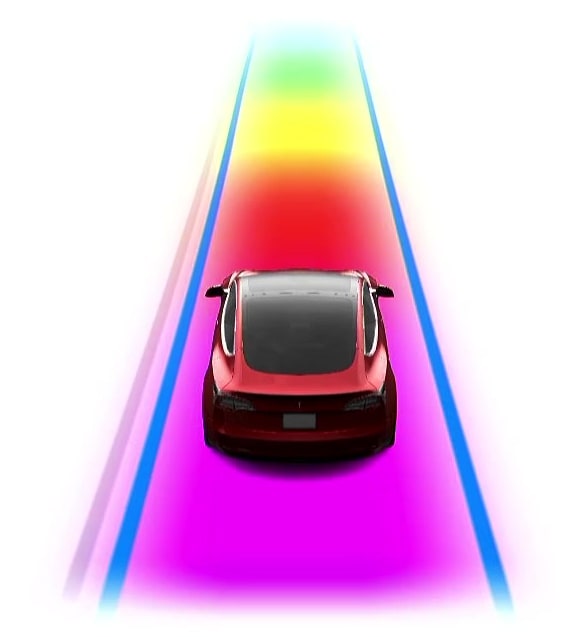 The on screen animation of your car's environment will change. The computer vision generated road that the car is driving on, denoted by two lines, will change into a rainbow which is similar to that of Rainbow Road, the final level in each version of the video game Mario Kart.
At the same time, the song (Don't Fear) The Reaper by Blue Oyster Cult plays in the cabin of the vehicle. Notably, the version of the song that plays is taken from the Saturday Night Live skit, More Cowbell, in which music producer "The Bruce Dickinson", played by host Christopher Walken, encourages Gene Frenkle, played by then cast member Will Ferrell, to play his instrument, the cowbell, with zeal.
As part of the easter egg, Christopher Walken can be heard stating his lines from the skit, that he "has a fever" and that the "only prescription, is more cowbell". While the music and lines from the skit will stop after a minute or two, the rainbow road will continue indefinitely until autosteer is disengaged.
If the car is not using autosteer, and the "Easter Egg Drawer" is used to activate the effect, tapping the cowbell will result in a message entitled "Rainbow Road". The message includes instructions on how to activate rainbow road, that Autosteer must be engaged, and a description of the effect. This information is followed by the exclamation, "I gotta have more cowbell!"
This easter egg works on the Models S, 3, X, and Y. Autosteer capable vehicles only.
To activate this easter egg: With autosteer engaged, push the right stalk behind the steering wheel down four times in rapid succession. The same control stalk is used to switch from park to drive or reverse, and to activate autopilot.