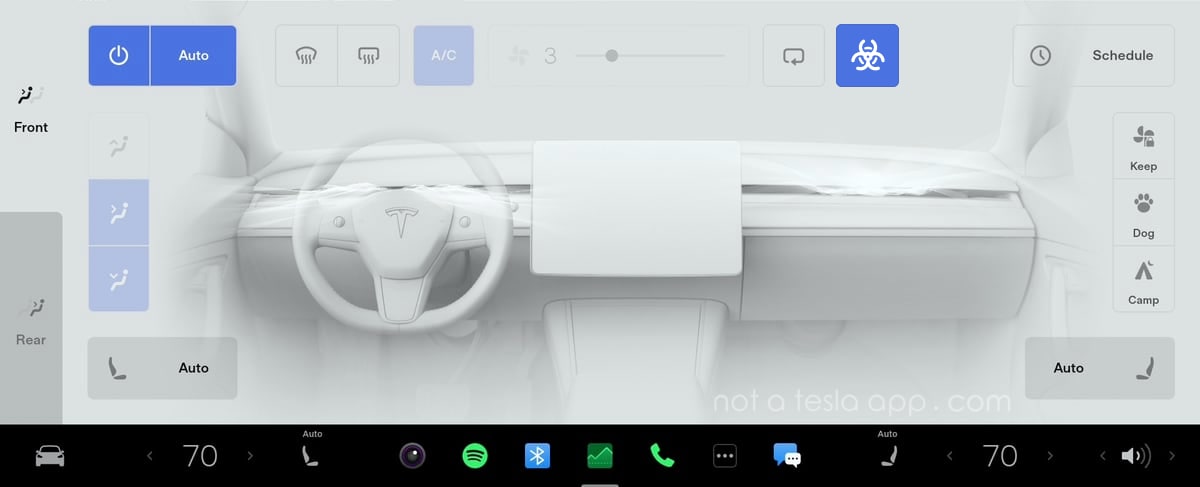 Tesla has a few more tricks hidden in the Tesla 2023.26 update. This update has already introduced us to several improvements to Service Mode, but now a new batch of features has been discovered, thanks to user NinerByNature. These new features outlined in Tesla's owner's manual affect the vehicle's HVAC system, backup camera and more.
Lower HVAC Fan Speed While on a Call
The update impacts the HVAC system and aims to provide a better environment for drivers during phone conversations. According to Tesla's updated owner's manual, "When in Auto, the fan speed may automatically lower to reduce the sound of ambient noise while on a call." This is a thoughtful feature and will be one of those that go unnoticed, but for anyone who has lived through a call while trying to turn down the fan noise, we are grateful!
Backup Camera Repositioning
The software update also hints at advancements on the visual front. An intriguing passage in the "Rear Facing Camera(s)" section of the owner's manual raises anticipation. The manual states:
Drag the camera feed to different positions on the touchscreen, depending on your preferences.
While currently speculative, this development suggests a forthcoming feature that may enable the repositioning of the backup camera feed on the touchscreen.
Unfortunately, this feature is not available in the 2023.26 update as the manual states, so we're not sure whether it's a typo, or if it's an upcoming feature that was simply included in the owner's manual prematurely.
At present, whenever a Tesla vehicle is shifted into reverse, the screen automatically displays the rearview camera, with lines that adjust as per the steering wheel's position. The driver can also display the fender/repeater cameras, but there's currently no way to drag any of the camera feeds to another location.
Pause 'Pedestrian Warning System' for Some Cars
Tesla's attention to safety is also evident in the manual's discussion of the Pedestrian Warning System for cars manufactured between September 2020 and November 2021. This system, which emits a sound when the vehicle is moving at approximately 19 mph or in reverse, is designed to alert pedestrians to the vehicle's approach. The software allows drivers to temporarily pause this system when necessary, such as in heavy traffic situations. However, the manual warns that this feature might not be available in vehicles manufactured post-November 2021.
From reducing ambient noise during phone calls to introducing an intriguing repositioning of the backup camera feed, Tesla's 2023.26 update continues to bring us more unnoted improvements. Tesla's 2023.26 update also includes additional Service Mode screens for troubleshooting, a suggested destination when you enter the vehicle and more features that weren't included in the release notes.