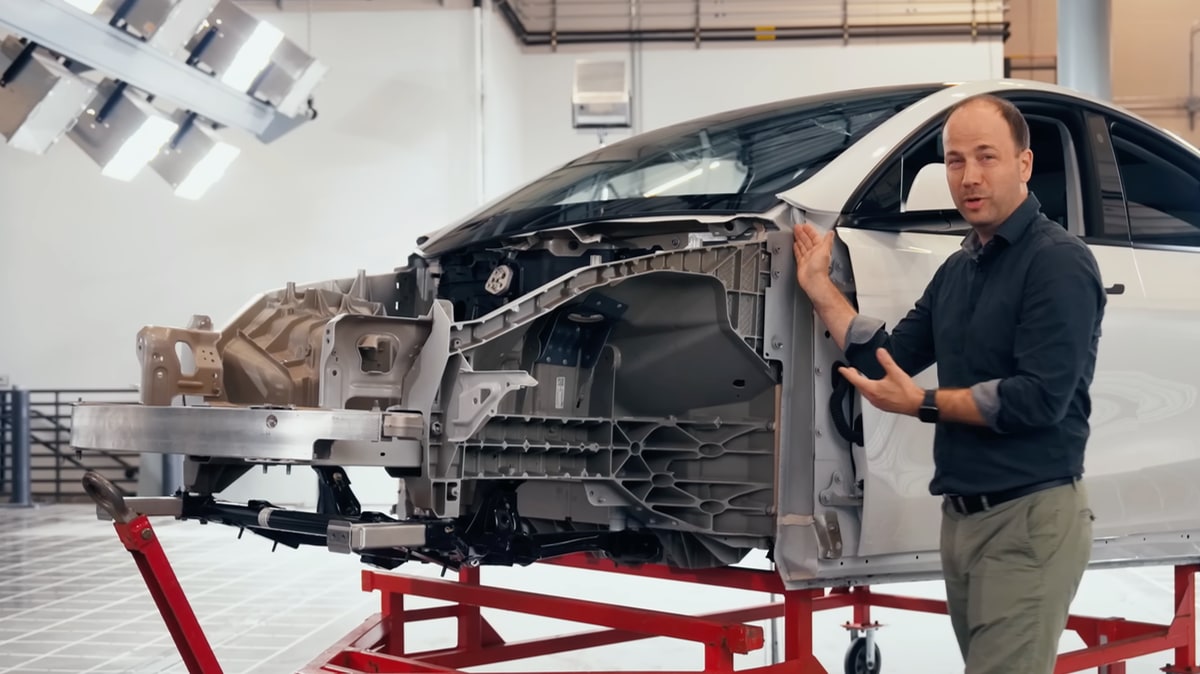 Tesla gave us a look inside the engineering crash safety lab with its latest video on YouTube (below). Vice President of Vehicle Engineering Lars Moravy shares some fascinating insights on what makes Tesla vehicles so safe. He explained that Tesla considers passive safety from the beginning of a design.
Passive safety refers to the features and structures that protect occupants in the event of an accident, as opposed to active safety systems that help prevent accidents from occurring in the first place. Tesla's two main priorities in passive safety design are protecting the occupant and protecting the battery.
Progressive Crash Structure
Moravy elaborated on Tesla's crash structure strategy, saying, "What we're trying to do is absorb as much energy from whatever object you hit before it gets to the cabin." This is achieved through a progressive crash structure consisting of a bumper beam, crush can, and a front underbody casting recently debuted in Austin.
Multiple Load Paths: Vertical and Lateral Energy Absorption
A key feature of Tesla's safety design is the multiple load paths, which accommodate various vehicle sizes and types. Moravy explained, "There's a higher load path for compatibility with other vehicles on the road...sometimes we need a lower load path if you hit a different sized object." These load paths work vertically and laterally to ensure energy is absorbed and the car is pushed away from the object it collides with.
Reinforcing Cabin Safety with Door Rings, Glass, and Battery Structure
The door rings, glass and battery structure reinforce the cabin's safety. One unique aspect of Tesla vehicles is the low placement of the battery, which creates a lower center of gravity. This, combined with the suspension system, significantly reduces the risk of rollovers.
Crash Test Success: Model Y's Five-Star Rating
Moravy proudly showcased a Model Y that had been crash-tested at NHTSA for a five-star rating, emphasizing the effectiveness of Tesla's safety systems. He pointed out that "all that energy was absorbed up front here, stopping really at the cabin," allowing occupants to exit the vehicle after the crash safely. In addition, the cabin remained largely untouched, maintaining its original space to ensure occupant survival.
Tesla's commitment to safety begins at the design stage, focusing on passive safety and innovative engineering. Multiple load paths controlled crushing, and a low center of gravity all contribute to the exceptional safety ratings Tesla vehicles consistently achieve. As Moravy so aptly put it, Tesla's top priority is to "protect the occupant," and their engineering efforts are a testament to that mission.