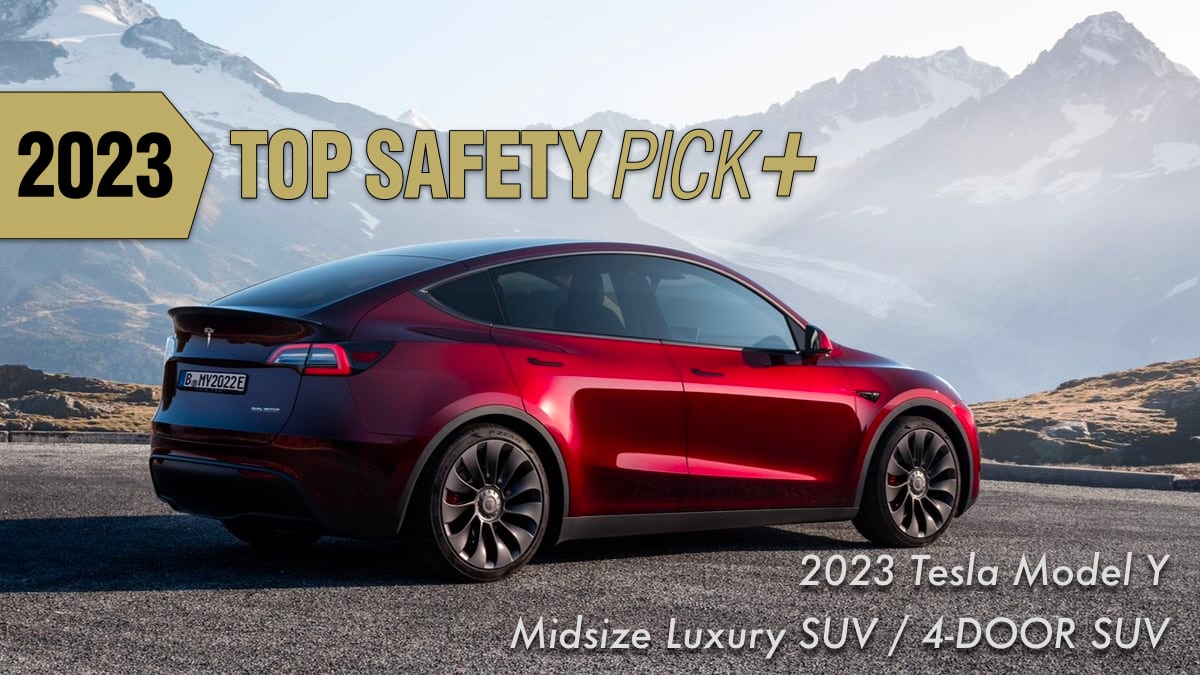 Tesla's Model Y has been recognized as one of the safest cars of 2023 by the Insurance Institute for Highway Safety (IIHS), receiving the agency's Top Safety Pick+ rating for the third year. Despite the IIHS' updated, more stringent criteria this year, the Model Y's top-rated safety features and performance earned it a place among the 48 vehicles that qualified for the 2023 awards, with 28 earning a Top Safety Pick+ rating and 20 achieving a Top Safety Pick rating.
IIHS Using More Rigid Standards
IIHS President David Harkey stated that the smaller number of winners this year reflects the IIHS' goal of encouraging automakers to continue improving vehicle safety. "These models are true standouts in both crashworthiness and crash prevention," he said.
The IIHS' updated criteria include an updated side crash test involving 82% more energy than the original, a new nighttime vehicle-to-pedestrian front crash prevention test, and stricter headlight requirements. The agency added the nighttime vehicle-to-pedestrian front crash prevention test to its metrics to address the rising number of pedestrian crashes. Harkey explained, "Safer vehicles can be an important part of the solution, even though reversing the trend will also take a concerted effort from policymakers and other stakeholders."
The IIHS also announced that it would no longer include three of its previous safety evaluations in its award criteria: roof strength, head restraint, and vehicle-to-vehicle front crash prevention tests. The agency explained that the retirement of these tests reflects industry progress, making them less relevant in their current form.
Model Y Safety Superiority is not a Surprise
The latest safety accolades should not come as a surprise. The Model Y has shown real-world evidence that it is the safest vehicle on the road. For example, in late December a Model Y protected its four occupants when it went off a 250-foot cliff landing on a rocky beach. Firefighters called it a miracle that the two children and two adults only suffered minor injuries.
Tesla leaders have repeatedly stated that the company is always looking for ways to make their vehicles safer. An incredible statement given that collision statistics show that Teslas are already 2.5 times safer than non-Teslas.
Other Automakers Catching Up
Interestingly, the Tesla Model Y achieved the Top Safety Pick+ rating, making it one of the three all-electric vehicles to receive such marks this year. Other all-electric vehicles that received the Top Safety Pick+ rating from the IIHS include the Volkswagen ID.4 and the Rivian R1T. The IIHS' website shows that the Model Y received a "Good" rating on the agency's updated side-impact test and passed the IIHS' nighttime vehicle-to-pedestrian front crash prevention test with flying colors.
The IIHS' updated standards continue to push automakers to improve vehicle safety. The Tesla Model Y's continued recognition as one of the safest vehicles on the market is a testament to the automaker's commitment to safety.