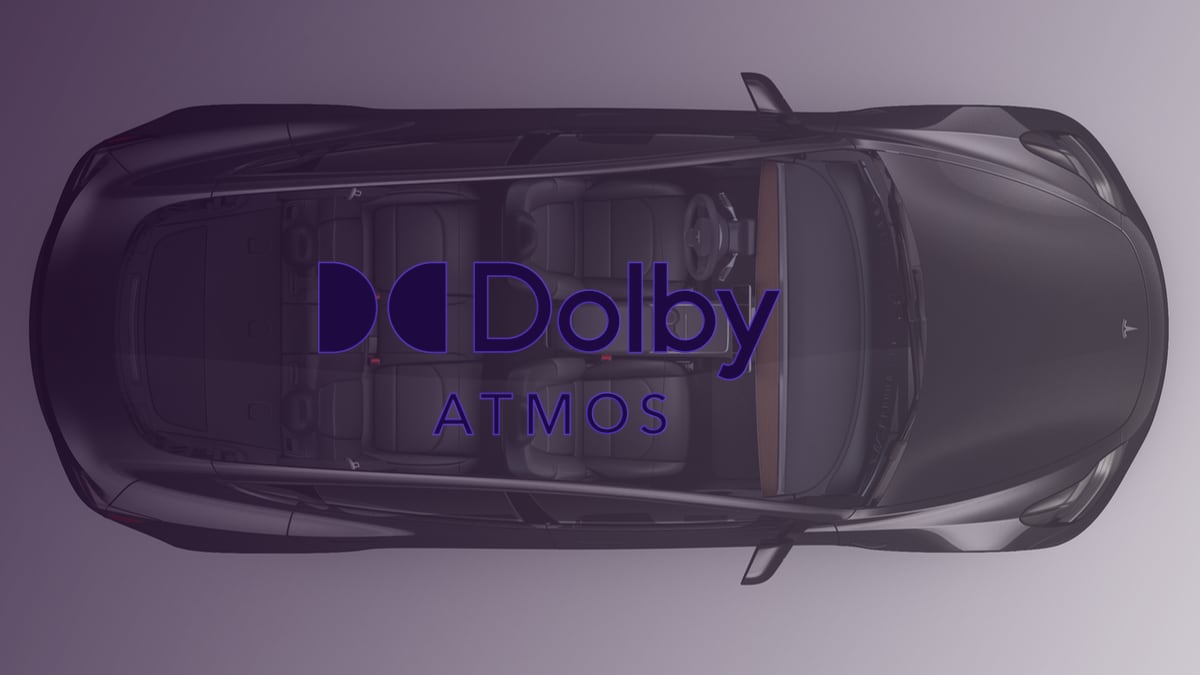 According to BGR, Tesla will add surround sound support in the form of Dolby Atmos to its vehicles in an upcoming update.
The news comes after Apple Music was discovered in a Tesla Model S at the Petersen Automotive Museum exhibit. Apple Music and Dolby Atmos coming at or around the same time makes sense since Apple Music is one of the only digital service providers that supports Atmos currently. Amazon HD and TIDAL are the others.
Tesla has been working with major record labels over the past few months to bring Dolby Atmos to their vehicles, which would add a highly immersive listening experience to music, podcasts, and videos.
Dolby Atmos is a surround sound technology that creates an immersive audio experience. It is the next-generation of surround sound and it has been designed to work in any type of environment from movie theaters to home theaters and now vehicles. The Dolby Atmos system uses 128 audio channels and can transport any type of sound, anywhere in the room. It achieves this by using a combination of speakers and objects like ceiling reflectors, which are placed all around the room, to create the desired effect. It was first introduced in 2012 and has since been used in major Hollywood film releases such as "The Hobbit: The Desolation of Smaug," "Gravity," and "Star Wars: The Force Awakens."
Luxury electric vehicle automaker Lucid Motors was the first car company to add Dolby Atmos support to their Lucid Air vehicle. Mercedes-Benz and Volvo announced that they would bring Dolby Atmos support to more of their vehicles, too.
We anticipate that Dolby Atmos support and Apple Music will come as a feature as part of this year's holiday update, which is expected in the next month. These major additions of Dolby Atmos, Apple Music, and Tesla working closely with the major record labels could mean we may get lossless audio, too. CEO Elon Musk hinted at lossless audio support earlier this year.
Currently, TIDAL supports lossless audio but it's limited to downloaded files and not streaming.
Home Theater-Like Experience
If Tesla adds Dolby Atmos support to their vehicles, they may add support for Atmos beyond just Apple Music. In addition to 5.1 surround sound, many streaming services also offer Dolby Atmos encoded surround sound, such as Netflix and Disney+, which are already available in Teslas. We may see Tesla support Dolby Atmos across all their streaming services that provide it as an audio option.
Tesla owners may soon experience a theater-like experience when viewing movies in their vehicles.