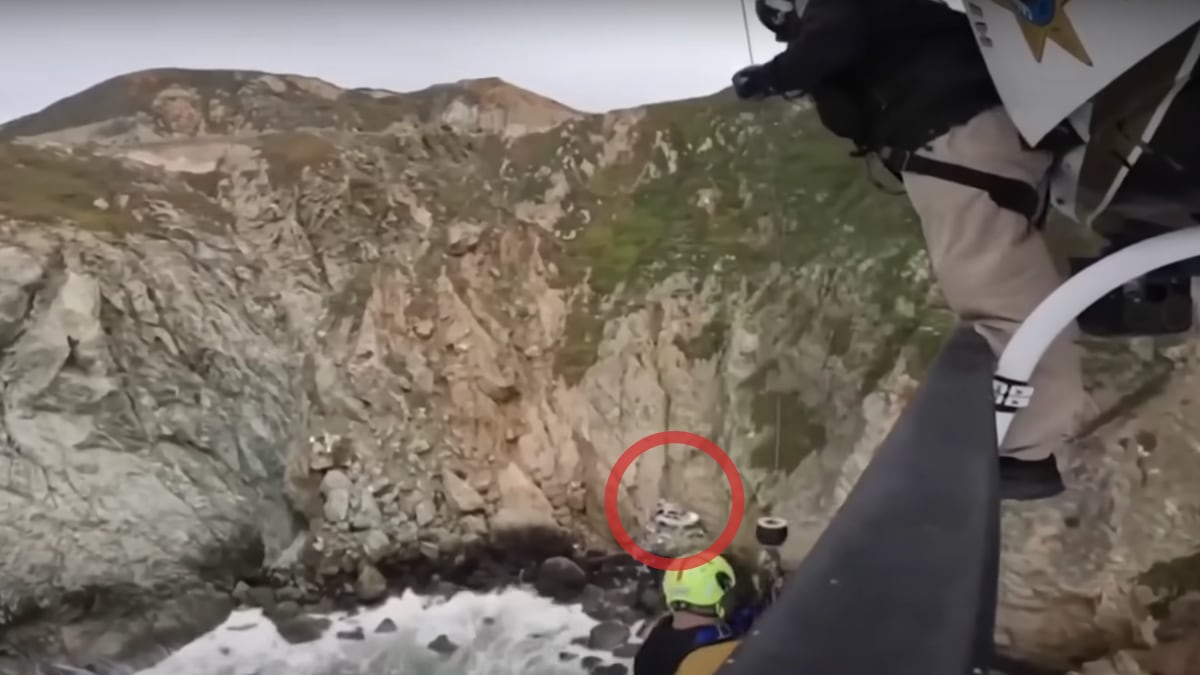 First responders frequently go to Devil's Slide, 20 miles south of San Francisco on Highway 1. It's a scenic but treacherous drive, with the road just a few feet from an edge and a 250-foot drop to the rocky beach below. Unfortunately, fire and ambulance crews were again called to the area on Monday, January 2. But this time it was different.
Brian Pottenger, battalion chief with Cal Fire's Coastside Fire Protection District, said, "We go there all the time for cars over the cliff, and they never live. This was an absolute miracle." He stated, "the damage to the vehicle would indicate that it hit, and then flipped several times," and that is why crews were shocked when they spotted movement inside the wreckage.
Safest Vehicle in the World
The fire department tweeted some horrific images from the scene. But you can make out that the wreckage is a white Tesla Model Y, one of the safest vehicles in the world. Incredibly, all four people inside the Model Y, two adults and two children, a 4-year-old boy and a 7-year-old girl survived. The children were unharmed, and the adults suffered non-life-threatening injuries. Sadly, the police have determined the crash was intentional and have arrested the driver, Dharmesh A. Patel, on suspicion of attempted murder and child abuse.
Tesla's mission is to "accelerate the advent of sustainable transport vehicles," but it prioritizes safety in its design. The website states: Tesla vehicles are engineered to be the safest in the world. Each one combines powerful onboard technology with an all-electric design to help protect every driver, passenger, and pedestrian on the road.
Commitment to Safety Continues
That's not just rhetoric, as proven in this horrible crash. The Model S, 3, X and Y have received five out of five stars on every test run by the National Highway Traffic Safety Administration, including rollover protection. They have also been scored with the lowest overall probability of injury of any vehicle ever tested by the U.S. government's New Car Assessment Program. The Insurance Institute for Highway Safety (IIHS) has numerous times given Teslas the top safety pick. Most recently, calling the Model 3 the Top Safety Pick of 2022.
Tesla hasn't stopped there. Last year it introduced a Seat Belt System Enhancement. The enhanced onboard camera system detects when a crash is imminent and applies tension to the seatbelt. Regrettably, the seatbelt system hasn't been improved for decades. It only tightens the belt once the vehicle has made an impact.
Tesla's commitment to safety clearly played a significant factor in saving those four lives and has undoubtedly saved thousands of other people from injury and death.