By Gabe Rodriguez Morrison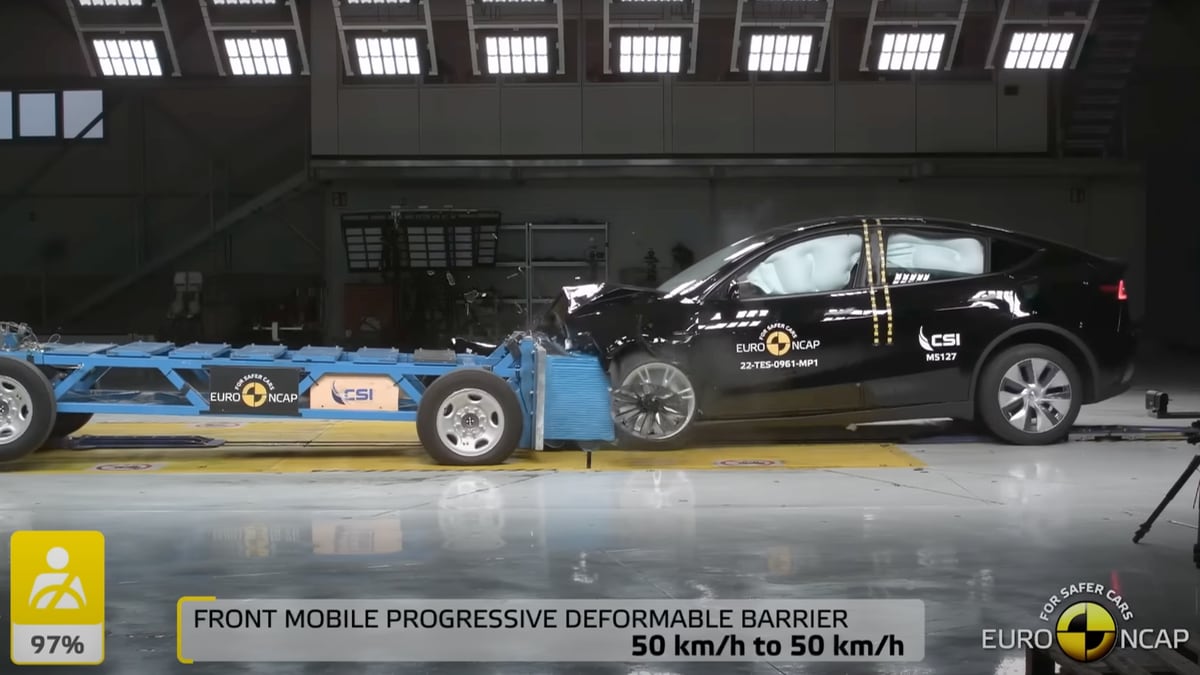 Tesla continues to prove they make the safest cars on the road, with the Model Y receiving the top safety rating from Euro NCAP and Australia's ANCAP.
Australasian New Car Assessment Program (ANCAP) is the latest car safety agency to give Tesla's Model Y a top safety score. The Model Y just arrived in Australia a few months ago, despite being a popular vehicle in the U.S. market for some years now.
The Model Y also achieved a top safety score with the National Highway Traffic Safety Administration (NHTSA) in the U.S.
ANCAP released its five-star safety rating for the Model Y. Tesla scored well in all categories but excelled in adult occupant protection and safety assist.
The Model Y scored near-perfect results in the Adult Occupant Protection category, with an outstanding score of 97%. The highest score of any vehicle tested in this protocol. The score for the Adult Occupant Protection category is determined by a series of frontal, side and rear crash tests. Additionally, the score includes several other safety factors such as rescue, extrication and post-crash safety.
Tesla will continue to iterate on the vehicle's design and software to achieve even better safety scores in the future.
In fact, Tesla's CEO Elon Musk recently tweeted that Tesla has already improved Tesla Vision further since these tests have taken place.
We have since improved it further

— Elon Musk (@elonmusk) September 8, 2022
However, there are always areas for improvement. Some of the categories Tesla can improve include, Child Occupant Protection and Vulnerable Road User Protection.
For child occupant protection, the Model Y lost some safety score points because it does not support every kind of child seat:
"Installation of typical child restraints available in Australia and New Zealand showed most child restraints could be accommodated in the rear seating positions, however the Type A capsule and one of the selected booster seats could not be correctly installed in the centre rear seating position."

Another category where Model Y underperformed was Vulnerable Road User Protection. ANCAP found that if the car struck a pedestrian, it would have a hard time with the base of the windscreen:
"The bonnet of the Tesla Model Y provided GOOD or ADEQUATE protection to the head of a struck pedestrian over most of its surface, with WEAK and POOR results recorded at the base of the windscreen and on the stiff windscreen pillars."
Despite these critiques, ANCAP was impressed by Tesla's autonomous emergency braking system for protecting road users:
"The autonomous emergency braking (AEB) system is capable of detecting and reacting to pedestrians and cyclists. The AEB system showed GOOD performance in pedestrian test scenarios in both daylight and low light, with collisions avoided or mitigated in most scenarios including in turning scenarios and some reverse (AEB Backover). In cyclist test scenarios, the AEB system offered GOOD performance with maximum points scored."
The agency was also impressed with Tesla's autonomous driver-assist system for preventing/mitigating collisions with other vehicles:
"Tests of the AEB (Car-to-Car) system showed GOOD performance with collisions avoided or mitigated in all scenarios, including AEB Junction Assist where the test vehicle can autonomously brake to avoid crashes when turning across the path of an oncoming vehicle."
Model Y received a leading score of 98 percent in Euro NCAP's Safety Assist category. This was thanks to Tesla Vision, the camera vision and neural net processing system that comes standard in all Tesla vehicles in North America and Europe. With update 2022.24 Tesla has also started transitioning some of its older radar-based vehicles to Tesla Vision.
Teslas are so safe because Tesla continuously innovates and iterates on its vehicle designs.
Tesla recently added a far-side airbag to prevent the front occupants from colliding with each other.