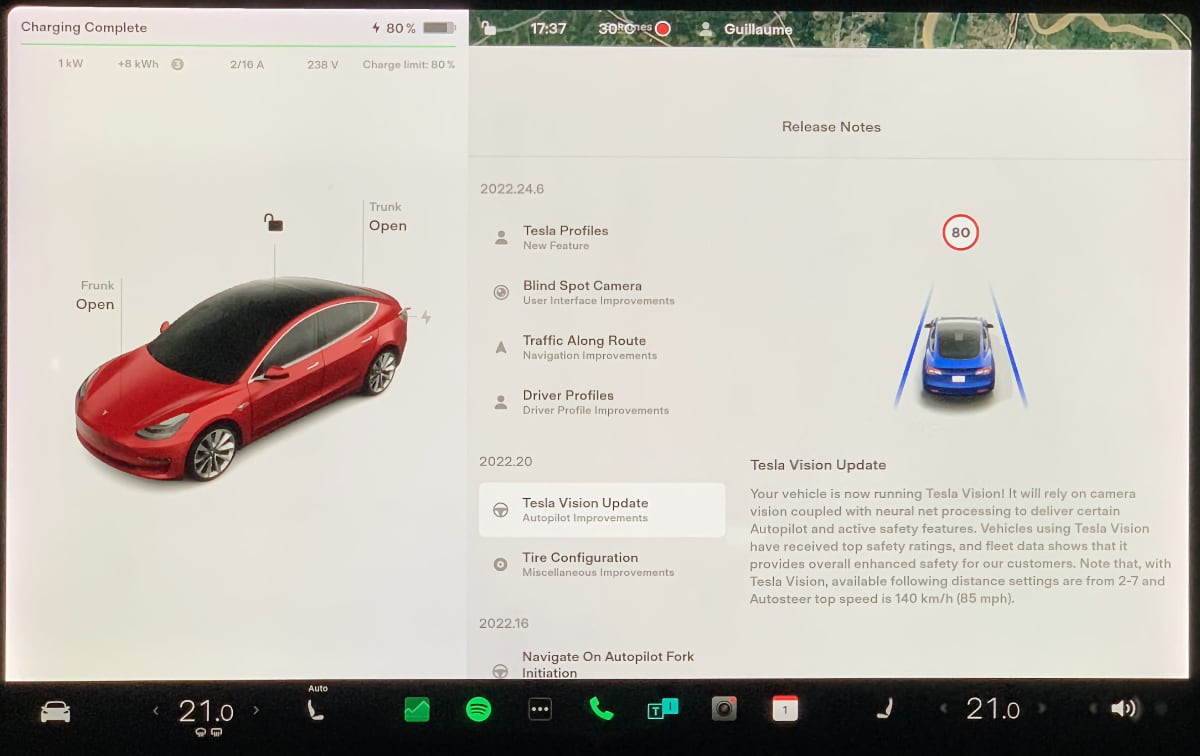 Tesla recently started rolling out update 2022.24.6. Although we'd expect this update to only contain minor fixes, similarly to 2022.20.9, it contains a big feature that is sort of hidden.
With update 2022.24.6 Tesla is continuing its transition to Tesla Vision for radar-based vehicles, although at first glance it can be easily missed. 2022.24 updates prior to 2022.24.6 do not include Tesla Vision.
Tesla first started transitioning some vehicles to Tesla Vision with 2022.20.9, although ironically the feature was titled "Speed Assist" in that release, but the description was clear that the vehicle was moving to Tesla Vision.
Tesla hacker @Greentheonly speculates that Tesla is first transitioning vehicles that are showing some issues with radar. Although with 2022.24.6 Tesla appears to be transitioning additional vehicles.
The transition to Tesla Vision is sort of going out in "stealth" mode. Since Tesla Vision was initially released in 2022.20.9, it's a part of Tesla's 2022.20 features. After an update is installed in a vehicle, Tesla will automatically bring up the release notes for the given release (2022.24), which means that Tesla Vision won't be listed even if your vehicle was transitioned.
In order to see whether your vehicle has transitioned to Tesla Vision, you will need to open the full release notes by navigating to Controls > Software and tapping on Release Notes.
These release notes will display all features, including those for previous updates as well. If your vehicle was transitioned to Tesla Vision, you will see "Tesla Vision Update" listed under 2022.20.
With the transition to Tesla Vision, Tesla appears to have greatly reduce its reliance on radar. It's not clear exactly how often Tesla is using radar or in what situations, but it appears to be reduced to emergency features such as Automatic Emergency Braking, Forward Collision Warnings, but it could be used in other situations as well.
Although Tesla is relying on vision much more after this update, there are still situations that have been shown that radar hasn't been completely disabled.
The transition to Tesla Vision has been somewhat of a mixed bag. Some owners are excited to be transitioning to Tesla Vision, which is clearly the future for Tesla and the direction they're going to continue moving in, however other owners aren't quite as excited by vision-based limitations.
Two shortcomings that come with Tesla Vision for everyone are reduced maximum speed while on Autopilot, which is reduced from 90 MPH to 85 MPH (140 KPH), and a minimum follow distance of two.
Installed on 0% of vehicles
Last updated: May 31, 1:00 am
The maximum follow distance remains the same at seven. Radar-equipped vehicles allow you to go as close as one car length.
These two limitations of Tesla Vision are unlikely to affect the majority of owners, but it will vary on location and the maximum speeds in your area.
Some owners are reporting that their vehicle is smoother with Tesla Vision and they're even experiencing less phantom braking, however, not everyone's experience has been the same.
So let us know, did your vehicle transition to Tesla Vision with update 2022.24.6? Let us know your thoughts in our forums below.