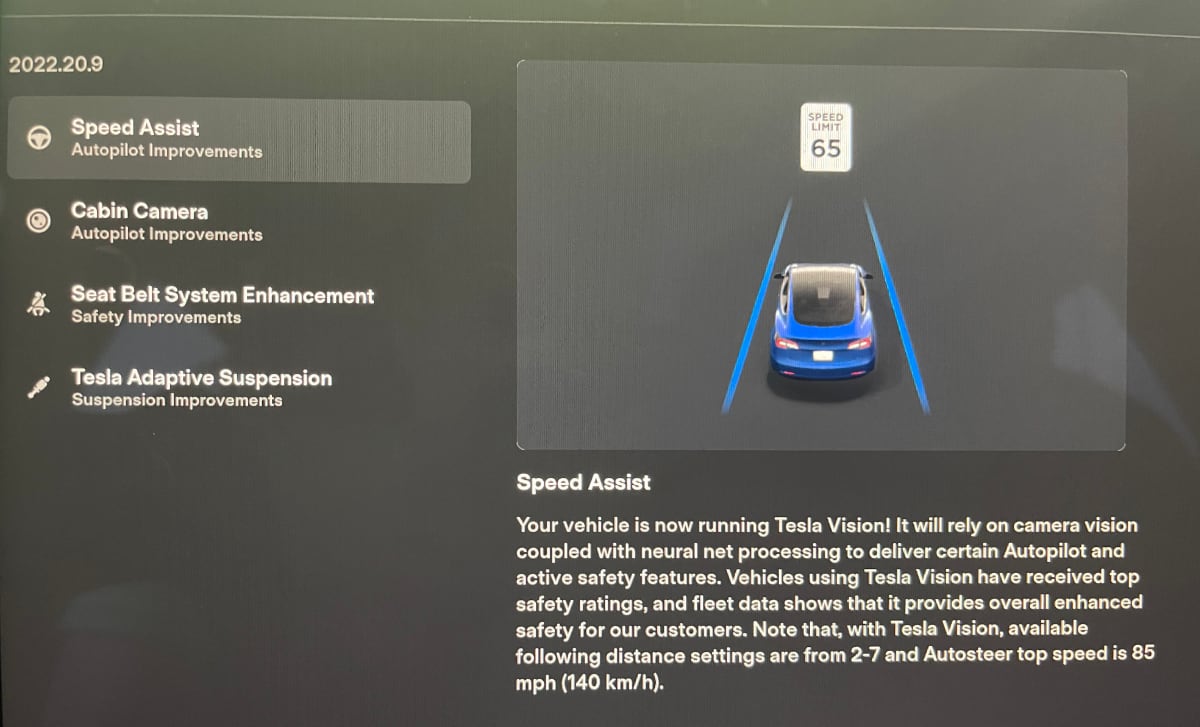 Tesla has recently started rolling out their latest 2022.20 update, version 2022.20.9.
Although minor revisions such as these usually only contain minor fixes, this update appears to contain several new features.
Transitioning to Tesla Vision
In May of 2021 Tesla introduced their first vehicles with Tesla Vision. These vehicles no longer included the radar hardware and instead relied on Tesla's vision-only system.
Although the vehicles initially lacked some features when compared to their radar-equipped counterparts, they have now mostly caught up through software updates.
Early on Tesla Vision vehicles didn't include Smart Summon or Emergency Lane Departure Avoidance. Autopilot speeds were also limited to 75 MPH (120 KPH) and the minimum follow distance was increased.
However, most of these features have now been added to Tesla Vision vehicles. The only area in which vision-based cars are still behind vehicles with radar is the maximum Autopilot speed allowed and the minimum follow distance.
After several updates, the maximum Autopilot speed for vision cars is now 85 MPH and the follow distance can now be set between two and seven car lengths.
With update 2022.20.9 Tesla appears to be adding Tesla Vision to vehicles with a radar for the first time.
The only other instance that we're aware of in which a radar-equipped vehicle would have Tesla Vision would be if they were enrolled in the FSD Beta program.
If you have Tesla's FSD Beta, then your car is already relying on vision only for Autopilot use.
It's not clear yet whether all vehicles with radar will transition to Tesla Vision with this update or if Tesla will be rolling out the feature slowly while listening closely for feedback. Tesla used this method when they carefully rolled out the 'Apply Brakes When Regen is Limited' feature. Although the feature was initially part of 2022.16, many customers only found the feature enabled in later software updates.
We have seen three vehicles transition to Tesla Vision with this update, a 2021 Model S, a refresh Model X and a Model Y.
Dynamic Brake Lights
Another new feature in 2022.20.9 is the introduction of Dynamic Brake Lights into additional markets.
Tesla's Dynamic Brake Lights feature will automatically flash your brake lights quickly if you suddenly slow down.
Your hazard lights will also flash temporarily if you come to a complete stop.
This feature was previously rolled out to many European nations in 2020, but it is now being expanded to several new countries. Some of the new countries include Australia and New Zealand, but there may be others included as well. We do know that the U.S. is not one of the new markets.
We should know more about vehicles transitioning to Tesla Vision and which markets are receiving the Dynamic Brake Lights feature as update 2022.20.9 continues to roll out to additional vehicles.