Model S
Model 3
Model X
Model Y
Teslas offer numerous easter eggs. While most of them are fun to try, Santa Mode is easily one of the most popular and fun easter eggs. You'll find yourself coming back to Santa Mode again and again throughout the years.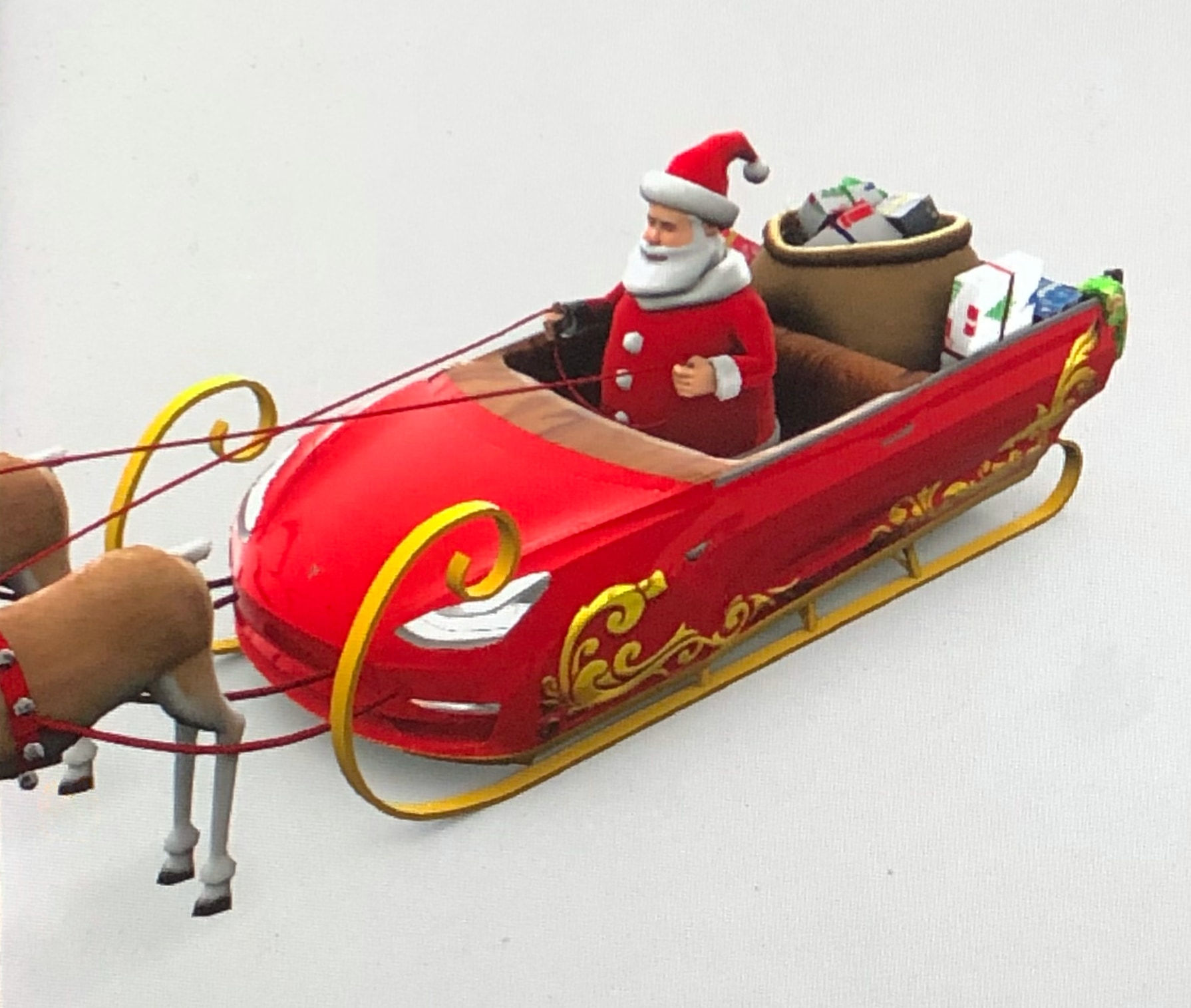 What Santa Mode Does
After turning on Santa Mode you'll notice various visualizations have changed.
Santa Mode will turn your car on the screen into Santa and his sleigh. The sleigh will be pulled by two reindeer and you'll even see him carrying presents in the back. If you look closely, you'll see that Santa's sleigh is actually a modified Tesla.
You can pan and zoom the visualization to take a closer look at his sleigh.
You'll notice that the roads have suddenly been covered in snow. If you pay close attention, you'll even see that it has now started to snow.
Other vehicles that are normally rendered on the display will also change. Instead of the other vehicles on the road appearing as a car or truck, they have all now been transformed into reindeer.
There are subtle details that show that Tesla went the extra mile with this easter egg.
For example, the speed at which your vehicle and the other vehicles are moving will affect how fast the reindeer legs move. When you slow down, your reindeer will also slow down to a trot.
Your turn signals will also change. Instead of playing the traditional clicking sound that a turn signal makes, the sound has been changed to sleigh bells.
If you look closely at the collars your reindeer are wearing, you'll also see that they light up and flash red when you use your turn signals. If you use your left turn signal, the left reindeer's collar will flash, and if you're using the right turn signal, then the right reindeer's collar will flash. It's subtle, but nicely done.
How to Activate Santa Mode
There are several ways to activate this easter egg. Depending on the way you activate Santa Mode a different song will be played. Unfortunately like other easter eggs, the volume of the song is fairly loud and can not be adjusted.
You can activate Santa Mode by tapping the Apps icon, the icon that looks like a box with an up arrow, and selecting Toy Box. After opening the Toy Box, you can scroll down to Santa Mode and turn it on.
You can also activate Santa Mode via a voice command. If you use the command "Ho Ho Ho," your Tesla will activate Santa Mode and the song "Run Rudolph Run" by Chuck Berry will play.
This is the default song that is played and the one that will be used if you activate the easter egg through the Toy Box.
However, there is an alternative song that can only be activated via a voice command. If you use the voice command, "Ho Ho Ho, Not Funny," then Santa Mode will turn on and the song "Grandma Got Run Over by a Reindeer" will be played.
The only difference between the various ways of activating Santa Mode is the song that is played.
Turn Off Santa Mode
To turn off Santa Mode, you can go back to the Toy Box and turn off the slider for Santa Mode, or you can simply use the voice command "Turn Off Santa Mode."
If you keep Santa Mode on, the song will automatically stop and not repeat when it's complete. The visualizations and other features will remain on.
External Speakers (PWS)
If your car is equipped with a Pedestrian Warning System (PWS), you'll also have the ability to play the Santa Mode music through the outside speaker of your car.
You'll know if your car is equipped with the PWS if it emits a low sound on the outside when traveling a low speeds.
In order to play 'Run Rudolph Run' or 'Grandma Got Run Over by a Reindeer' through your car's external speaker you'll need to activate the easter egg through the Toy Box and turn on the slider for "Spread Cheer."
Available on All Models
Santa Mode is available on all Tesla models, including the Model S, Model 3, Model X and Model Y. The Santa Mode easter egg remains largely the same regardless of the Tesla model you have. Although it does require a vehicle with the PWS in order to have the option to play music outside of your vehicle.
Ordering a New Tesla?
Consider using our referral code (nuno84363) to help support our site. Model 3 and Y buyers will receive credits toward Tesla Merch, while Model S and X buyers will receive $1,000 off and 3 months of FSD for free.