By Gabe Rodriguez Morrison
Tesla's V11 update came with a hidden easter egg that many owners may not have noticed at first.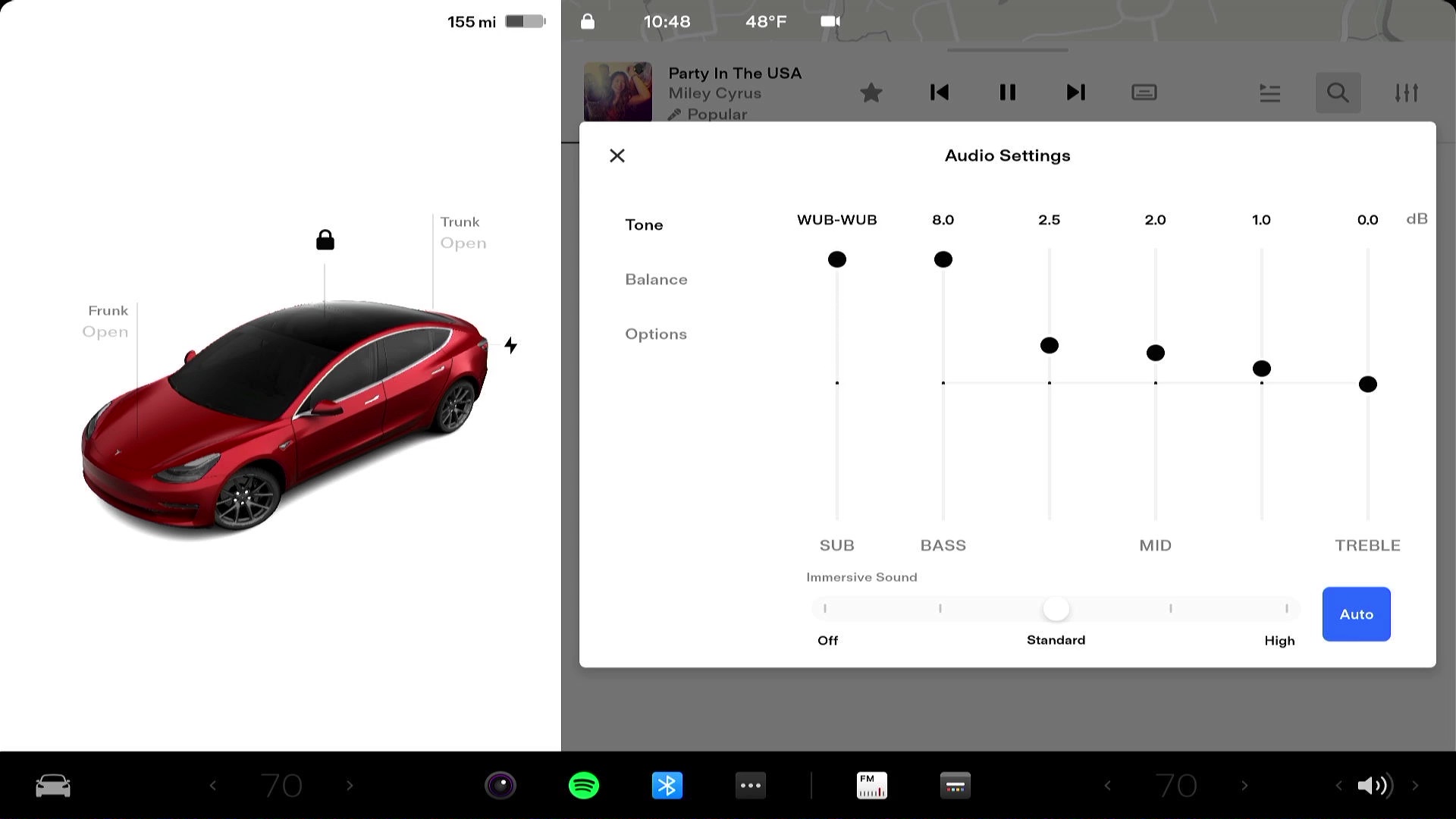 Tesla added independent control of the subwoofer in the equalizer settings in a software update for the new Model S and Model X. Tesla then started rolling out the subwoofer tunability feature for the Model 3 and Model Y in update 2021.44.25. Along with subwoofer tunability, the update also improves the immersive sound of the vehicle.
The subwoofer is the car's loudspeaker designed to reproduce low-pitched audio frequencies known as bass and sub-bass. The new subwoofer tunability feature gives the user precise control over the audio output from the subwoofer, which allows for more bass-boosted audio.
This feature also came with a hidden easter egg when maxing out the subwoofer.
Subwoofer Easter Egg Video
Subwoofer tunability feature in action, including the hidden easter egg.
To see the easter egg you'll need to go to your equalizer settings by tapping the rightmost icon in the music player and then choosing Tone.
Once in the equalizer settings you'll need to raise the bass to the maximum level, then slide the subwoofer level all the way up. You'll see the maximum value change from 6.0 to other entertaining values each time you lower and raise the subwoofer level.
The easter egg randomly cycles through the following labels every time you max out the sub slider:
9001.0 (It's over 9,000!)
SLAPPIN
WUB-WUB
BRRRRRR
BOOST
BOOOM
11.0
6.0 (The default max)
This easter egg and the subwoofer tunability feature is only available on models with premium audio and MCU 2 and above. The feature improves the immersive sound of the vehicle and allows for control of the subwoofer in the equalizer settings.
Writers Wanted
We're looking for a freelance writer who loves Tesla as much as we do. If that's you, we'd love to hear from you! Find out more.