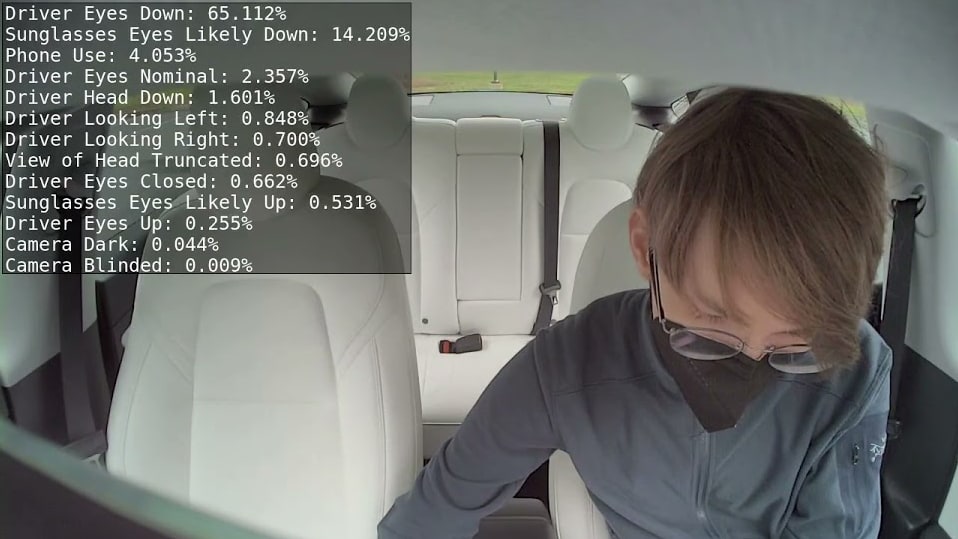 Tesla has introduced an innovative feature called 'Driver Drowsiness Warning'. This new safety uses the vehice's internal camera to detect and warn potentially fatigued drivers.
Beyond Autopilot
Tesla's driver's monitoring systems have thus far been limited to Autopilot and FSD use, warning users to pay attention to the road while Autopiot is engaged. However, this is the first time Tesla is monitoring drivers while Autoilot is off. Driver Drowsiness Warning is expected to be Tesla's next active safety feature.
Tracking Metrics
Renowned Tesla hacker @greentheonly shed light on the forthcoming feature back in May. By decompiling Tesla's firmware, he unveiled that Tesla plans to utilize its camera-based monitoring system to gauge signs of driver fatigue. This includes tracking metrics such as the number of yawns and blinks, alongside evaluating driving patterns that are associated with drowsiness.
How Does It Work?
The Driver Drowsiness Warning system is only activated when vehicles have been driving for at least 10 minutes and the vehicle is traveling over 40 mph (65 km/h). Autopilot must also be disengaged. If the system recognizes symptoms of drowsiness, a visual alert flashes on the screen, matched by an audible warning. The notification prompts drivers to consider pulling over for a break before continuing to drive. However, Tesla will not prevent the driver from operating the vehicle.
Drawing data from the cabin camera and studying driving behaviors, Tesla's new feature employs a multifaceted methodology. It observes the driver's facial characteristics, such as yawning and blinking frequencies and driving patterns, such as lane warnings, to discern drowsiness. Once flagged, the alert remains on the screen until the driver is alert or slows down below 40 mph.
Turning Off the Warning
Tesla's new Driver Drowsiness Warning is sort of optional. Although you can disable it in the vehicle's settings by navigating to Controls > Safety > Driver Drowsiness, it is automatically re-enabled at the start of each drive.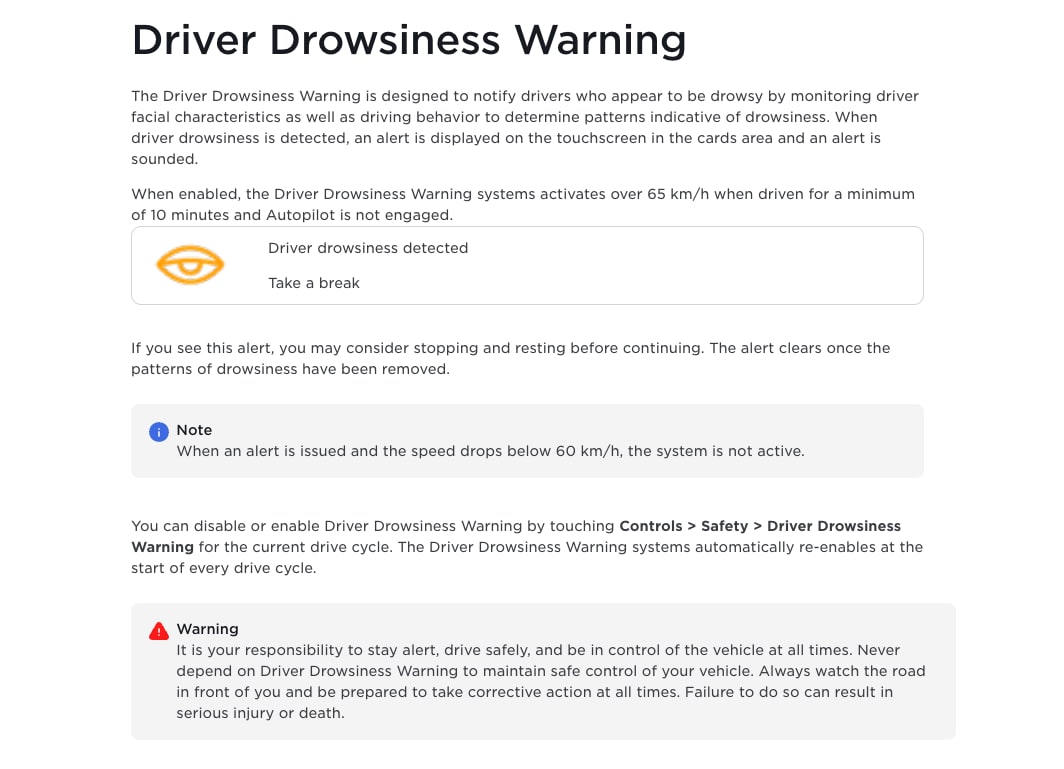 Is this the Nag?
For anyone who has driven a Tesla with Full Self Driving enabled, you are well aware of the nag. For those who have not had the pleasure, it's a visual and audible warning to "apply slight pressure to the wheel" or to pay attention to the road. Tesla has considered removal of the nag before but quickly met resistance.
However, this kind of new nag could've played a role in preventing the crash where the FSD system warned the driver to take control 150 times over 45 minutes before the impact with emergency vehicles.
Evolving Monitoring Capabilities
Tesla's journey in driver monitoring has witnessed significant evolution. While initial systems were limited to detecting torque on the steering wheel, advancements post-2021 included the cabin-facing camera to ascertain driver attention. This shift marked Tesla's venture into comprehensive driver observation, ensuring the driver's gaze remains fixed on the road and is devoid of handheld device distractions.
Release Date
The feature's unveiling in Tesla's European owner's manual points to an imminent release. However, the feature doesn't appear to be active yet. Tesla's release notes have made no mention of this significant change so far, but it could be in an upcoming update. When the feature is released, we expect it to be available in select regions. Tesla will typically release a new feature such as this one in specific regions to gather additional data before making it available more widely.