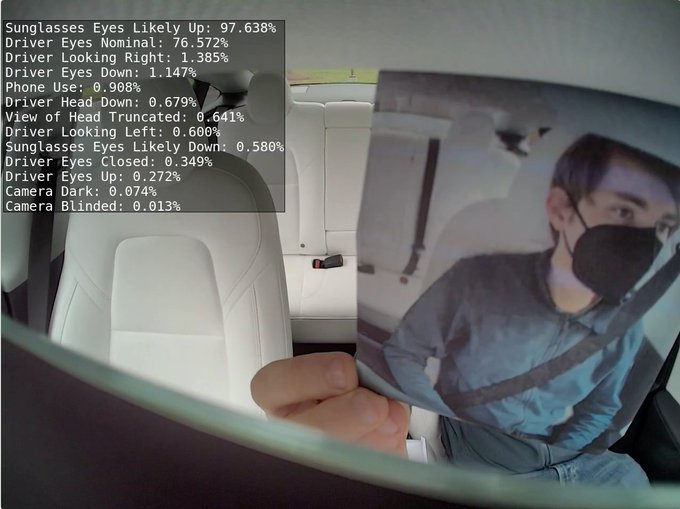 To ensure safer roads and potentially bolster its Full Self-Driving (FSD) capabilities, Tesla is planning a significant upgrade to its driver monitoring system. Notable Tesla hacker, @Greentheonly, has revealed on Twitter that this upgrade goes beyond simple driving metrics and delves into an impressive array of advanced features.
Tesla's In-Depth Driver Monitoring
Tesla's forthcoming update to its driver monitoring system showcases the power of machine learning and sensor technology. Instead of just monitoring traditional driving metrics, like looking down or off to the side, the system will gather a wide range of data about the driver's behavior, even when the car is not on Autopilot.
Advanced Metrics: Beyond Just Keeping the Car Centered
Tesla's enhanced monitoring system will assess a driver's ability based on multiple factors, including how well the car is centered and the number of lane keep assist warnings and corrections.
The advanced system will detect signs of driver fatigue or distraction by monitoring physical cues. For instance, frequent yawning, extended blink durations and leaning can indicate tiredness, making a driver unfit for the road. By alerting drivers when such signs are detected, the system can potentially help prevent accidents caused by impaired driving.
The Potential Impact on Full Self-Driving
The sophisticated data collection and analysis could also strengthen Tesla's case for its Full Self-Driving capabilities. By demonstrating how many drivers show signs of tiredness or impairment, particularly during late-night drives, Tesla can highlight the need for advanced autonomous driving technology.
Beyond the immediate implications for driver safety and insurance, there's also the potential for this data to shape the broader narrative around Tesla's Full Self-Driving capabilities. As noted by Twitter user @RedneckAi, Tesla could use the data to argue that a significant percentage of drivers are tired or impaired after midnight, bolstering the case for FSD.
The Balance between Safety and Privacy
While the enhanced driver monitoring system is undeniably a technological marvel and a potential lifesaver, it also raises questions about privacy. As the system collects more personal data about drivers' behavior, strict data protection measures become increasingly crucial.
The conversation surrounding Tesla's driver monitoring system brings into focus the fine line between leveraging technology for safety and maintaining individual privacy. As such technologies continue to evolve, striking a balance between these two aspects will be paramount.