We saw our first look at Tesla's driver monitoring system in update 2021.4.15.11. The feature uses the car's cabin camera in the Model 3 and Model Y to detect driver inattentiveness. When the DMS feature was released it was only available to vision-only cars, which are Model 3 and Model Y vehicles produced in the US after May 2020.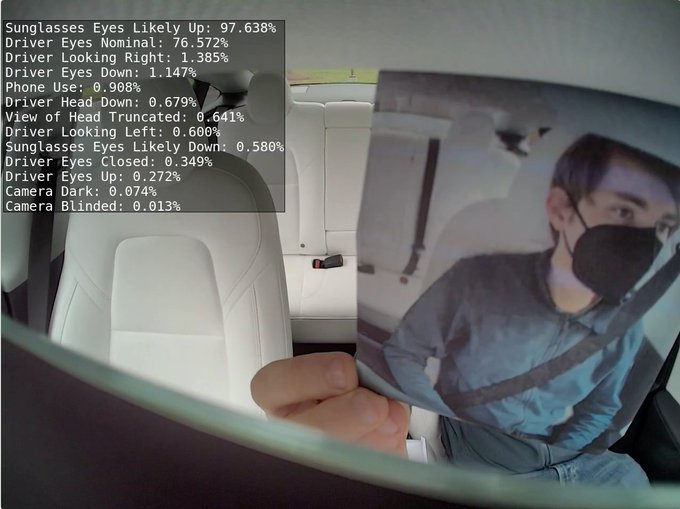 The feature is extremely promising as it could reduce the amount of times the car asks you to put your hands on the steering wheel. We're already seeing reports that driver "nags" appear to be reduced when DMS is in use.
DMS is the future for Tesla as it will eventually do a much better job of detecting whether a driver is attentive or not and it could allow for Tesla to completely remove the requirement to apply torque to the steering wheel.
After having this feature available to a fairly small set of vehicles, we're now seeing it become more widely available in update 2021.32.5. In this release Tesla is now rolling out DMS to additional vehicles. For the first time it is now available on vehicles with radar. The geographic region has also been expanded beyond the US. DMS is now also available in Canada and Mexico.
Some owners may feel uncomfortable at first having a camera inside the cabin monitoring them, but keep in mind that all the processing is done completely in the car and none of the footage is sent to Tesla. Lots of us already use FaceID like systems on our phones and this is fairly similar to that.
DMS continuously monitors for driver attention and is therefore a far safer solution than checking for torque on the steering wheel at specific intervals.
Take a listen to the 'Life with Middie' podcast below for a hands on impression of Tesla's DMS.
Tesla may be getting DMS ready so that it rolls out at the same time as the public version of the FSD Beta.
You can find more information on Tesla's DMS in our initial look at the first.