Elon gives update on the FSD Beta 'Button'
Announced on August 16, 2021
34 days since announcement
August 16, 2021
By Nuno C.
Since the release of the latest FSD release, beta 9.2, a Twitter user, Ostyn, has asked Elon for an update around the famous button. You know, 'The Button'. The one that will give us mere mortals a peek into a world where cars drive themselves, freeing us humans to... well, probably just to spend more time on our phones.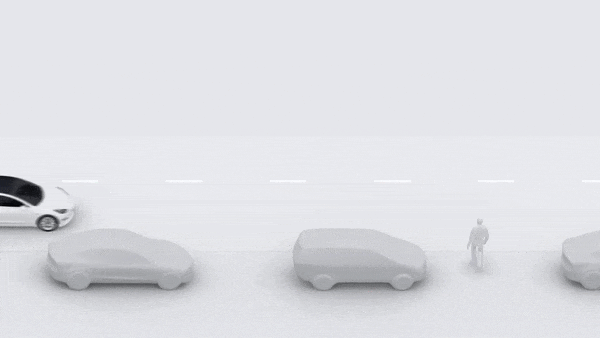 The button was initially expected back in April of this year, however Tesla decided to move FSD to a vision-only model, which resulted in a delay, but also greatly increased its capabilities.
After Ostyn asked Elon about the button, Elon responsed that the button may become available in beta 10 or 10.1. Tesla is currently on beta 9.2 of FSD. If we expect a new beta release every two to three weeks, then the question becomes, how many releases before we get to version 10 or 10.1?
Luckily, Elon later clarified that we can expect version 9.3 next, followed possibly by 9.4. then the holy grail, version 10.
Beta 10 or maybe 10.1. Going to pure vision set us back initially. Vision plus (coarse) radar had us trapped in a local maximum, like a level cap.

Pure vision requires fairly advanced real-world AI, but that's how our whole road system is designed to work: NN's with vision.

— Elon Musk (@elonmusk) August 15, 2021
Elon mentions that there would be significant architecture changes in version 10.0, so I think it's fair to expect that version to take longer than the two/three week time period.
So if we add these time intervals up, the soonest we can expect the FSD Beta to be publicly available would be, in at the very least, six weeks, which brings us to October. That's of course assuming that everything runs smoothly, that Tesla releases an update every two weeks and that the update with the button comes in version 10. There are a whole lot of 'ifs' in there, and as you can imagine, this is an unlikely scenario.
If we take a more realistic approach, the next betas may each come in about three weeks. Let's say the button is in version 10.1, instead of version 10, and version 10.1 comes three weeks after the 10.0 update. Then the big question is, how long will Beta 10 take if we know it'll contain significant architectural changes? We may be looking at 4-8 weeks.
So at the higher end, we're looking at having the button available to the masses in about 17 weeks, or about 4 months.
That puts us almost exactly at the end of the year, which seems like a natural goal for Tesla to strive for given previous releases.
It's surely something for us to look forward to, but as we know things change, especially when developing world-leading AI.
FSD Beta Releases