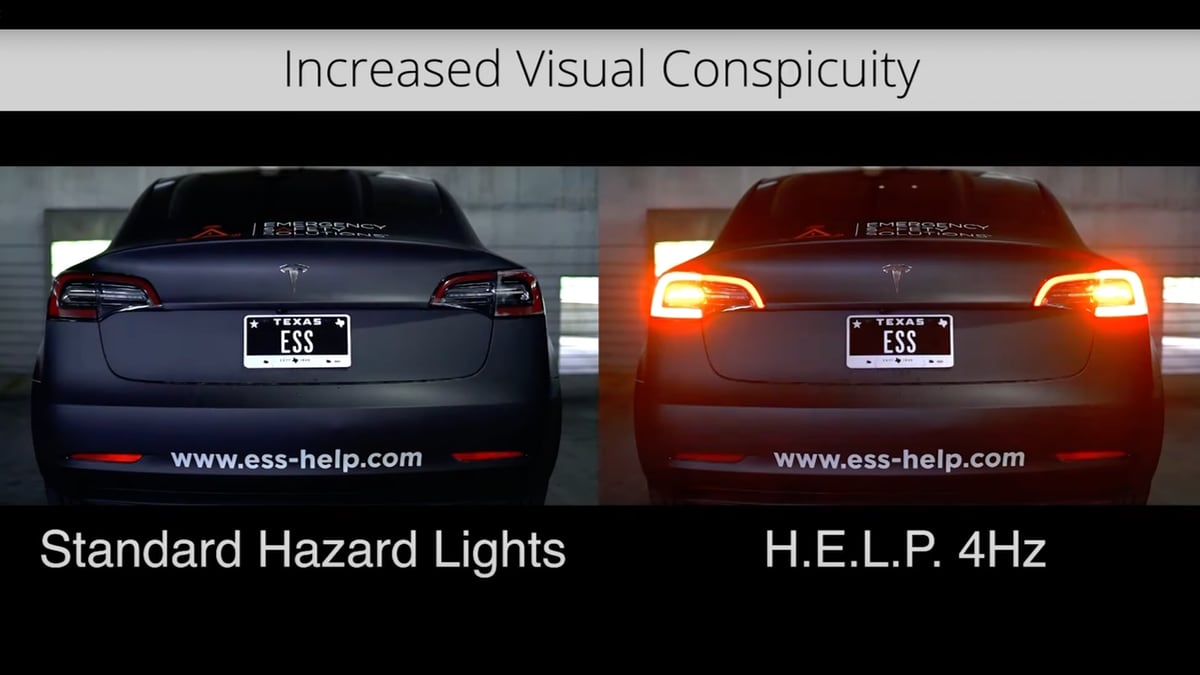 Tesla is rolling out a significant safety enhancement through a software update. Teslas, already the safest vehicles on the planet, got a little safer thanks to a small company based in Texas. While this article will highlight the advancement in safety, it will also applaud the work of Emergency Safety Solutions, which dared to challenge the old way of doing things.
Overnight Evolution: The Game Changer
Tesla North America didn't mince words when they announced: "If an airbag is deployed, hazard lights will automatically activate & flash faster to improve visibility." Elon Musk added, "New Tesla safety feature uploaded via over-the-air software update. Your car just got better while you slept."
It got much better thanks to a partnership with Emergency Safety Solutions (ESS), which we spotlighted a year ago. The small company, now just five years old, used a Tesla Model 3 to display its advancements in the hazard lights system, which had remained unchanged for more than 70 years. After numerous studies, the company changed everything about the hazard lights and approached Tesla with its findings.
Chilling Frequency: Every seven minutes, a disabled vehicle is involved in a crash on American roads. The result? An alarming 15,000 injuries or fatalities annually.
Ancient Flaws: The primary culprit behind these startling figures is a hazard light system that hasn't been updated in over seven decades.
The Solution: A frequency shift by adjusting flash frequencies from the sluggish 1.5Hz system to between 4Hz and 6Hz immensely heightens driver alertness. Hertz is a unit of frequency, which equals the number of cycles per second. In this case, the frequency of flashing lights is increased from 1.5 flashes per second, up to 4 - 6 flashes per second.
Real-World Outcomes: When 5Hz flash frequency was tested, drivers reacted a crucial 12 seconds faster. Moreover, they recognized an issue of more than three football fields sooner than the 70-year version. The number of drivers shifting to the safer side of a disabled vehicle also shot up dramatically — from 30% to an impressive 87%.
Emergency Safety Solutions also posted on X: "Great step toward making our roads safer for people in disabled and vulnerable vehicles! We appreciate our partnership with Tesla and applaud this major milestone in our mission to protect drivers when they need it most."
Software Update
Tesla states in their post on X that this update is rolling out now in the U.S. to Model 3/Y vehicles and newer Model S and Xs.
It's not clear whether Tesla means this enhancement is available in update 2023.32, or whether it's in the upcoming 2023.38 update, which is currently in employee testing.
It's more likely that H.E.L.P. is implemented in update 2023.38, but we have yet to receive release notes for vehicles in the U.S., so we'll have to wait and see if this enhancement made it in.
More H.E.L.P. to Come
Keep an eye out for even more safety advancements courtesy of this partnership with ESS and Tesla. The company created the Hazard Enhanced Location Protocol or HELP. Beyond the lightning-fast flashes, HELP seamlessly integrates with in-car and phone navigation systems, giving drivers a heads-up about potential hazards before they become visible. It's like giving your Tesla a sixth sense.
Unfortunately, that will take longer as it would require more automakers to get on board with this new system. However, as we've realized, automakers are following Tesla's leadership on several fronts, and they may also increase road safety and implement the advanced system.
If an airbag is deployed, hazard lights will automatically activate & flash faster to improve visibility

Update now rolling out to all US Model 3 & Y as well as S & X (2020 & newer) pic.twitter.com/TadrwKTmtB

— Tesla North America (@tesla_na) October 3, 2023