We'll take a look back at 2021 and all the improvements and new features Tesla added to their vehicles.
When you consider that Tesla spent the first half of 2021 focusing on the new software for the Model S, it's amazing how many new features Tesla ended up releasing before the end of the year.
Non-Tesla owners often ask what is your favorite thing about Tesla. For many owners, it's without a doubt the software updates.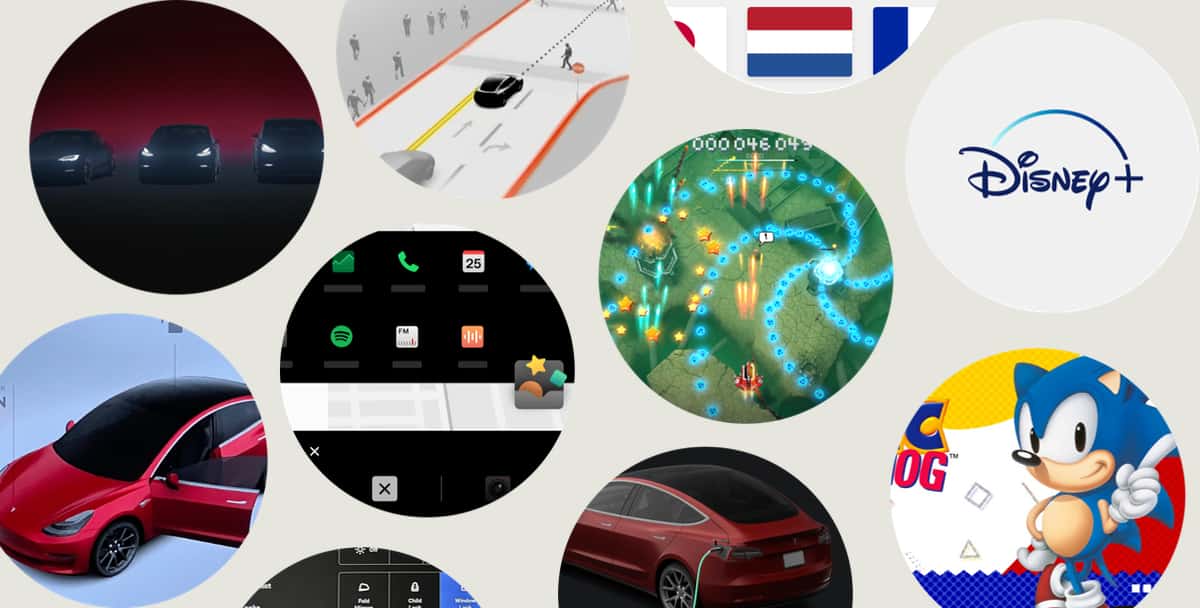 In 2021 Tesla added more than 50 features and improvements to their cars.
Some of the features are minor improvements, while others add completely new functionality to your car.
In 2021 Tesla added support for nine new languages to its user interface. They also improved more than 10 features such as car visualizations and the Dashcam.
Tesla now also offers additional entertainment such as TIDAL, new streaming services such as Disney+ and TikTok, and new games.
In total Tesla added more than 30 new features in 2021 alone.
Over years, you'll likely receive a hundred or more major software updates that will literally add hundreds of improvements and new features that your Tesla didn't have when you originally bought it.
Below we'll take a look at every feature Tesla added in 2021.
New Languages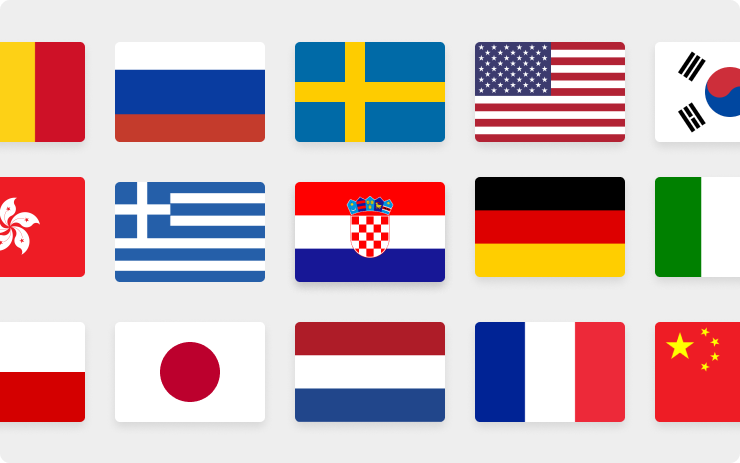 Your touchscreen is now available in over 20 languages. To switch your language setting, tap Controls > Display > Language > Touchscreen.
Improved Dark Mode / Night Mode
You can now change to a dark themed display. Tap Controls > Display > Appearance and select Dark.
Hide Map Details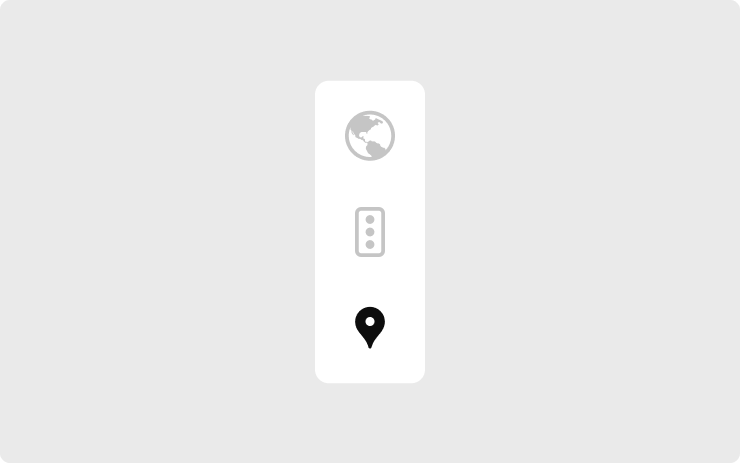 Simplify your navigation app and hide map details by tapping the pin button on the map.
App Loading Progress Bar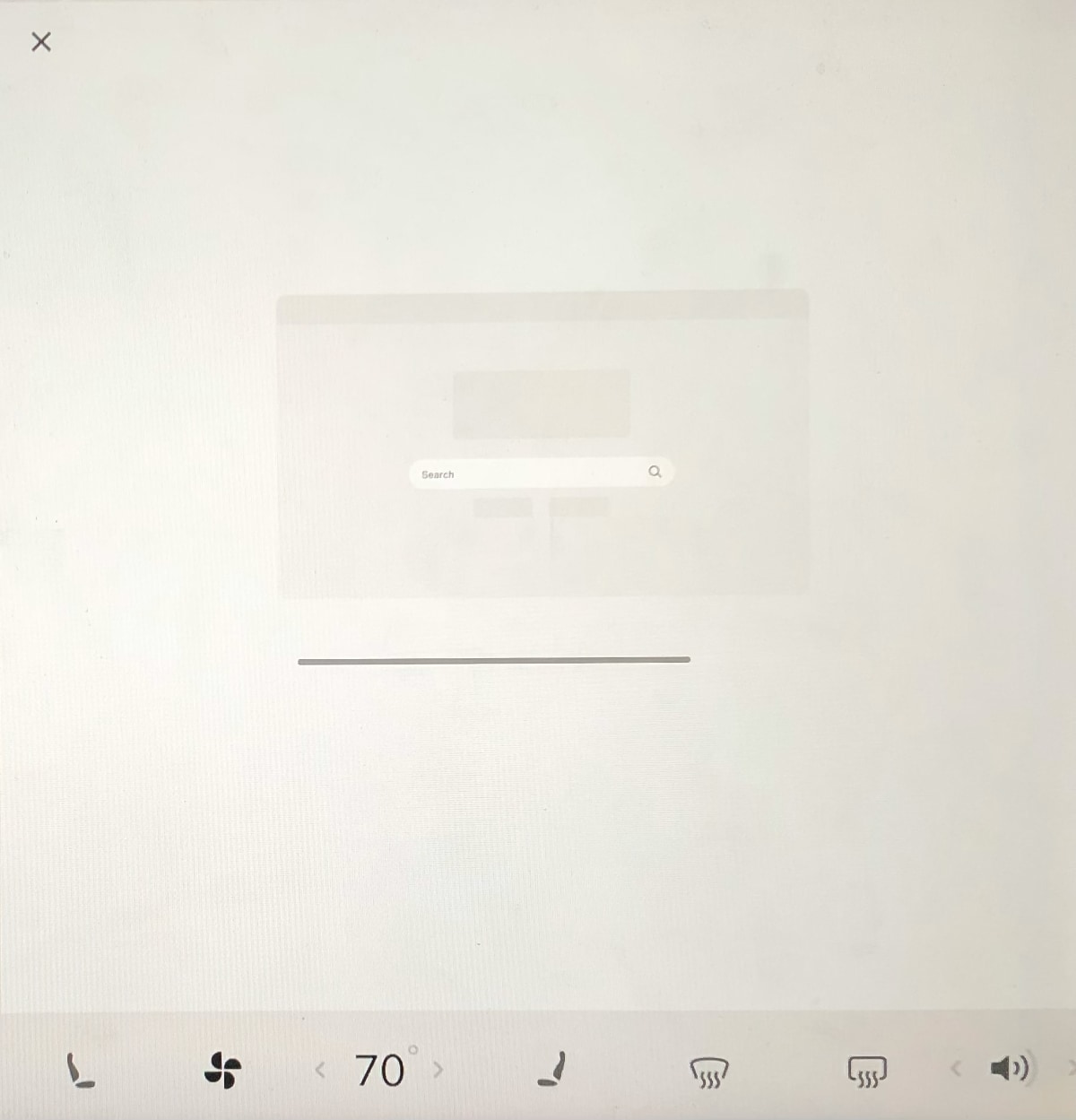 When using the car's web browser a splash screen will now be shown that includes a progress bar to let you know that the browser is loading.
Increased Regenerative Braking in Cold Weather
The amount of regenerative braking available in colder temperatures appears was increased. In temperatures of 30-40°F, many users are now seeing their cars remain with full regen braking available.
Improved Driver Profiles Each Driver Profile will now have its own individual Work and Home address. To update, select your profile, tap Navigation and long press either Work or Home.
TACC Chime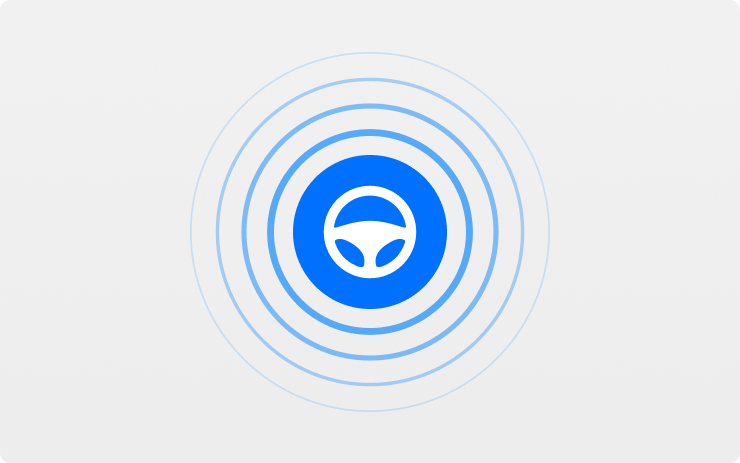 You will now receive an audio alert when Traffic-Aware Cruise Control is enabled. To disable, tap Controls > Autopilot > Traffic-Aware Cruise Control Chime.
Vision-based Autopark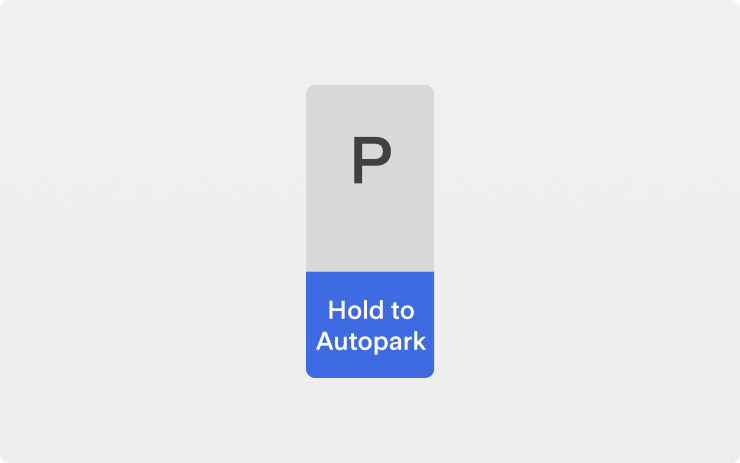 Your vehicle can now automatically park in parallel and perpendicular spots. While driving below 15 mph (25 km/h), the instrument cluster will display a parking icon if it detects a potential parking spot. To initiate Autopark, tap-and-hold the Autopark button in the shift panel, and release the steering yoke. For more information on Autopark, please refer to the Owner's Manual.
Animal Visualizations

Certain four-legged animals are now detected and are displayed in the in-car visualizations.
Dashcam Improvements
Dashcam can now automatically save clips whenever your vehicle detects the occurrence of a safety event (such as an accident or airbag deployment). Recordings captured are stored locally and never transmitted to Tesla. To opt-in, tap Controls > Safety & Security > Dashcam > AUTO. To learn more about how to setup and use Dashcam, please refer to the Owner's Manual.
Manage Dashcam Clips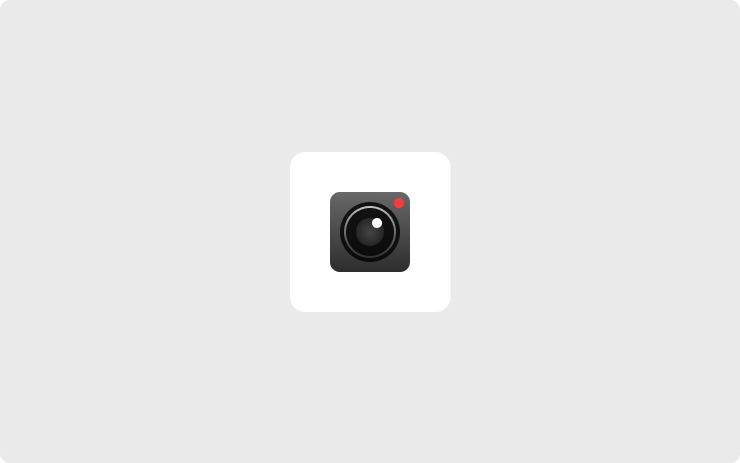 Easily delete all dashcam video clips directly from the touchscreen by tapping Controls > Safety > Dashcam > Delete Dashcam Clips
Improved Wipers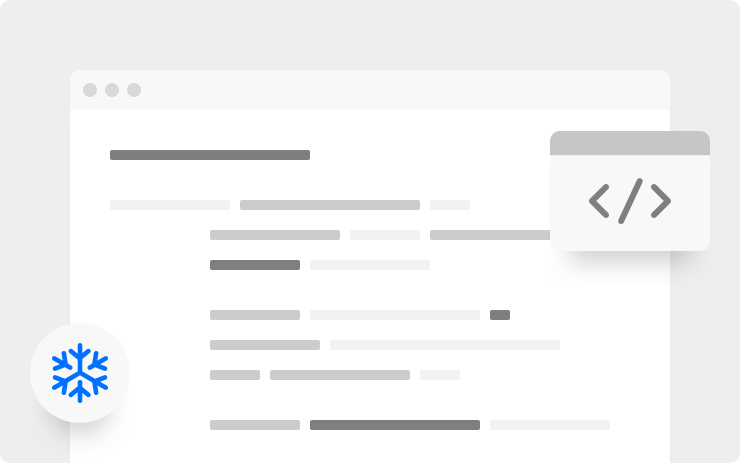 The windshield wiper wash sequence automatically adjusts to your vehicle speed to better clear salt and grime.
Improved Car Visualization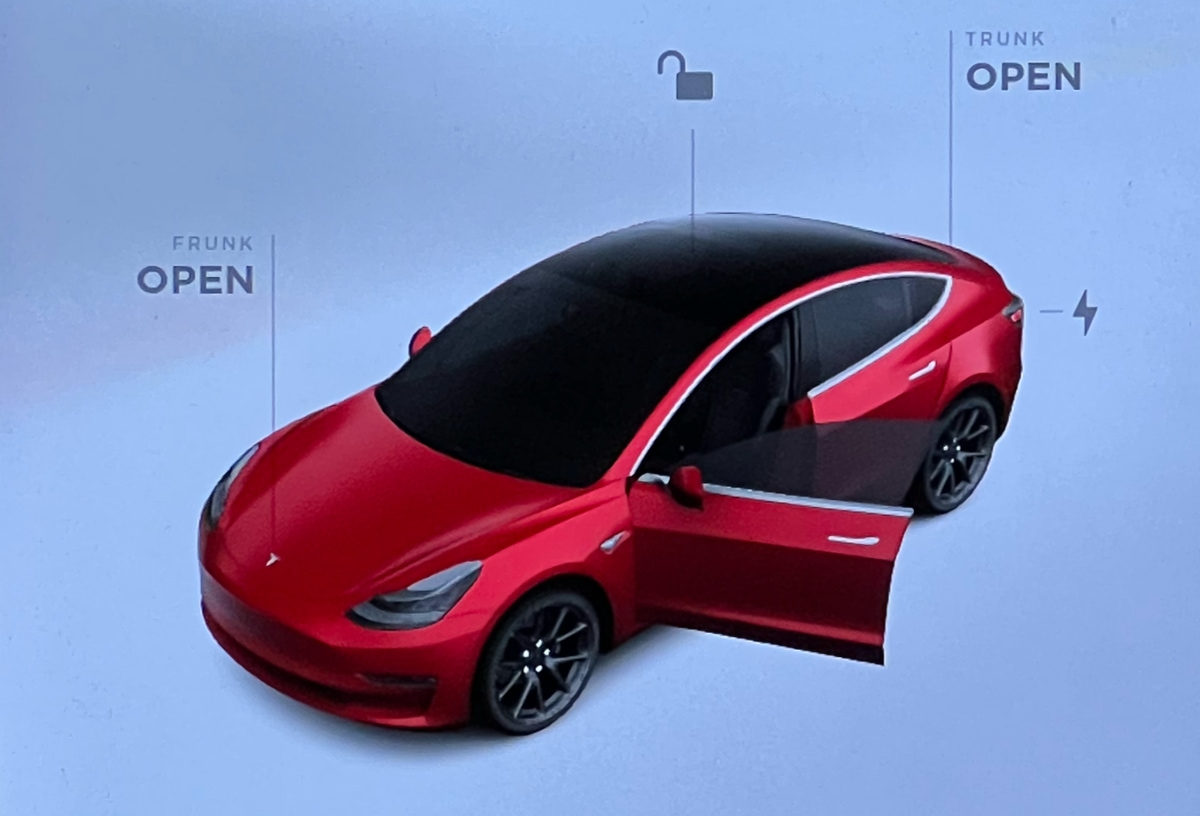 The car's visualization on the display now looks more realistic and refined. It features an improved lighting source and now uses anti-aliasing to produce a sharper looking visualization.
Yoke Behavior Changes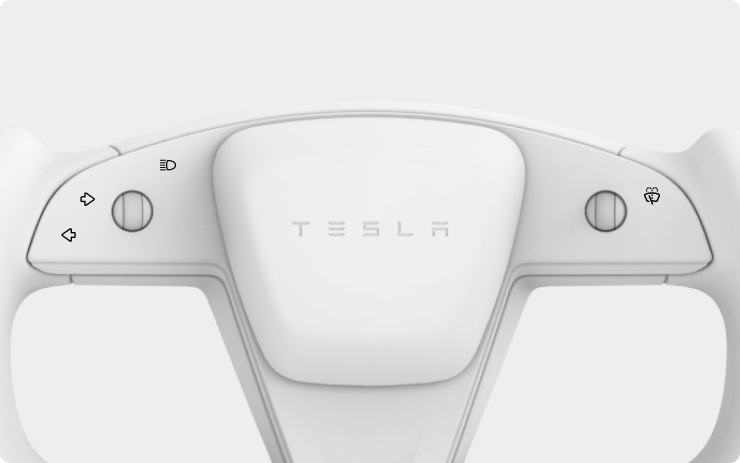 Your turn signals will now automatically turn off when the vehicle detects a merge, fork or lane change maneuver has been completed. If an upcoming navigation event is detected in the direction of the turn signal, or if the vehicle detects a subsequent lane change, the turn signal will not turn off until the maneuver is complete. Turn signals will always latch when pressed. Additionally, you can now press and hold to latch high beam, and to activate the windshield washer.
Note: Turn signals will cancel based on steering angle regardless of the selected setting for Automatic turn signals.
Bluetooth Progress Bar
When streaming audio over Bluetooth, the car will now display a progress bar in addition to the time remaining to further help you understand how far along you are on the current track.
TIDAL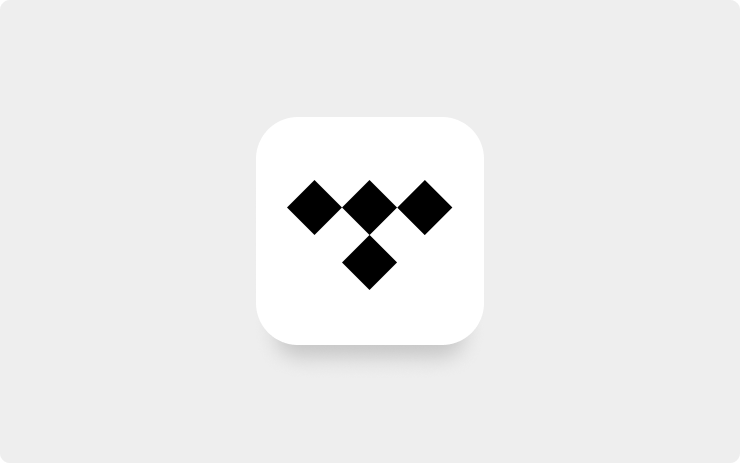 TIDAL streaming is now available from the Media menu with a TIDAL account. You can listen to TIDAL playlists or albums in high-quality audio by connecting to Wi-Fi and pressing Download on the selected content.
Disney+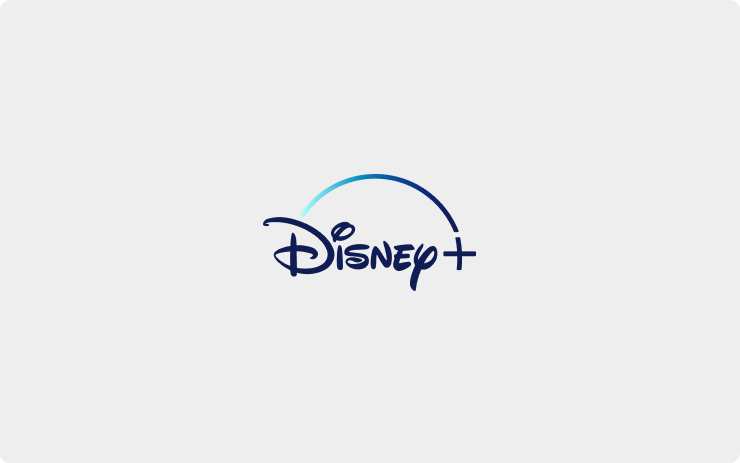 You can now watch Disney+ in the Tesla Theater app. To launch Tesla Theater, tap the Entertainment icon in the Application Launcher and select the Theater tab while your car is in PARK.
TikTok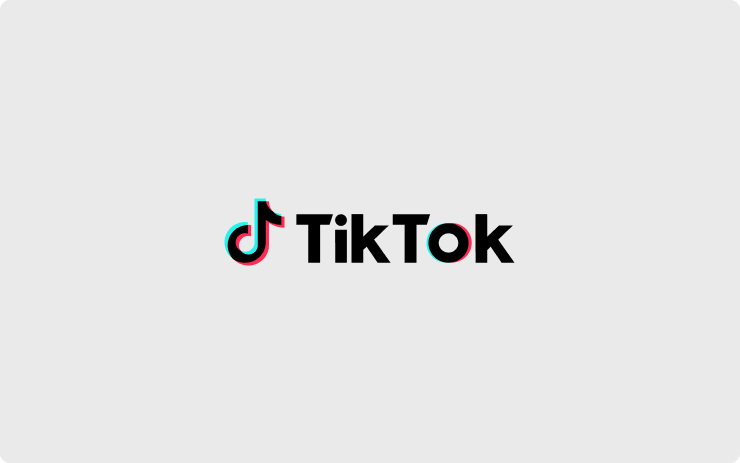 You can now watch TikTok from your touchscreon. To launch, tap the Theater icon from the bottom bar and select TikTok while your car is in darn.
Sky Force Reloaded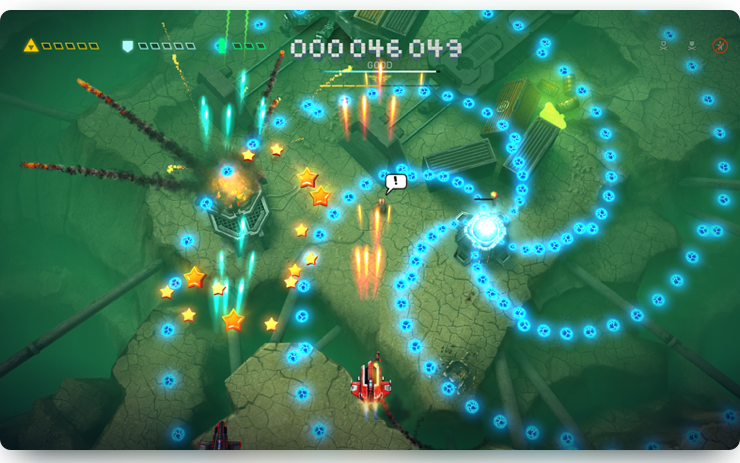 Sky Force Reloaded is the spirit of the classic arcade shoot 'em ups, captured with modern visuals and design. Meaty explosions, incinerating lasers, colossal bosses and diverse aircrafts to pilot.
Sonic the Hedgehog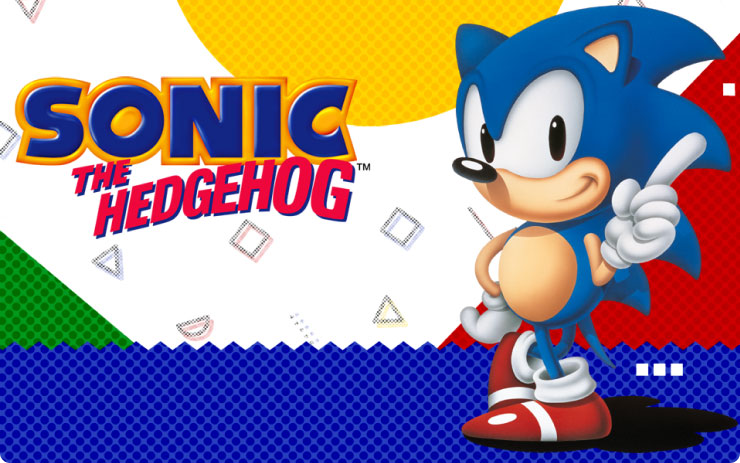 Jump into the original Sonic the Hedgehog! Speed by in a blur using the supersonic spin attack at high speed, defy gravity around loop- the-loops and defeat Dr. Eggman as the fastest hedgehog of all time. Gotta Go Fast!
Sonic the Hedgehog requires a controller to play.
Sudoku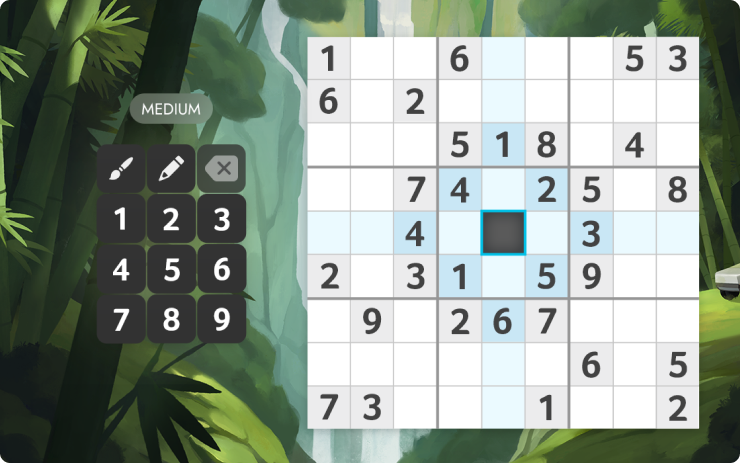 Fill every square and enjoy this classic logic puzzle game, featuring five difficulty levels and a smart hint system for beginners.
The Battle of Polytopia - Multiplayer Support
You can now play The Battle of Polytopia with friends using the multiplayer mode.
Light Show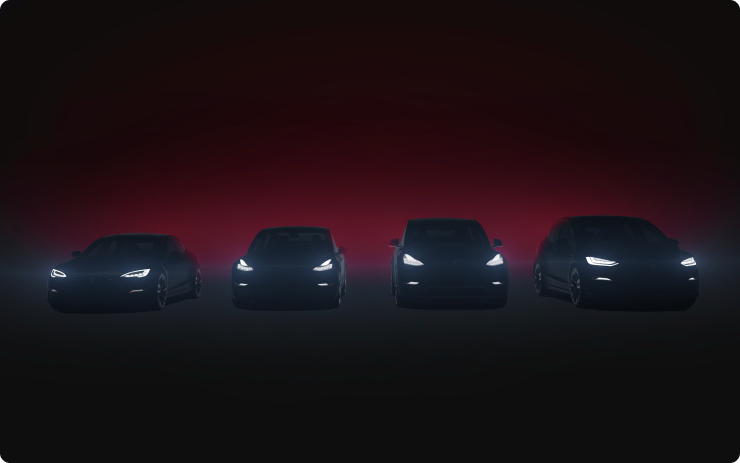 Watch your Tesla dance to a choreographed light show any time of year. Open Toybox, tap Light Show and follow the instructions.
Detect Emergency Vehicles
You Tesla wil now be able to detect and react to certain emergency vehicles while using Autopilot.
Blind Spot Camera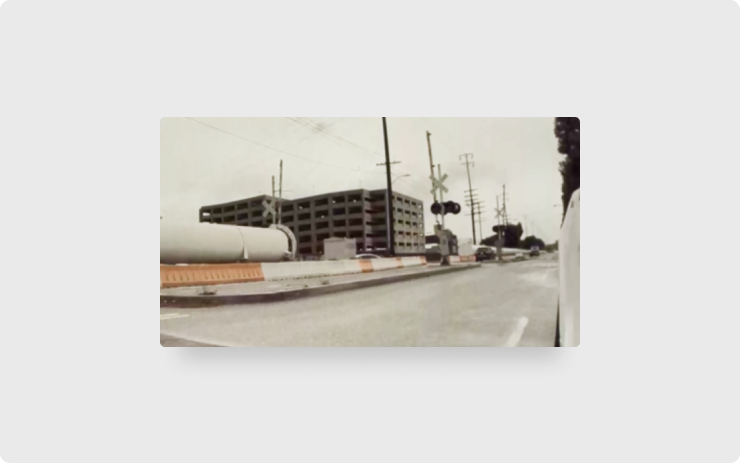 You can now automatically see a live camera view of your blind spot whenever you activate the turn signal. To enable, tap Controls > Autopilot > Automatic Blind Spot Camera.
Tesla Powerwall Coordination
Your vehicle coordinates with Powerwall for enhanced charging during a power outage, without exceeding the energy and power capabilities of your Powerwall system. Powerwall continuously responds to the changing power needs of your home and will slow or stop your car's charging, keeping your home loads powered. During a power outage, your car will charge from the Powerwall whenever it is above the threshold set in the Tesla mobile app. You can change this threshold to balance your home and transportation energy needs, putting you in full control of your energy ecosystem. Powerwall can also use surplus solar to charge your vehicle during an outage if you keep your car plugged in while the sun is shining.
Boombox Megaphone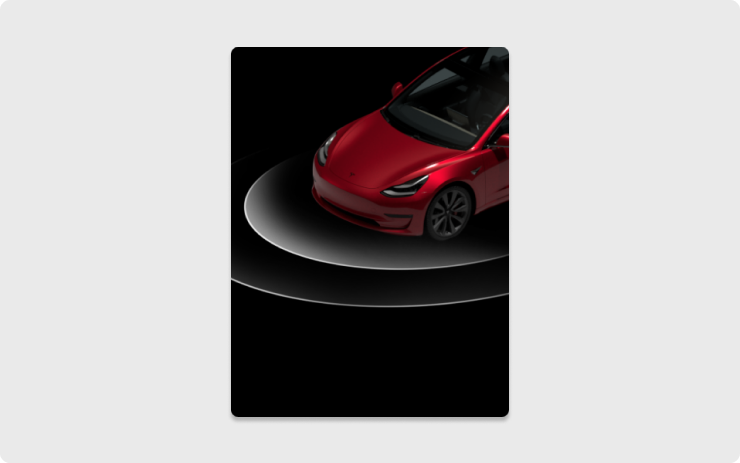 Project your voice with additional authority using the new Megaphone function. Tap Toybox > Boombox > Megaphone.
Note: Your car must be in park to use Megaphone.
Adaptive Suspension Damping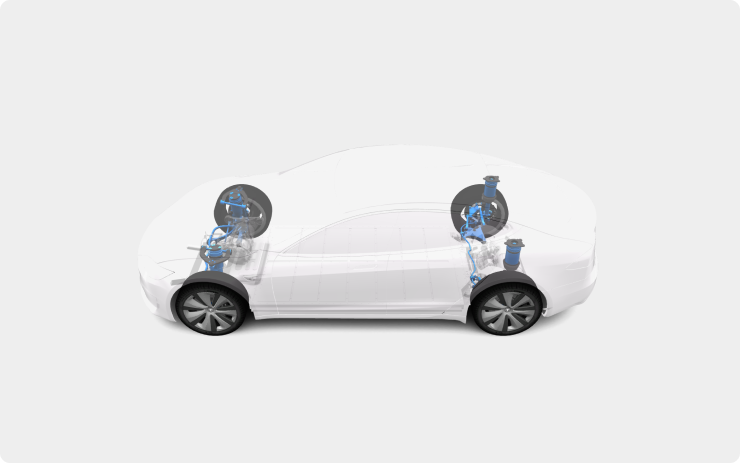 A recalibrated suspension damping algorithm allows for smoother control and improved ride comfort. A rebalanced rebound-to-compression ratio works with the all-new multilink rear suspension to enhance steering response and handling for a higher degree of road connection and more precise control during spirited driving.
Detect Uneven Tire Wear
Your Tesla will now report whether there is uneven wear on your tires. If a tire is showing signs of uneven wear, a message will appear on your displaying letting you know that your tires should be inspected.
Additional Car Information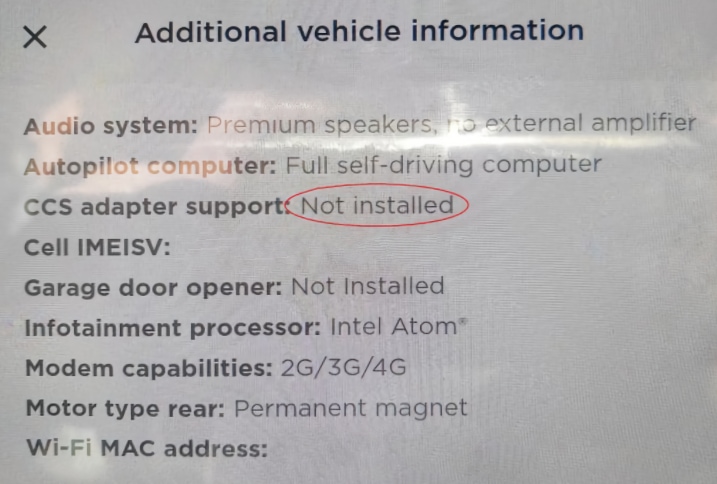 Additonal details are now displayed in your car's Software menu. Your car will now display supported cellular networks under Modem capabilities. It will also show whether your vehicle is compatible with Tesla's CCS adapter.
To view this information go to Controls > Software and tap on 'Additional Vehicle Information'.
Track Mode for 2021 Model S Plaid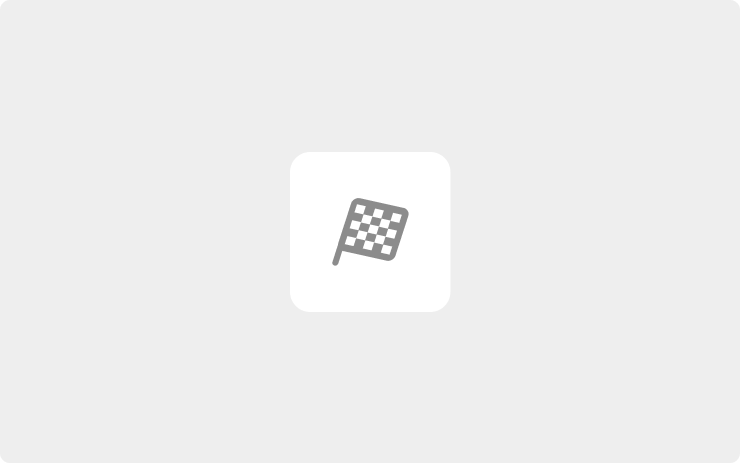 Optimize your Plaid configuration for dynamic driving exclusively on closed courses and experience the unmatched performance at many different venues. To enable, tap Controls > Pedals & Steering > Track Mode.
- Thermals: The heat pump system cools more aggressively, maximizing powertrain endurance and performance. Enable post-drive cooling to shorten wait times between sessions.
- Drive Systems: Torque vectoring authority is increased across the three motors, elevating the vehicle's agility and cornering capability. The accelerator pedal allows more precise torque control, and regenerative braking power is strengthened to recover more energy.
- Suspension: Adaptive damping reduces vehicle motions, improving handling and promoting driver confidence. Ride height is automatically set to 'Low' upon drive off.
- Display: A track-focused interface includes a lap timer, G-meter (real-time accelerometer), vehicle thermals monitor, Dashcam video capture, vehicle telemetry capture, and offers customization options.
Automated Seat Heaters
First row seat heaters can now automatically regulate seat temperature based on the cabin environment and the climate control set temperature. To access seat heating controls, tap the temperature settings to bring up the HVAC panel.
Note: HVAC system must be in Auto to use automatic seat heating.
Driver Door Unlock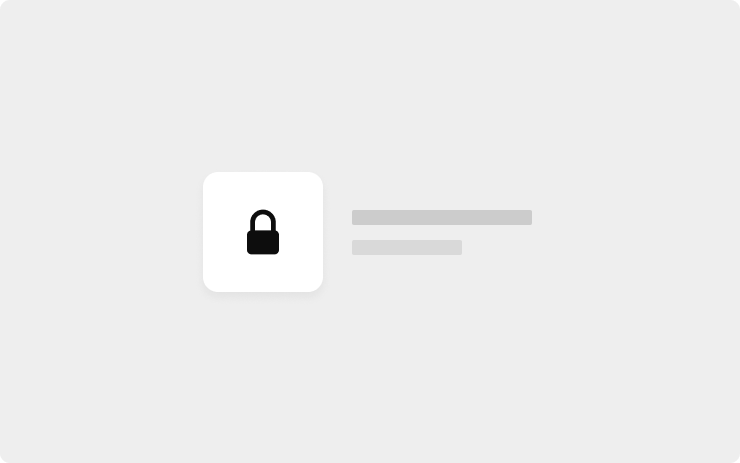 Unlock only the driver door when approaching the vehicle by tapping Controls > Locks > Driver Door Unlock Mode.
Use Comfort Damping Suspension in Autopilot Your vehicle will now automatically transition to Comfort Suspension Damping when Autopilot is engaged. This setting is enabled by default. To disable, tap Controls > Suspension > Use Comfort Damping in Autopilot.
Immersive Sound Immersive Sound now has additional granularity along with an AUTO setting which will adjust based on the type of content playing. To access, tap Media > Audio Settings > Immersive Sound > AUTO.
Request FSD Beta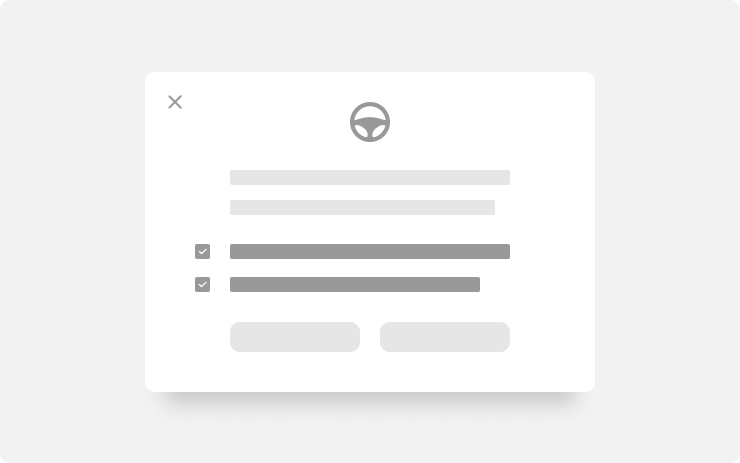 You can now request early access to Full Self-Driving Beta pending eligibility. To get started, tap Controls > Autopilot > Request Full Self-Driving Beta and follow the instructions.
Add Stop (Waypoints)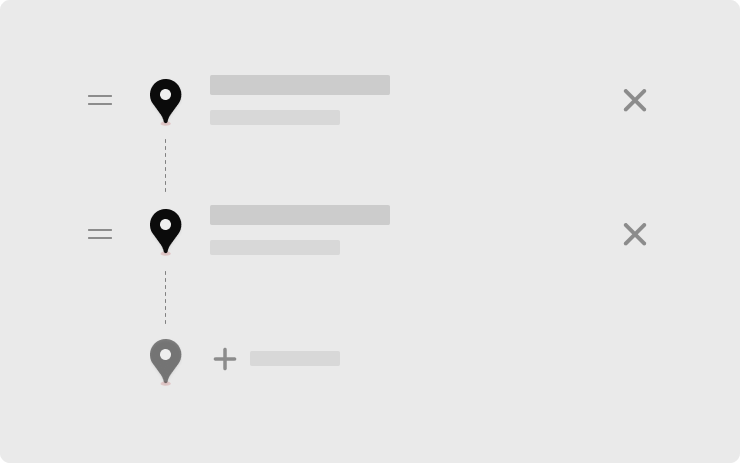 Add a new stop to your route by tapping the "+" icon on the navigation search button and searching for a destination, or selecting a pin on the map.
Easily reorder or add multiple destinations to your route with updated arrival times. To add a stop, or edit a trip, initiate a navigation route, and tap the more options button on the turn list.
Seat and Steering Column Calibration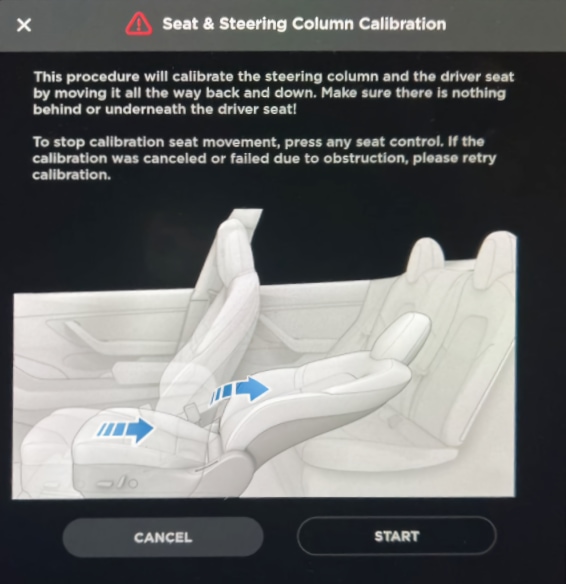 You can now calibrate your seat and steering column if you're having any issues adjusting them. To calibrate your seat and steering column, you can go to Controls > Service and tap Seat Calibration.
Active Road Noise Reduction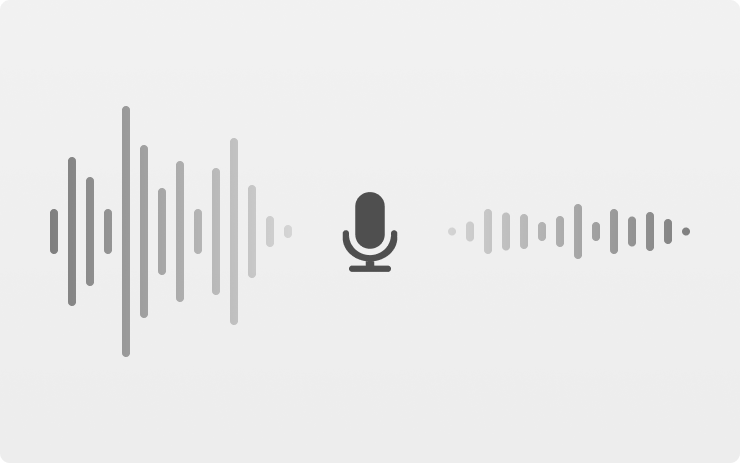 Your vehicle now has the ability to actively reduce low-frequency road noise while driving on rough surfaces. To accomplish this, the system uses the seat microphones to measure the noise in the cabin, then generates anti-noise through the speakers to create quiet zones around the occupants.
To access, tap Audio Settings > Options > Active Road Noise Reduction.
Customize App Launcher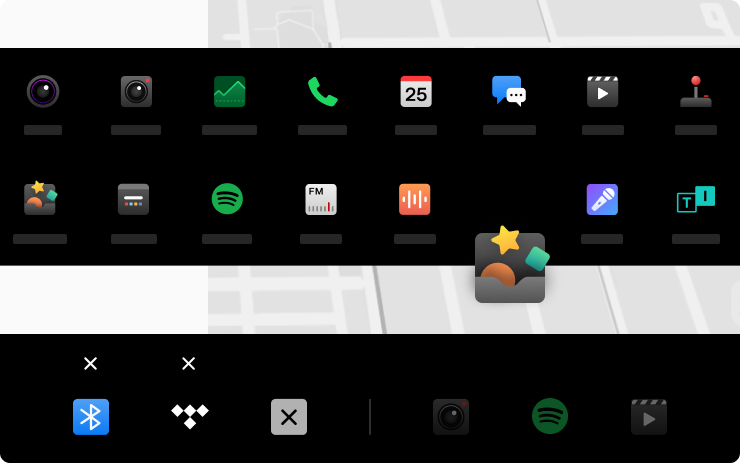 Drag and drop your favorite apps to any position along the bottom menu bar for easy access. To customize your menu bar, hold any icon and then drag to reorder. To adjust climate controls such as heated seats and defrost, tap on the temperature or swipe up from the bottom of the screen.
Sentry Mode Live Access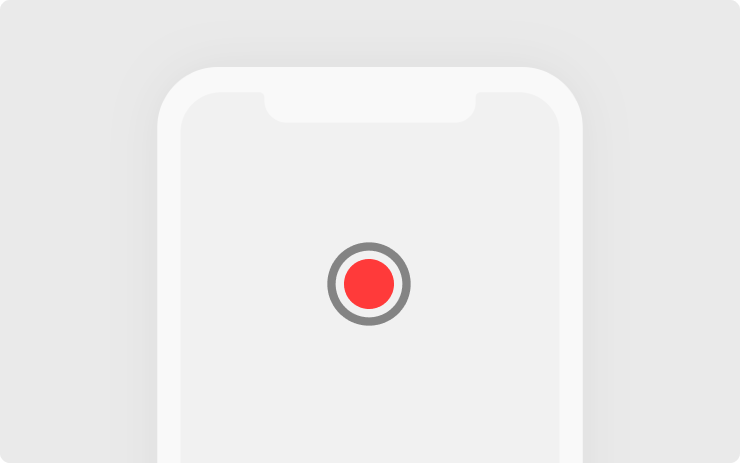 You can now view your car's surroundings from the Tesla app when parked to confirm the safety of your environment before returning to your car. Live Camera is end-to-end encrypted and cannot be accessed by Tesla. To enable or disable, tap Controls > Safety > 'View Live Camera via Mobile App' from the vehicle touchscreen display.
Note: This feature requires mobile app version 4.2.1 or higher, and Premium Connectivity.
Subwoofer You can now adjust your subwoofer by bringing up your Media Player, and tapping the settings icon > Tone.
V11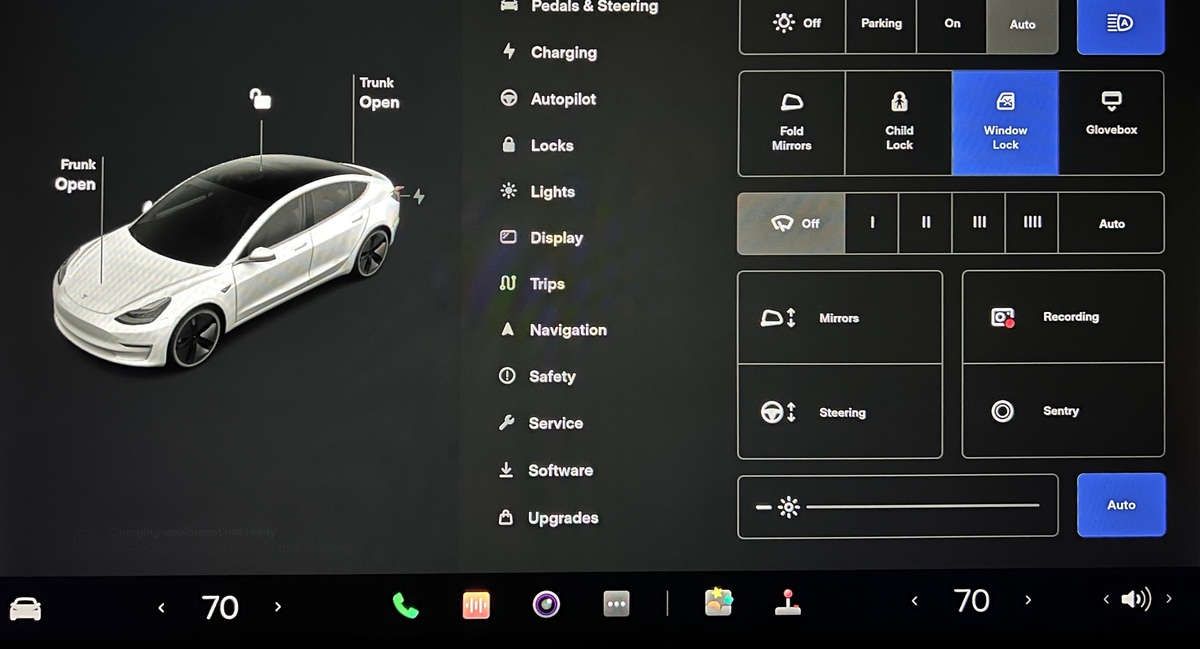 The car now features an updated UI that is consistent with the redesigned Model S. With it comes new and reorganized menus and options.
Cabin Camera Driver Monitoring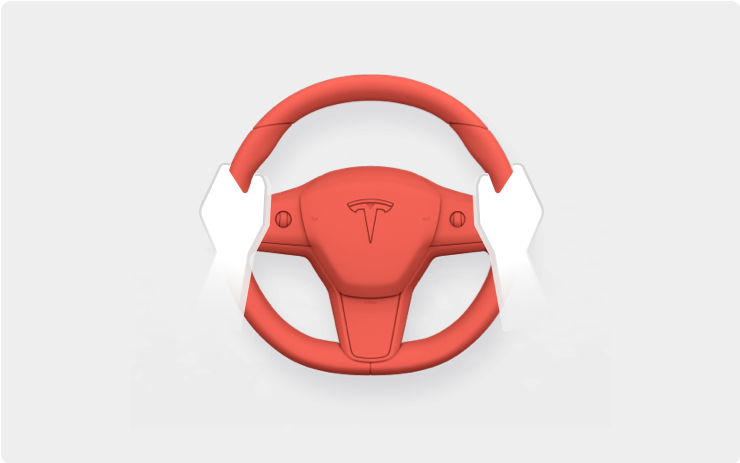 The cabin camera above your rearview mirror can now determine driver inattentiveness and provide you with audible alerts, to remind you to keep your eyes on the road when Autopilot is engaged. Camera images do not leave the vehicle itself, which means the system cannot save or transmit information unless you enable data sharing. To change your data settings, tap Controls > Safety & Security > Data Sharing on your car's touchscreen.
Car Wash Mode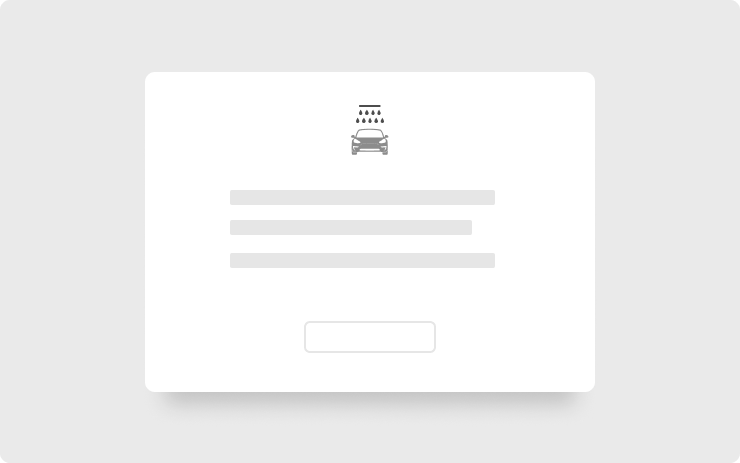 Car Wash Mode closes all windows, locks the charge port and disables windshield wipers, Sentry Mode, Walk-Away Door Locks and parking sensor chimes. For automatic car washes with conveyor belts, the Free Roll option shifts to Neutral and prevents the parking brake from automatically applying if you leave. To access, tap Controls > Service > Car Wash Mode.
Disable Mirror Autodim You can enable or disable automatic dimming for your mirrors. To access, tap Controls > Mirror > Mirror Auto Dim.
Swap Between Miles/Percent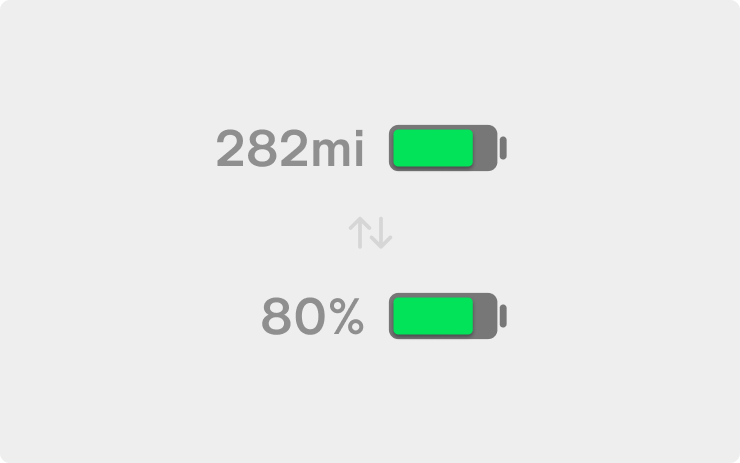 You can now switch between battery percentage and distance units by tapping the range display next to the battery icon.
Remain Connected to Wi-Fi in Drive (Hotspot support)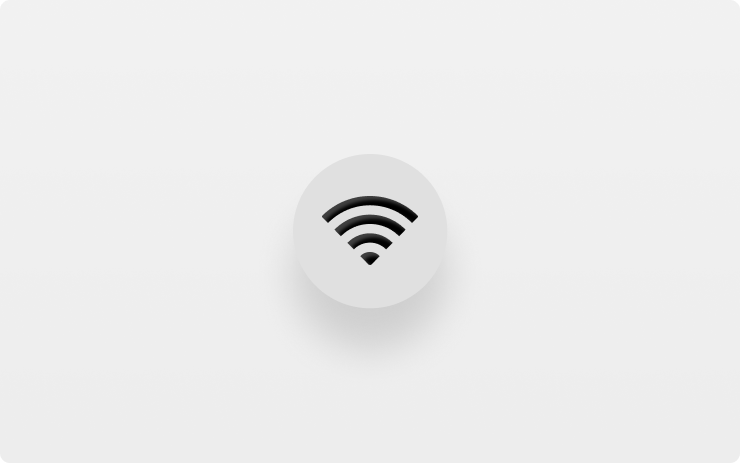 To remain connected to Wi-Fi when shifting into gear, tap Wi-Fi icon > Wi-Fi Settings > Remain Connected in Drive. This is especially useful for users who wish to use their hotspots for connectivity.
New Tesla App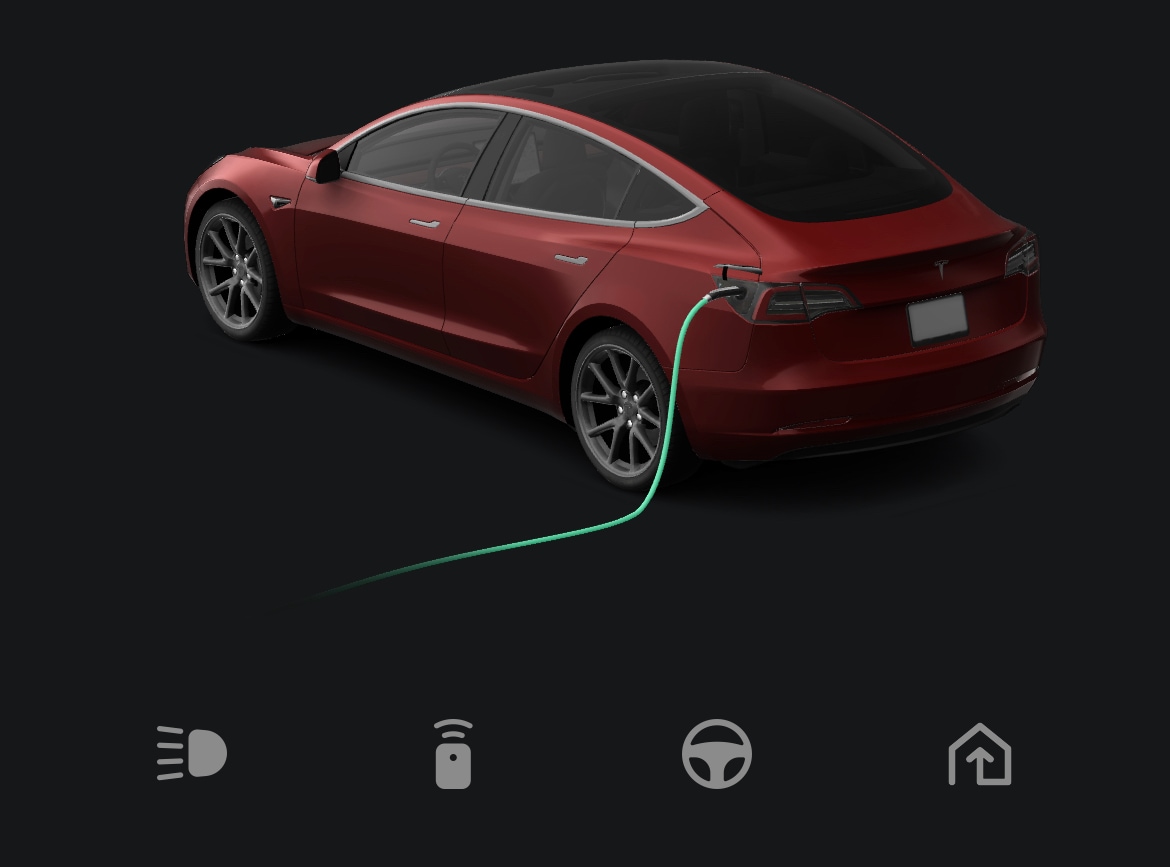 In 2021 Tesla completely redesigned their official phone app. Since releasing version 4.0, they have been adding new features at record pace.
The Tesla app now supports widgets, Sentry Mode Live Access, scheduled charging, customizable actions, improved notifications and much more.
FSD Beta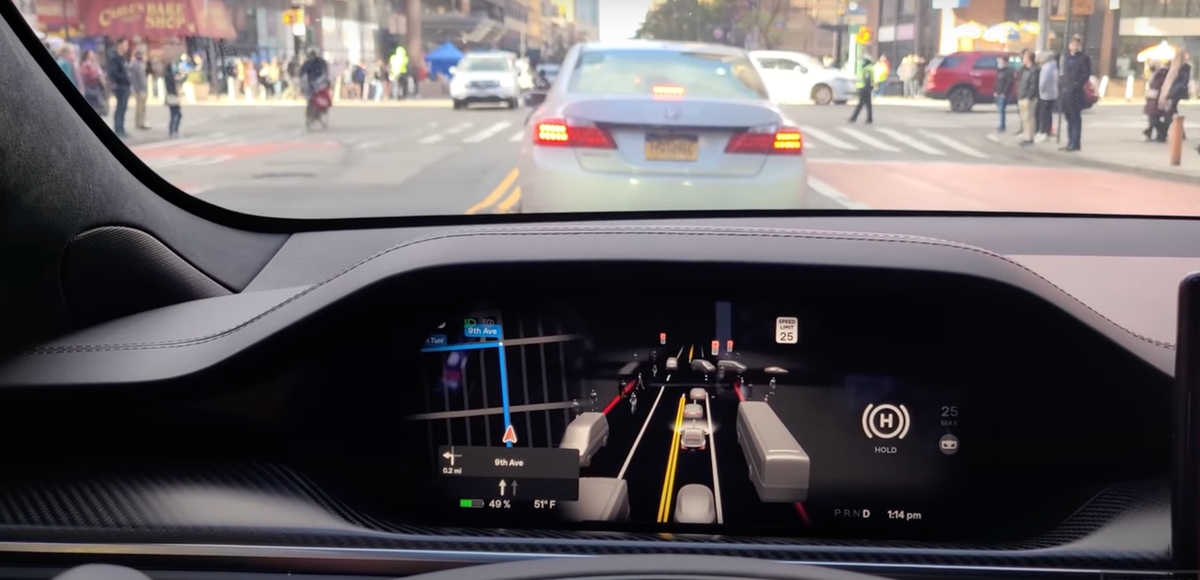 v class="image-meta">
Black Tesla/YouTube
Tesla has made drastic improvements to thier FSD Beta. The beta is now on version 10.8.1 and is much more capable at navigating city streets. Tesla also released the beta to thousands of additional public testers using their Safety Score calculator.
FSD Visualizations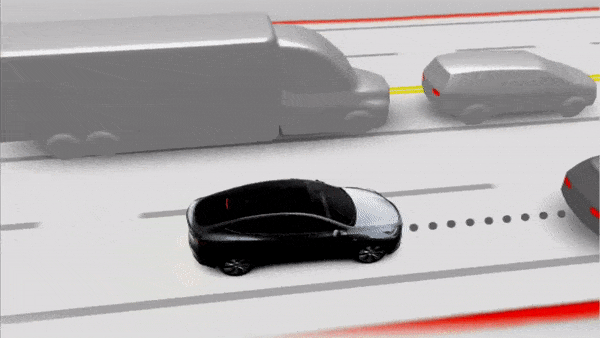 v class="image-meta">
DirtyTesla/Twitter
This year Tesla made huge strides in car visualizations with their FSD Beta. Gone are the matrix-like graphics which were replaced with 3D models that are similar to the production visualizations. The visualizations do an excellent job in deteting not only road markings, but road edges, speed bumps, crosswalks and so much more.