August 17, 2021
By Nuno Cristovao
One of Tesla's latest features included in the 2021.24.4 release is Car Wash Mode. The feature is available for all Model 3 and Model Y vehicles. Unfortunately, it's not available for Model S or Model X, including the newly designed Model S models.
Now, this feature doesn't really do anything you couldn't accomplish before manually by turning various features on or off, but it does make it so much easier. It also provides a useful status of all relevant features during a car wash so that you don't miss anything.
It'll likely prevent damage to cars for many owners when using automatic car washes. For example, it'll lock your charge port door to prevent it from opening when a brush pushes against it. It also disables your wipers, preventing them from coming on and getting tangled or caught in a car wash's felt strips.
After arriving at a car wash, you can enable Car Wash Mode by going to Car Controls > Service > Car Wash Mode. The car will immediately perform a variety of things for you to get your car ready.
Your vehicle will automatically close everything that it can to prevent water getting into the car. This includes the charge port, windows and if your car is equipped with an automatic trunk, it'll close the trunk for you as well.
It does quite a bit more than just closing things for you though. It'll disable your wipers, lock the charge port door, turn off sentry mode, disable walk-away door locking and even disable the parking sensor chimes to prevent unwanted beeping during the car wash.
For automatic car washes that use conveyor belts, you will need to put your car into neutral. Now, if you've never done that before, it's not very obvious how to do it. It requires you to have your foot on the brake pedal while pushing the gear stalk up or down and holding it for a second. Car Was Mode now makes it very easy to get your car into Neutral. There's a "Enable Free Roll" button that you can easily tap if you're in drive and have your foot on the brake pedal. No need to mess with the gear stalk any more.
Now one of the nicest features of Car Was Mode is actually the great overview it gives you of your car and all of its features that are relevant to car washes.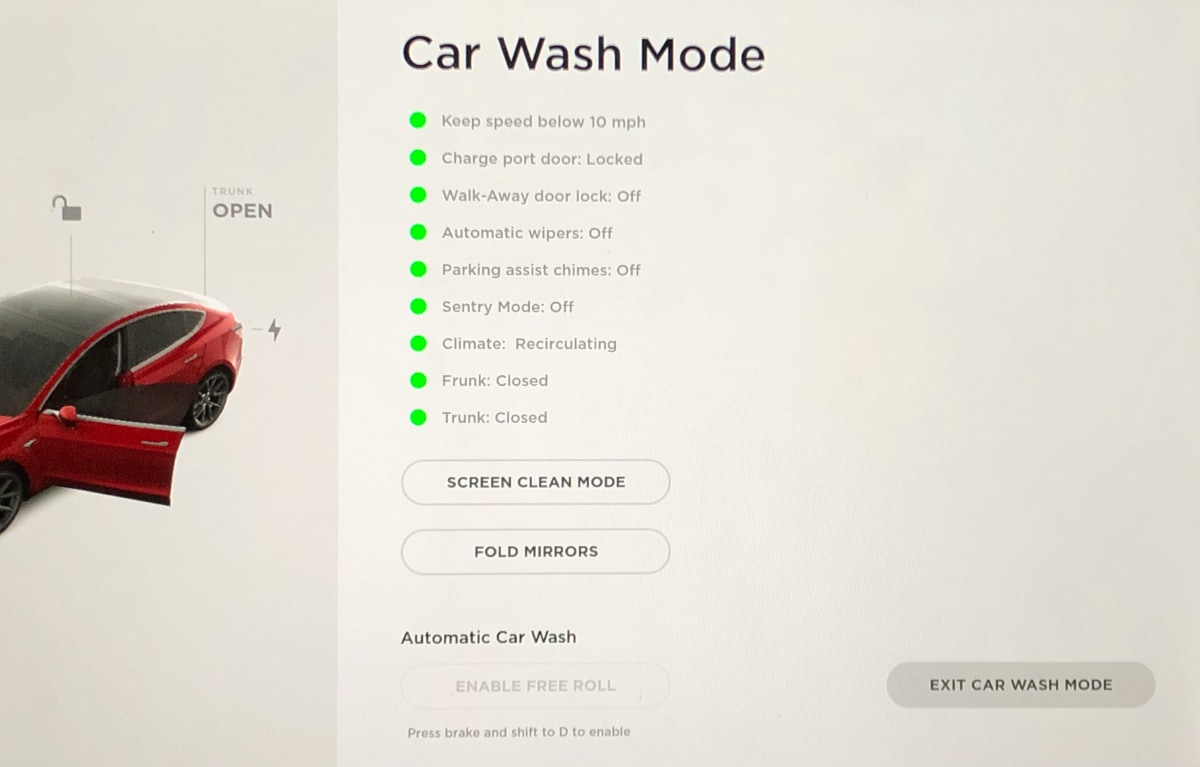 It'll display a list of each feature and give you a red or green status light to alert you to any issues. For example, if you left your trunk open, it would show a red light and display "Trunk: Open."
It's sort of a car wash checklist with a live status of each feature. It'll even show you the status of the climate system, which you likely want to turn off or set to recirculating while in the car wash.
On the Car Wash Mode screen you also have easy access to Screen Clean Mode and the ability to fold your mirrors if needed.
You can exit Car Wash Mode by tapping the exit button or simply by putting your car into Drive and going above 10 MPH.
Car Wash Mode is a nice addition that certainly doesn't do anything you couldn't do before, but it sure makes it easier and more enjoyable.