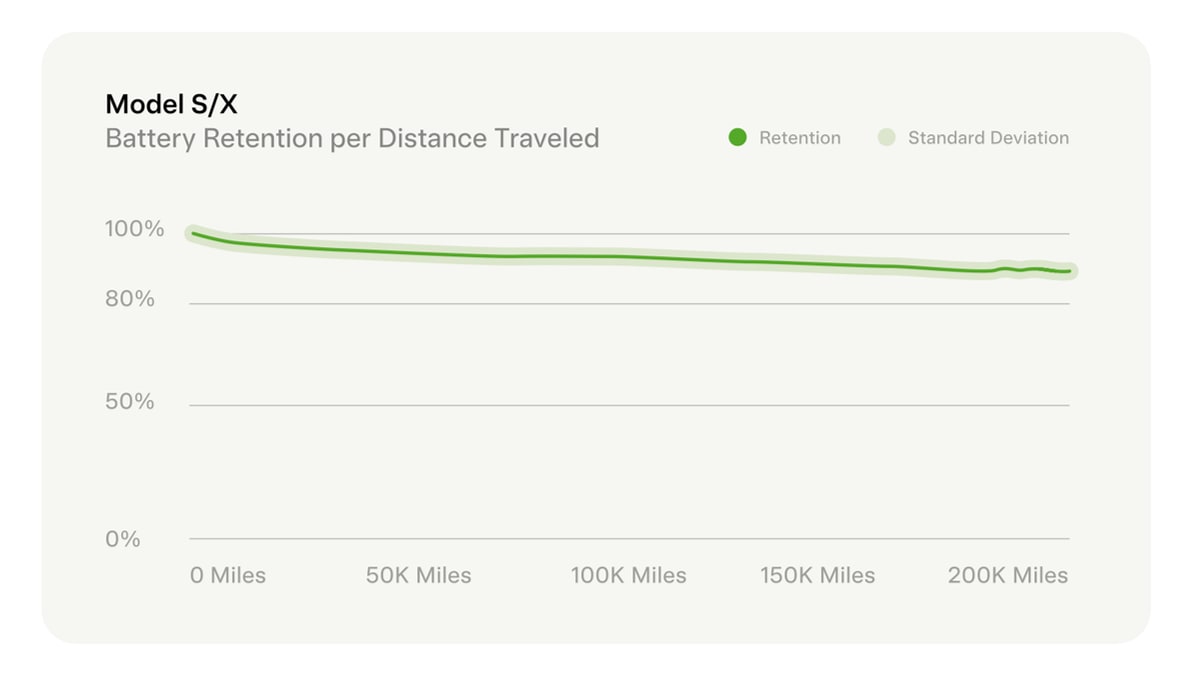 Tesla owners often are asked about the lifespan of their vehicle's battery and whether it will need to be replaced. However, based on over a decade of real-world data, Tesla confidently states that battery replacement is not a concern for most customers. On average, Tesla batteries degrade by a mere 12% after 200,000 miles (321,868 km) of usage, which outperforms many expectations.
The impressive durability of Tesla batteries has been demonstrated through the company's consistent investment in research and development. As a result, Tesla has consistently pushed the limits of battery technology, ensuring that their electric vehicles remain at the forefront of the industry regarding performance and sustainability.
Mileage vs. Age: Factors Affecting Battery Capacity Retention
Though mileage is a significant factor in battery capacity retention, battery age also plays a crucial role. Lower mileage retention figures likely indicate the impact of age, while higher mileage values from high-utilization vehicles probably reflect less influence from battery age. Tesla's data set spans over a decade and provides valuable insight into the complex relationship between these factors and battery degradation over time.
This information is invaluable for current and prospective Tesla owners, as it helps alleviate concerns regarding battery lifespan and potential replacement costs. Furthermore, it emphasizes the long-term sustainability of EVs, making them a more attractive option for environmentally conscious consumers.
Newer Battery Chemistries Promise Even Better Performance
Tesla continues to innovate and improve its battery technology. The company is developing newer chemistries that promise to perform even better than the current ones. As more data becomes available, Tesla plans to expand its disclosure on these new battery chemistries to keep consumers informed about their vehicles' battery performance.
Electric Vehicles Becoming More Sustainable and Cost-Effective
The durability of Tesla batteries benefits the environment by reducing waste from battery replacements and contributes to making EVs more cost-effective for consumers in the long run. As the market for electric vehicles continues to grow, the impressive performance of Tesla batteries will play a significant role in encouraging more people to switch to sustainable transportation.
In conclusion, Tesla owners can rest assured that their vehicle's battery is built to last. With just a 12% degradation after 200,000 miles on average and the potential for even better performance in the future, Tesla continues to demonstrate its commitment to sustainability and innovation in the electric vehicle industry. This commitment is evident in the company's ongoing efforts to develop new battery chemistries and to share detailed information about battery performance with the public.