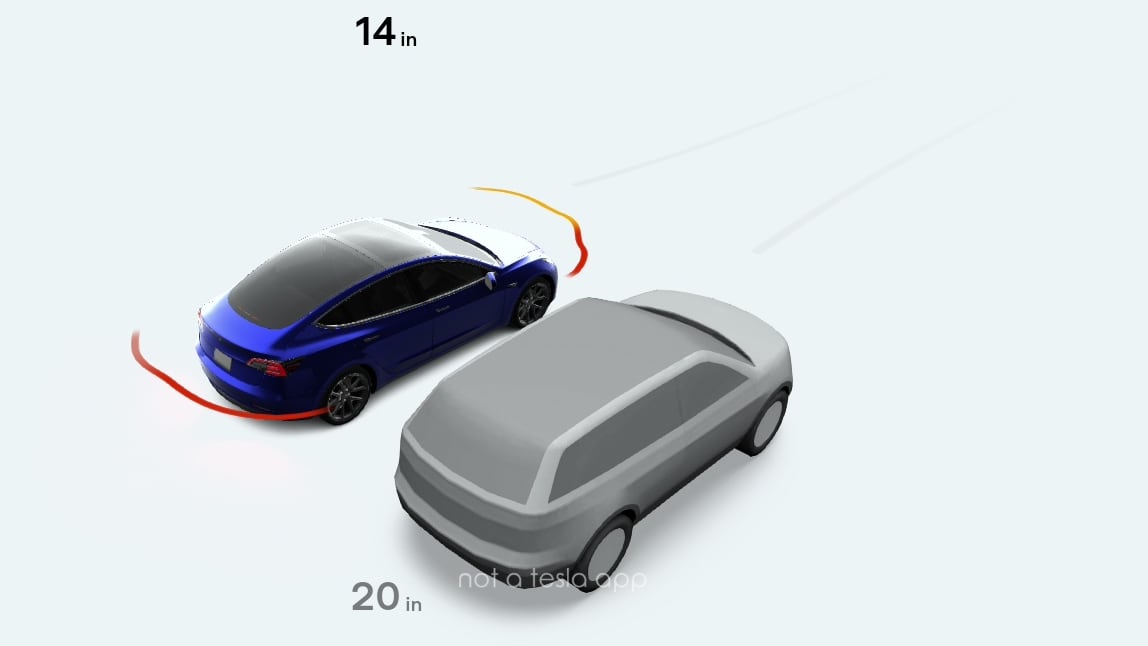 Tesla made a major announcement today that beginning in October 2022, they will no longer be building vehicles with ultrasonic sensors (USS). This comes after the automotive company announced it was removing radar from its vehicles.
Tesla removed radar from Model 3 and Model Y vehicles back in 2021, and Model S and Model X vehicles in 2022. According to the announcement, "in most regions around the globe these vehicles now rely on Tesla Vision, our camera-based Autopilot system."
The Austin-based company's announcement adds that it is going to continue with its rollout of removing the USS with the Model 3 and Model Y vehicles this year, and the Model S and Model X cars will follow in 2023.
Since the removal of radar, Tesla has made significant improvements to its software to enable its advanced driver-assistance features (ADAS). This includes its vision-based occupancy network, which Full Self-Driving Beta relies on. The occupancy network will replace inputs that are generated by USS, per Tesla's announcement.
"With today's software, this approach gives Autopilot high-definition spatial positioning, longer range visibility and ability to identify and differentiate between objects," reads the post. "As with many Tesla features, our occupancy network will continue to improve rapidly over time."
However, a certain number of features will be unavailable as Tesla forges ahead with this transition to Tesla Vision. These features include Park Assist, Autopark, Smart Summon, and Summon.
Once the features become updated and improved by the Tesla team, they'll be rolled out via over-the-air software updates. Autopilot, Enhanced Autopilot, and Full Self-Driving will be active upon delivery, depending on your order configuration.
"In the near future, once these features achieve performance parity to today's vehicles, they will be restored via a series of over-the-air software updates," reads Tesla's post. "All other available Autopilot, Enhanced Autopilot and Full Self-Driving capability features will be active at delivery, depending on order configuration.
According to Tesla's FAQ, they do not plan to stop using ultrasonic sensors in vehicles that already have them, although they do preface this by saying 'at this time'. It's possible that Tesla may choose to turn off ultrasonic sensors in vehicles if vision can perform as well or better than the current sensors.
| | | |
| --- | --- | --- |
| Features * | Equipped with USS | Not equipped with USS |
| Forward Collision Warning | | |
| Automatic Emergency Braking | | |
| Lane Departure Warning / Avoidance | | |
| Emergency Lane Departure Avoidance | | |
| Pedal Misapplication Mitigation | | |
| Auto High Beam | | |
| Autowiper | | |
| Blind Spot Collision Warning Chime | | |
| AutoSteer † | | |
| Auto Lane Changes | | |
| Navigate on Autopilot | | |
| Traffic Light and Stop Sign Control | | |
| Park Assist | | Coming soon |
| Autopark | | Coming soon |
| Summon | | Coming soon |
| Smart Summon | | Coming soon |
*Features listed are reflective of availability in North America. Features vary based on region and purchased Autopilot package.
†Autosteer maintains its 85 mph top speed, which is the same as Tesla Vision vehicles equipped with USS.
"Given the incremental improvements already achieved with Tesla Vision, and our roadmap of future Autopilot improvements and abilities, we are confident that this is the best strategy for the future of Autopilot and the safety of our customers."