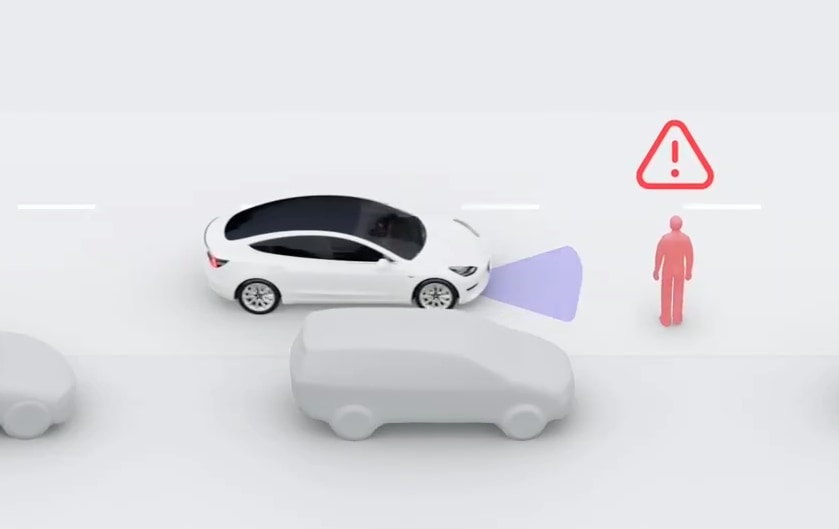 Tesla is introducing improvements to its Automatic Emergency Braking (AEB) system that goes beyond the standard AEB functionality. This new system includes the ability to detect and respond to vehicles that are not only in front of the car but ones that cross the car's path.
AEB is an important safety feature that can help reduce the risk of accidents and save road life. The system uses sensors and cameras to monitor the road ahead and identify potential obstacles, including other vehicles, pedestrians, and objects. When the system detects that a collision is about to occur, it will warn the driver with visual and/or audible alerts. If the driver does not respond, it will apply the brakes automatically to slow down or stop the vehicle.
How Tesla is Advancing AEB
Tesla's improvements to Automatic Emergency Braking system go beyond the standard AEB functionality, adding the ability to detect and react to vehicles that cross the car's path or "steals the right of way," such as a vehicle that runs a red light or cuts off the Tesla. According to Tesla, nearly half of the collisions of this nature would be avoided with this newly expanded system. From Tesla's release notes in the upcoming FSD Beta v11.3, Tesla states:
Expanded Automatic Emergency Braking (AEB) to handle vehicles that cross ego's path. This includes cases where other vehicles run their red light or turn across ego's path, stealing the right-of-way. Replay of previous collisions of this type suggests that 49% of the events would be mitigated by the new behavior. This improvement is now active in both manual driving and autopilot operation.
While the latest update has not gone out to the public, we have seen countless examples of Teslas already reacting to vehicles that turn in front of or swerve in front of them.
History of AEB
Automatic Emergency Braking is a safety technology that has been around since the mid-2000s and has become an increasingly common feature in newer vehicles. AEB is also known by other names, such as Collision Mitigation Braking System (CMBS) on Honda vehicles and Active Brake Assist on Mercedes-Benz vehicles. Bosch and Volvo were among the early pioneers in the field.
Bosch introduced its Predictive Safety System in 2006, and Volvo launched its City Safety system in 2008. Since then, many other car manufacturers and technology companies have developed their AEB systems, incorporating a range of sensors, algorithms, and machine learning techniques to improve the accuracy and effectiveness of the technology.
Learnings From FSD Beta
The AEB advancement is listed in the most recent FSD Beta release notes, v11.3. However, the upgraded system will respond in FSD or with all Autopilot features off. This is a significant safety advancement that Tesla will be providing, free of charge, during the next major over-the-air update for FSD Beta users.
Tesla is clearly taking everything it's learning from FSD Beta and its improved vision system and applying it to other areas, much like how it introduced Auto Cancel turn signals. With Auto Cancel Turn Signals, Tesla learned when to turn off your turn signal with its FSD Beta progress, and now you have the option to let the vehicle to turn off your turn signal for you after switching lanes
Improved AEB for All?
FSD Beta currently remains on a separate track from Tesla's other updates, which means not everyone will get the improvements to AEB, at least initially. Given Tesla's history with safety features, we expect that Tesla will eventually add this feature to non-FSD Beta builds or merge FSD and non-FSD builds so that all owners have access to the improved Automatic Emergency Braking.
It's already been shown that Teslas on Autopilot are ten times safer than human drivers and 2.5 times safer with Autopilot disengaged. It's due to features like this that continue to make the safest car on the planet even safer.