Tesla is as much of a software company as they are a car manufacturer. In a Tesla, you'll find some of the most exciting features in any car, ranging from video streaming like Netflix to live footage of your car while it's parked.
Below are some of the top features in almost every Tesla.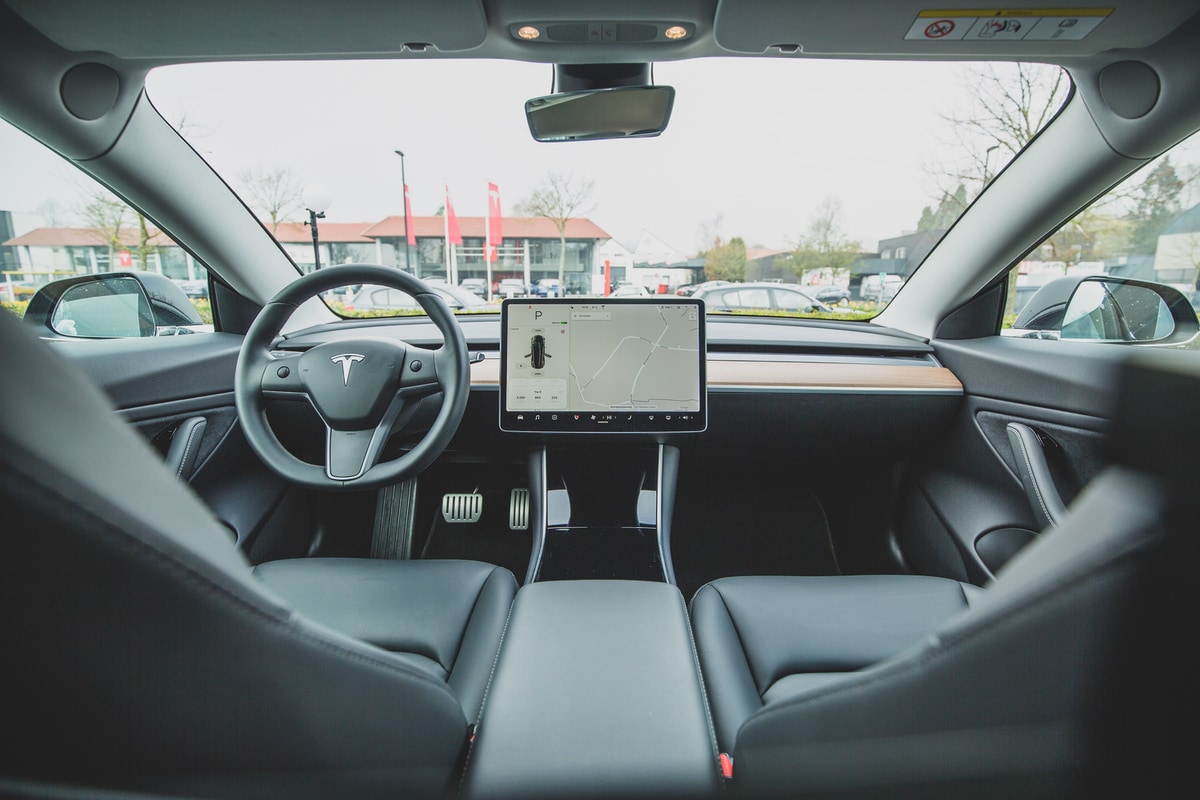 Autopilot
Tesla's Autopilot offers traffic-aware cruise control (TACC) and autosteer. With TACC Tesla vehicles will automatically speed up and slow down depending on how close the vehicle in front is.
The driver just sets the maximum speed and the following distance and the car will automatically control its speed and distance from other vehicles.
Autosteer is a combination of TACC and the ability for Teslas to remain in their lanes.
If you have standard Autopilot, then the vehicle will steer itself so that it remains in its lane. If you have the Full Self-Driving (FSD) option, then your vehicle will perform additional functions, such as change lanes, get off and on highway ramps, and respond to traffic lights and stop signs.
Tesla is testing additional functionality with their FSD Beta program in the US that allows the vehicle to drive itself on city streets with driver supervision. The vehicle can perform unprotected left turns, wait for other vehicles, go around stopped cars or pedestrians, and more. However, the feature is currently in its early stages and requires the driver to take over often.
Each Tesla is fitted with eight external cameras, 12 ultrasonic sensors, and a powerful onboard computer to provide an additional layer of safety to guide you on your journey.
Sentry Mode
Sentry Mode is one of Tesla's most innovative features. It adds a unique layer of protection to the vehicles by continuously monitoring the environment around a car when it's left unattended.
When enabled, Sentry Mode enters a "standby" state, like a home alarm system. It uses the car's external cameras to detect potential threats. If it detects a minimal threat, such as someone leaning on the vehicle, Sentry Mode switches to an "alert" state. It'll flash the car's lights and displays a message on the touchscreen, warning bystanders that its cameras are recording.
When you return to the car, you'll be presented with recordings that had activity in them.
Sentry Mode is a great security feature and deterrent for prospective thieves. In addition, you can select if you want Sentry Mode to always be enabled or only enabled when you're not near certain locations like your home.
Dashcam
With the built-in Dashcam, there is no need to purchase a third-party solution. Instead, Tesla will constantly record from four different cameras around the vehicle while driving.
The videos are saved to a USB drive, making it easy to access them if needed. You can also view the videos directly in the vehicle.
Footage from the dashcam is automatically overridden after an hour unless you specifically choose to save it.
You can save the last ten minutes of footage by tapping the dashcam icon.
You can also have the car automatically save recordings for you if you're in an accident or when you honk the horn.
Connectivity
Connectivity is an essential part of all Tesla cars. There are two connection plans available. The first is the standard free plan that provides navigation, live traffic, the ability to connect to the car from your phone. Additional services are also available if you're connected to Wi-Fi or connected to your phone's hotspot.
The second plan available is Tesla's Premium Connectivity package. For $10 a month, you get access to a heap of features. These include live traffic visualizations, satellite-view maps, video streaming while in park (including Netflix, YouTube, etc), caraoke, music streaming (Spotify, Slacker, Tidal, and others), live camera access, and internet browsing.
Tesla Theater
Teslas come with a ton of entertainment options. They include video and audio streaming, games, easter eggs, and more.
Tesla vehicles are equipped with a video streaming that could be accessed while the vehicle is parked, or on a rear screen of a new Model S or Model X.
Video streaming includes Netflix, YouTube, and Twitch. Hulu, Disney Plus, and other subscription-based services are also available in some countries.
Tesla Theater is a great way to pass the time while charging on a long trip or while waiting for someone.
Music Streaming
There is also a variety of music streaming services available that you could use to listen to music while driving. They allow you to play any song through the use of playlists, searching, or even using your voice.
Tesla currently offers TuneIn, Slacker, Spotify, and TIDAL. FM radio is also available and the Model S and Model X also have SiriusXM.
Karaoke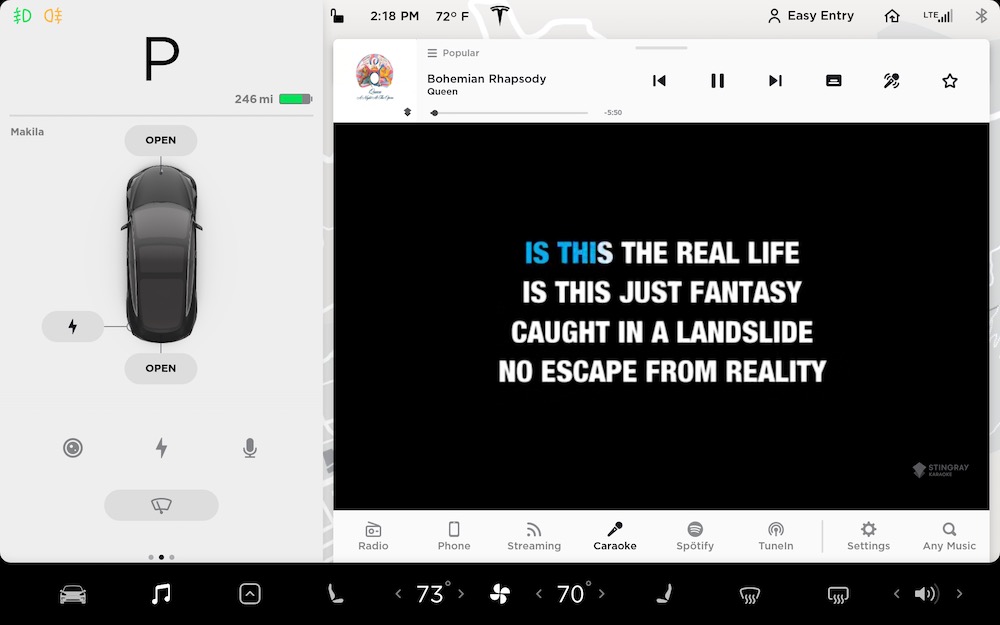 There is a Tesla version of karaoke called Tesla Caraoke. You'll be able to play and sing some of the most popular karaoke songs right in your car. With Caraoke, song lyrics will appear directly on the screen without interfering with the critical information the driver needs to drive safely. In addition, song lyrics can be displayed either with or without any vocals. Unfortunately, it does not have a microphone or the ability to record your voice.
Games
There are many games built into a Tesla. They include games like Super Breakout, Cuphead, Sonic the Hedgehog, 2048, Fallout Shelter, and many more. Tesla even supports connecting a controller to the car to play some of the games.
Romance Mode
Teslas feature several easter eggs. One of them is Romance Mode; and while uou can't roast marshmallows by an open fire in your car, you can still cozy up with your loved ones by this virtual fireplace. While in Park, access Romance Mode from your Toybox and queue up the music.
Santa Mode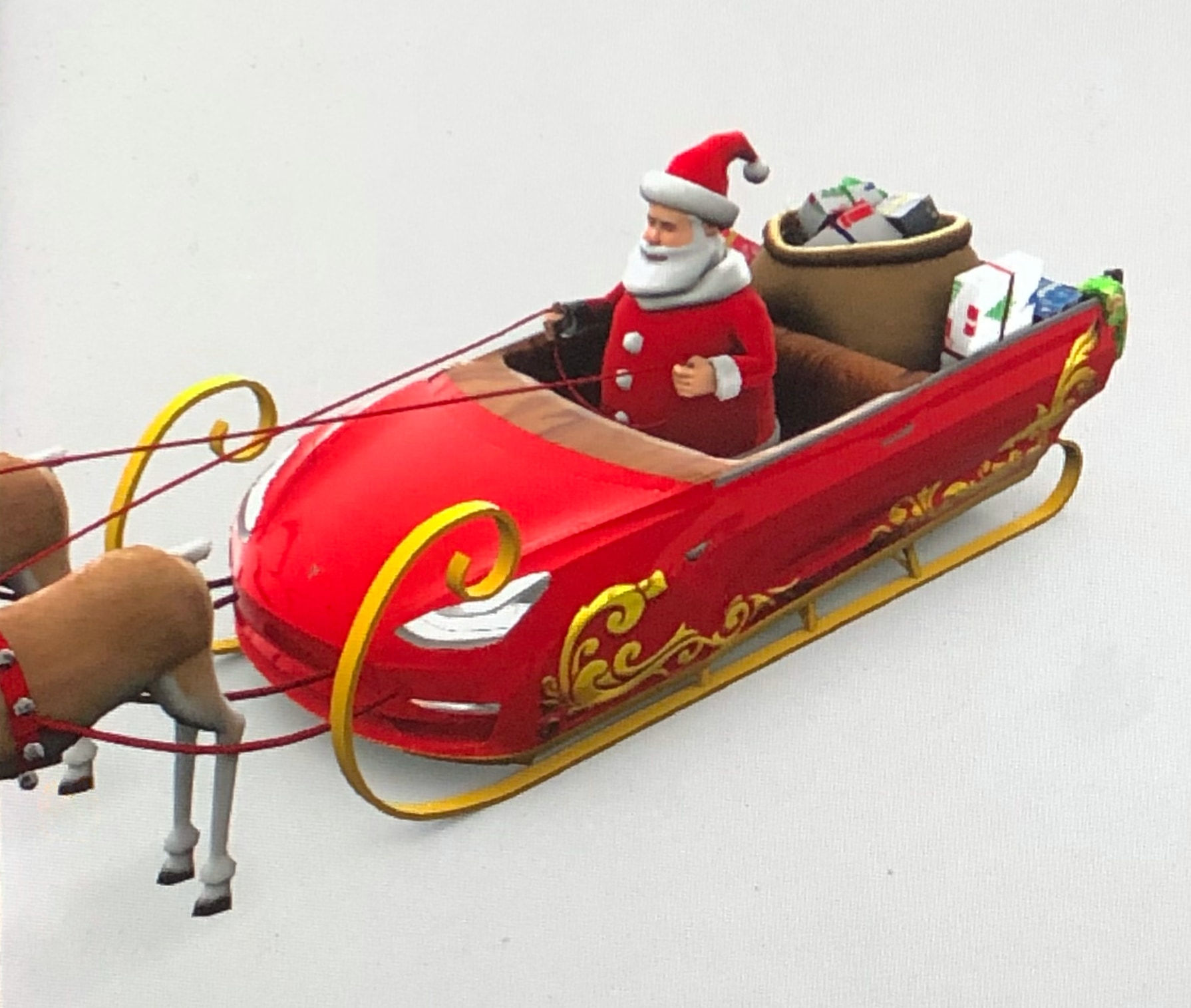 Santa Mode puts you in the Christmas spirit by transforming your on-screen visualizations into Christmas-inspired variants. Your vehicle transforms into Santa's sleigh, other cars become reindeer, and pedestrians become elves. There are a lot of little details added that make this one of the best Tesla easter eggs.
Car Wash Mode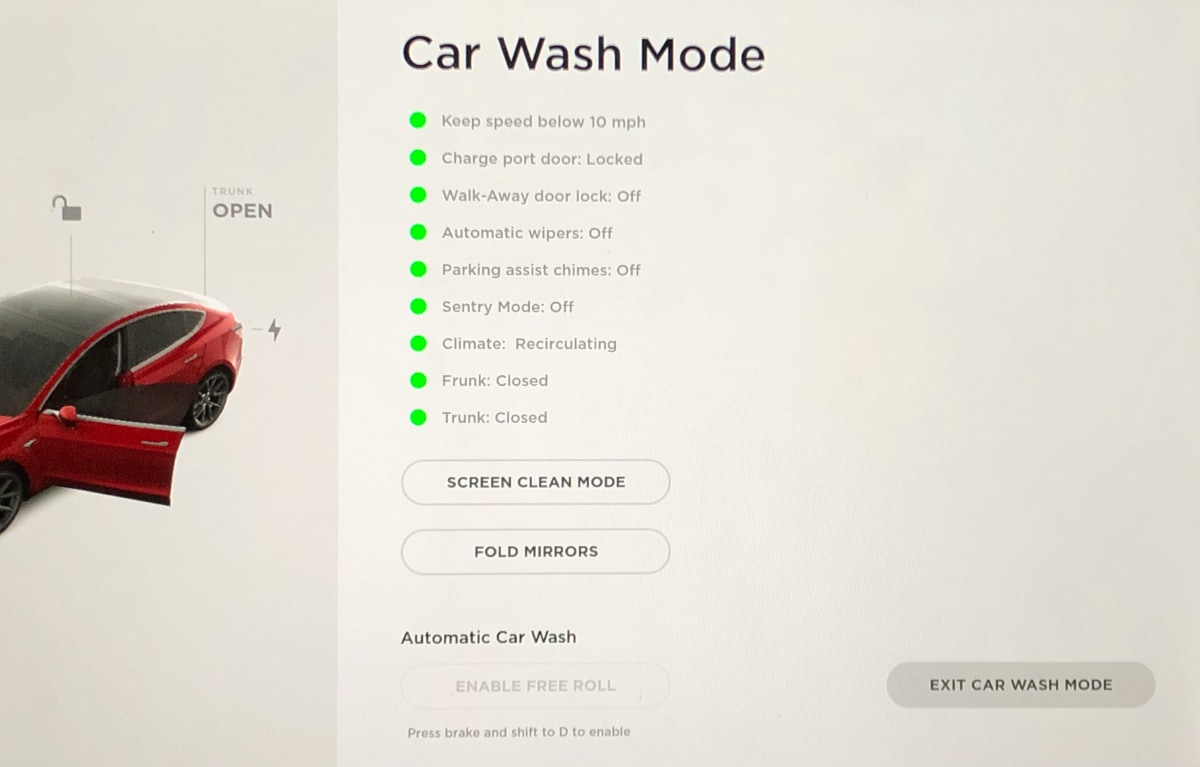 Tesla has a Car Wash Mode that's in the service menu that makes taking your car to an automatic car wash easy. When this is activated, all the windows are closed, the charging port is locked, and the automatic windshield wipers, sentry mode alerts, walk-away door locks, and parking sensors are disabled.
Dog Mode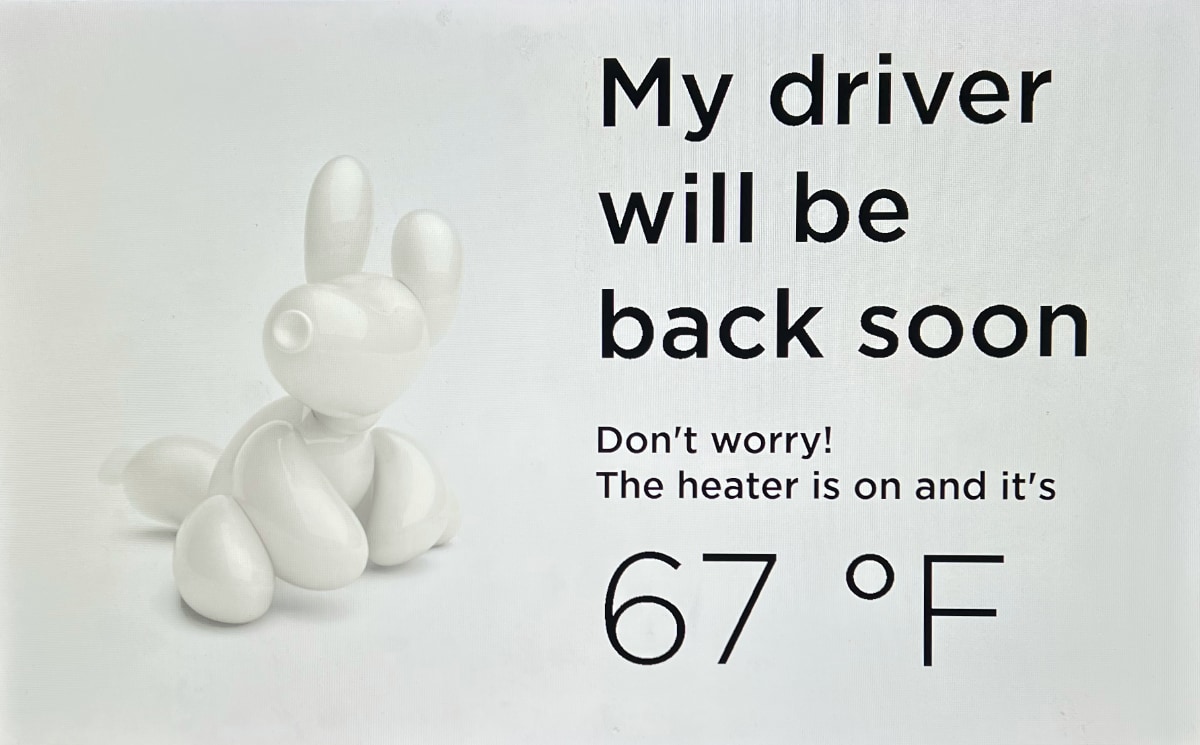 Tesla's Dog Mode keeps the car's air conditioner or heater on when the owner leaves their pet in the car.
This feature can be accessed through the car's climate control. Then, select "Dog" on the far-right side of the "Keep Climate On" settings by selecting the fan icon at the bottom of the 15-inch screen. As soon as you exit your Tesla, a message appears that states: "Don't worry! The heater [or air conditioner] is on, and it's XX degrees." The temperature stays where you set it for as long as you are away from the car, which is one of the benefits of having a giant battery onboard.
When the battery of the Tesla goes below 20 percent, and the owner is gone for an extended period, a push notification is sent to the owner's phone.
There is also a Camp Mode that keeps the main display on, USB ports powered and the climate on.
Valet Mode
With Valet Mode is activated, Tesla's operating system restricts the vehicle's functionality. The car's maximum speed is also limited to 70 mph, and its acceleration is reduced. Autopilot is also disabled while Valet Mode is activated.
However, that isn't all, as Valet Mode also locks the glove compartment and front trunk automatically. It also blocks certain kinds of personal information from being displayed on Tesla's display screen. For example, the "places" function is disabled, so the car owner's home address, contact information, and scheduled meetings will not appear on the screen.
Furthermore, while Valet Mode is engaged, Tesla's navigation function, Homelink access, Wi-Fi, and Bluetooth settings are also disabled.
Tesla Phone App
The Tesla app is very well designed and has some great features. For example, you can sync your phone to the Tesla, allowing the phone to become your car key. The car will detect the phone and automatically unlock the doors as you approach the car. As you walk away from the vehicle, it will also lock all the doors.
Another great feature of the app is turning on the air-conditioner, so the car is nice and cool when you get into it. Those who live in cold or hot climates will know what a great feature this is.
Additionally, you can also view your vehicle's live camera feeds (not available in all countries) via the app, check on your car's location, contact Tesla service, install software updates, and much more.