By Gabe Rodriguez Morrison
In 2020, at a resort in San Antonio, a Model S owner had their car damaged by a valet who wanted to test out Cheetah mode. The joyride did not end well for this valet who crashed the car into a concrete wall, which was captured on the car's dash cam.
Many luxury carmakers have invented ways to prevent a valet from damaging the car or accessing personal data. Some carmakers introduced valet keys that could limit top speed, reduce acceleration and lock the glove box. Although these features improved the safety and privacy of the car, the physical keys were impractical because they could be stolen or lost. Valet keys have been outdated since Chevrolet introduced virtual Valet Mode in 2014.
Tesla also implemented a Valet Mode of its own that improves upon the safety and privacy features of the valet key. Tesla's Valet Mode is a feature that prevents valets from driving recklessly and having access to the owner's personal information. Tesla introduced the feature in 2015 as part of an over-the-air software update.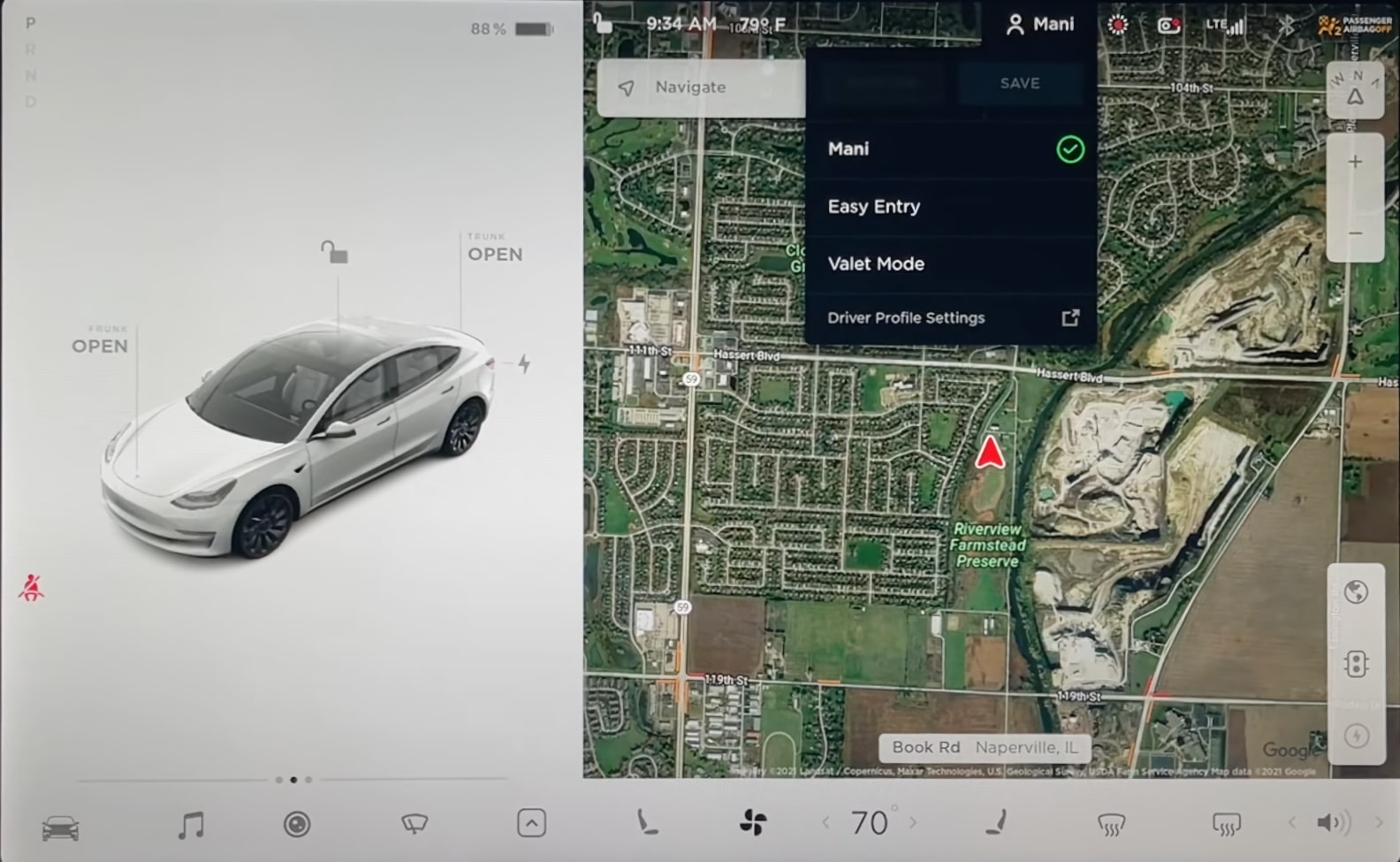 Everything Valet Mode Does
When Valet Mode is activated, Tesla's operating system restricts some of the car's functionality. Valet Mode will limit the car's maximum speed to 70 mph, reduce acceleration by about 50 percent and disable the use of autopilot.
In addition to these safety features, the security and privacy features include the automatic locking of the glove box and frunk. Valet Mode also keeps the user's information private by blocking certain personal information from appearing on the display screen. This keeps information such as addresses, contacts and schedules completely private. Valet Mode also disables Wi-Fi, Bluetooth and navigation functionality.
Valet Mode Restrictions
Valet Mode restrictions the following features:
Speed limited to 70 mph
Acceleration restricted to "Chill"
The front trunk and glove box will lock, the trunk will remain accessible
Voice commands are disabled
Navigation is disabled so that it does not allow access to recent destinations, favorites or home and work addresses
Autopilot/FSD is disabled
Allow Mobile Access setting cannot be changed
HomeLink (if applicable) is not available
Driver profiles are not available
The touchscreen will not display the list of keys that can access the car
Wi-Fi and Bluetooth are disabled, and you cannot view or add a new device
Sentry Mode options can't be changed (if Sentry Mode is on, it can't be turned off)
Smart summon is disabled
Calendar is not available
The Upgrades section in Controls > Upgrades is disabled
There are a few other features that are inaccessible while Valet Mode is enabled. The most obvious of which is Ludicrous Mode, which allows the driver to access the full acceleration power of the Tesla.
This mode is only available for some performance models. Smart Summon is also inaccessible while in Valet Mode. However, if your Tesla is parked in Valet Mode, you can disable Valet Mode from the mobile app, and proceed to Smart Summon your car.
Charging
Although Tesla limits many features while the vehicle is in Valet Mode to protect your privacy and your vehicle, it does not limit the ability to charge.
This can be useful when you visit a valet location with chargers on site. The valet can plug your Tesla in to charge while it is parked.
Speed Limit
Although the speed limit for Valet Mode defaults to 70 mph, you can customize it to your preference using "Speed Limit Mode". The speed limit can be set in safety settings by turning on the Speed Limit Mode and creating a 4-digit PIN.
By turning on Speed Limit Mode, you can set a custom maximum speed that cannot be changed without your PIN. You can set the maximum speed in the car or in the Security section of the Tesla app.
How to Turn On Valet Mode
Valet Mode can be activated from within the vehicle and through the mobile app. To activate it from within the car, tap your profile name on the display screen. A drop-down menu will appear, select the last tab labeled "Valet Mode." you will be prompted to enter a four-digit PIN the first time you enable Valet Mode. Once the PIN is entered, the screen will display that Valet Mode has been enabled. You can also use the mobile app to turn Valet Mode on and off, assuming the vehicle is parked, by clicking "Security" and then "Valet Mode".
PIN to Drive
If you use PIN to Drive, an additional security feature that requires you to enter a valid PIN code to start the car, this feature is disabled while the car is in Valet Mode. Once you start Valet Mode, you'll be prompted to enter your PIN to Drive code. This code will be saved and will not require the valet driver to enter a PIN to start the car.
Teen Drivers
Valet Mode can also come in handy when letting a teen drive to prevent them from speeding or using functionality that could be dangerous for a new driver, such as using the car's full acceleration or using Autopilot. None of the Tesla's safety features are disabled while in Valet Mode.
If you prefer, you can just enable Speed Limit Mode so that they can still access navigation, music, and other features.
Teslas are fun cars to drive and some people may be tempted to test the car's instant torque, fast acceleration and amazing Autopilot capabilities, but these features should be used with permission.
Since Teslas are capable of high speed and fast acceleration, Valet Mode is an advisable feature to use. The higher performance of a car, the greater the risk of an accident when left in the hands of a valet driver.
Tesla owners can have peace of mind knowing that Valet Mode can prevent speeding and reckless driving and protect their privacy when someone else is behind the wheel.