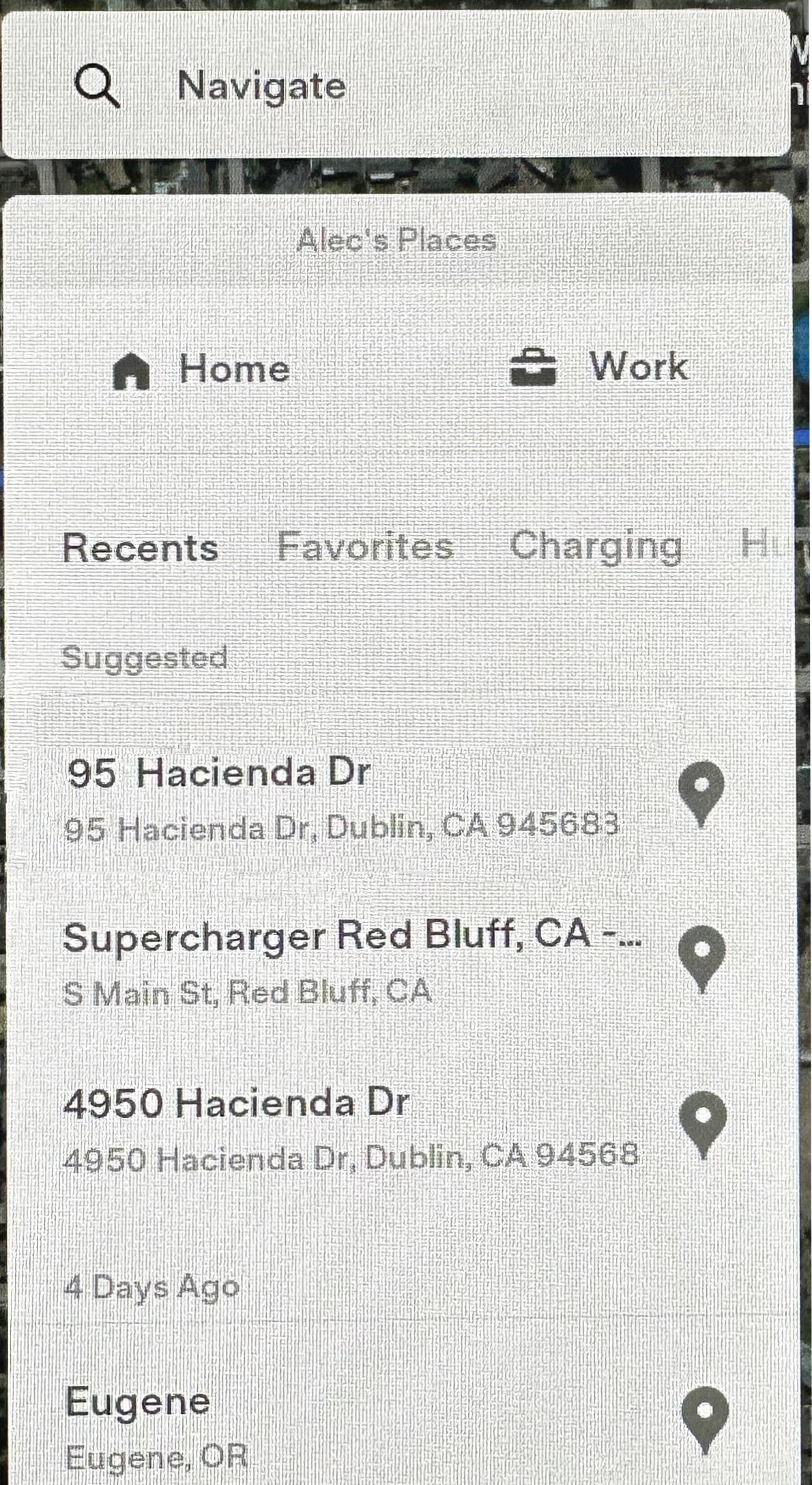 Tesla's rolling out another unique feature with suggested destinations in version 2022.28.2. This comes off the heels of a previous announcement where Tesla was offering alternate routes.
Tesla's new suggested destinations show up under the Recents tab when you tap on the 'Navigate' button.
Tesla will list up to three destinations before displaying your recent destinations below them. Several owners have reported seeing this new feature in Tesla update 2022.28.2, but it's not clear whether it's available to everyone yet.
Tesla's suggestions appear to be a combination of recent destinations and favorites, but it's not clear exactly how Tesla is determining these.
A user by the name of Randall on the Tesla Discord noticed the new feature.
He was offered three suggestions, but after taking a short drive he noticed that the next set of suggestions was completely different.
Tesla may be using AI to determine your suggestions, so things like the number of times frequented, time of day, day of the week, the vehicle's location and more may be taken into account when Tesla is determining your suggestions.
Like everything Tesla, this is the first iteration of this feature and we're likely to see improvements on this feature in the near future.
For example, Randall noticed that although one of his suggestions was one of his favorites, the suggestion just showed the address of the destination and not the name Randall that given the destination.
The placement of suggested destinations could potentially be improved as well, instead of being displayed under Recents. Each of these suggestions likely has a probability score that Tesla determines and Tesla then displays any suggestions that are over a certain threshold.
It could be helpful if Tesla displayed suggestions directly in the middle of the screen when you first entered the car. If Tesla thought you were highly probable of visiting one of these suggestions they could display it more prominently, making it easier for you to enter the destination.
In recent updates, Tesla has focused quite heavily on navigation improvements. Alternate routes is a welcomed feature, as well as a quieter Joe Mode, and a revamped Energy App and time graph for Supercharger popularity. This suite of features is well overdue and much needed.
As the Austin-based automotive company continues to address various bugs and add features, owners are gaining more data for insight into their vehicle so they can better use it.
CEO Elon Musk has stated that any input into the vehicle should be considered (as a possible) error, so by adding yet another feature that the car tries to calculate your destination is a step in the right direction in Musk's eyes. This is why there is no gear physical shifter in the refreshed Model S and Model X vehicles.
Instead, Tesla replaced them with an "Auto Shift" feature. This function works based on your vehicle's understanding of which direction it needs to go. For example, if you're in a grocery store parking lot, the car will see that it's wedged between a few cars and know that it needs to reverse, or vice-versa. This feature is reportedly coming to all Teslas.
"I think generally, all input is error," Musk explains at the unveiling of the Model S and Model X refresh. "If you have to do something that the car could've done already, that should be taken care of. The software should just do it."