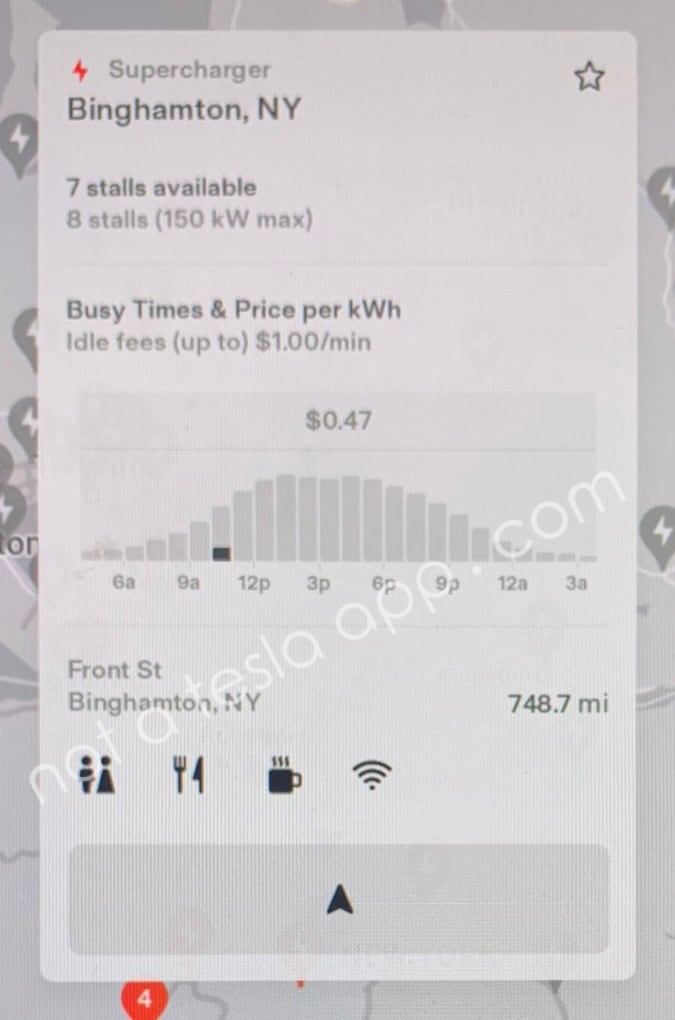 In addition to a new energy app, Tesla's newest update 2022.36 includes a redesigned Supercharger map popup.
As Tesla continues to expand its Supercharger network, which stands at 35,000 and counting, more people are relying on this technology as part of their road trips, commutes, and daily lives.
In addition to the Supercharger map showing the distance to the sites and how many stalls are available, Tesla has added historical site occupancy and the charging fees. Similar to the feature when searching businesses on Google, Tesla now shows how busy the chargers are at any given time in the day.
Since Tesla is switching to charging rates that vary depending on the time of day in many areas, this change also makes it easier to see the price per kW.
This update provides a significant piece of information for those planning road trips. Now, you can determine the best times to arrive at a Supercharger station.
Users can still see the maximum power at Supercharger stations, another valuable piece of information for those wanting to hit the higher output stations and have less time off the road. Also, additional information is displayed for services in the area by simply tapping on the location of the Supercharger station. For example, users can find restaurants, rest stops, Wi-Fi and other amenities. This type of extra information is helpful for users and provides some increased customer traffic for surrounding businesses.
Tap the amenity icons in any Supercharger pop-up to find nearby restaurants, stores, and coffee shops. pic.twitter.com/4usUn8gGqG

— Tesla Charging (@TeslaCharging) August 29, 2022
Tesla's long-term vision for Superchargers is to leverage Powerwalls and solar energy to make charging efficient, while also making it comfortable and convenient through the use of Starlink-equipped Superchargers and providing nearby amenities.
Tesla's first v4 Supercharger is expected to open in Arizona soon with improved charging rates and a newly redesigned Supercharger cabinet.
The new Supercharger popup is one of several new features. You can view additional features in the 2022.36 release notes.