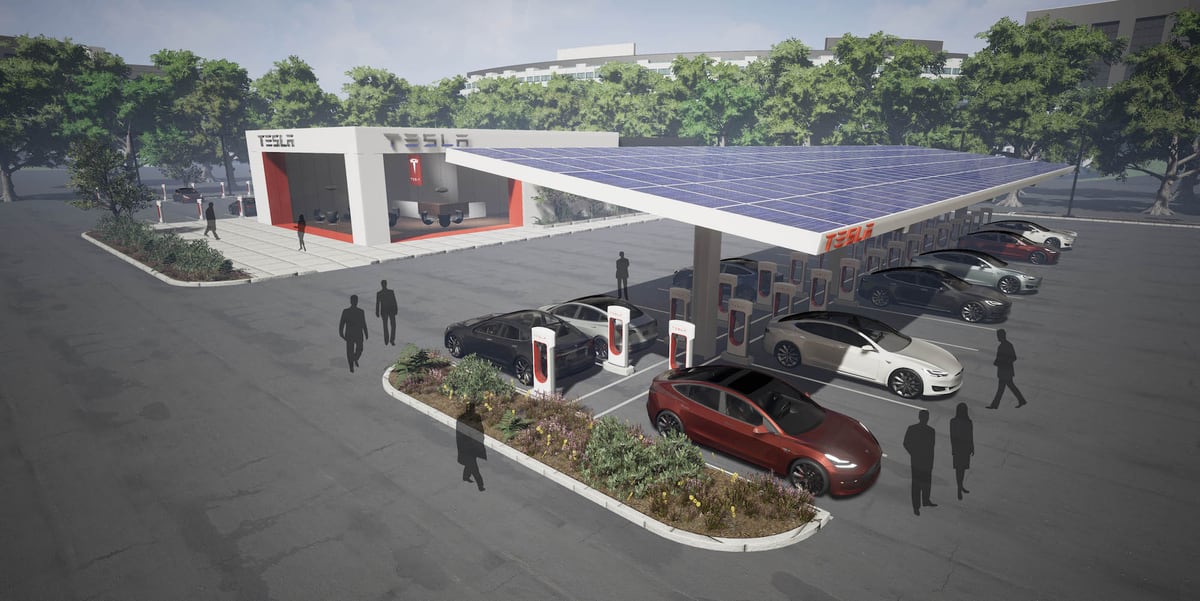 As details of Tesla's first V4 supercharger emerge, so too has its long-term plan of Tesla. It's been reported that the first V4 Supercharger to be constructed in Arizona will have solar panels and megapack batteries. When a Twitter user posted a story about this project, Elon Musk responded: Supercharger centers with solar & batteries are the long-term vision.
Tesla's CEO may be penning his latest master plan while tweeting. In August, he was asked about the latest master plan that's been teased since the beginning of 2022. He said it will be coming out soon and gave a short preview (video below), "It's going to be looking at the big picture. What does it take to make Earth fully self-sustaining from an energy standpoint? Just map it out and say this is what needs to be done. Tesla will try to be as useful as possible in this regard…."
With plans for larger charging centers, it appears that Tesla will use the additional ground space to produce clean energy while charging up zero-emissions vehicles. Tesla has already made more clean energy than all of its products have consumed. Adding more solar arrays will keep this ratio balanced as the company continues ramping up the production of factories and vehicles.
This is not the first time that Musk has committed to this vision. In 2017 he tweeted, "All Superchargers are being converted to solar/battery power. Over time, almost all will disconnect from the electricity grid." Later that year, he revealed the Tesla Semi. Musk told the crowd of excited onlookers that the Semi would be charged by Megachargers that are solar and battery powered.
Tesla Semi Reveal
Of course, Tesla knows all about solar. The company bought SolarCity in 2016 and has been building and installing Solar Roofs and Powerwalls for years. At the end of 2021, Tesla installed almost 4.0 Gigawatts of solar systems and cumulatively generated over 25.0 Terawatt-hours (TWhs) of emissions-free electricity. In addition, Tesla increased solar deployment by 25 percent since last year.
All Superchargers are being converted to solar/battery power. Over time, almost all will disconnect from the electricity grid.

— Elon Musk (@elonmusk) June 9, 2017
Musk is stealing one from nature's playbooks. Last month he tweeted: Almost all of Earth's energy comes from the sun already — we would be a dark iceball at near absolute zero if not for the sun. And essentially, the entire ecosystem is solar-powered. And in 2020, a Musk tweet reads: That free fusion reactor in the sky conveniently converts ~4 million tons of mass into energy every second. We just need to catch an extremely tiny amount of it to power all of civilization. So while it might not be powering all of society, Tesla continues to put the sun to work to charge its products.