By Gabe Rodriguez Morrison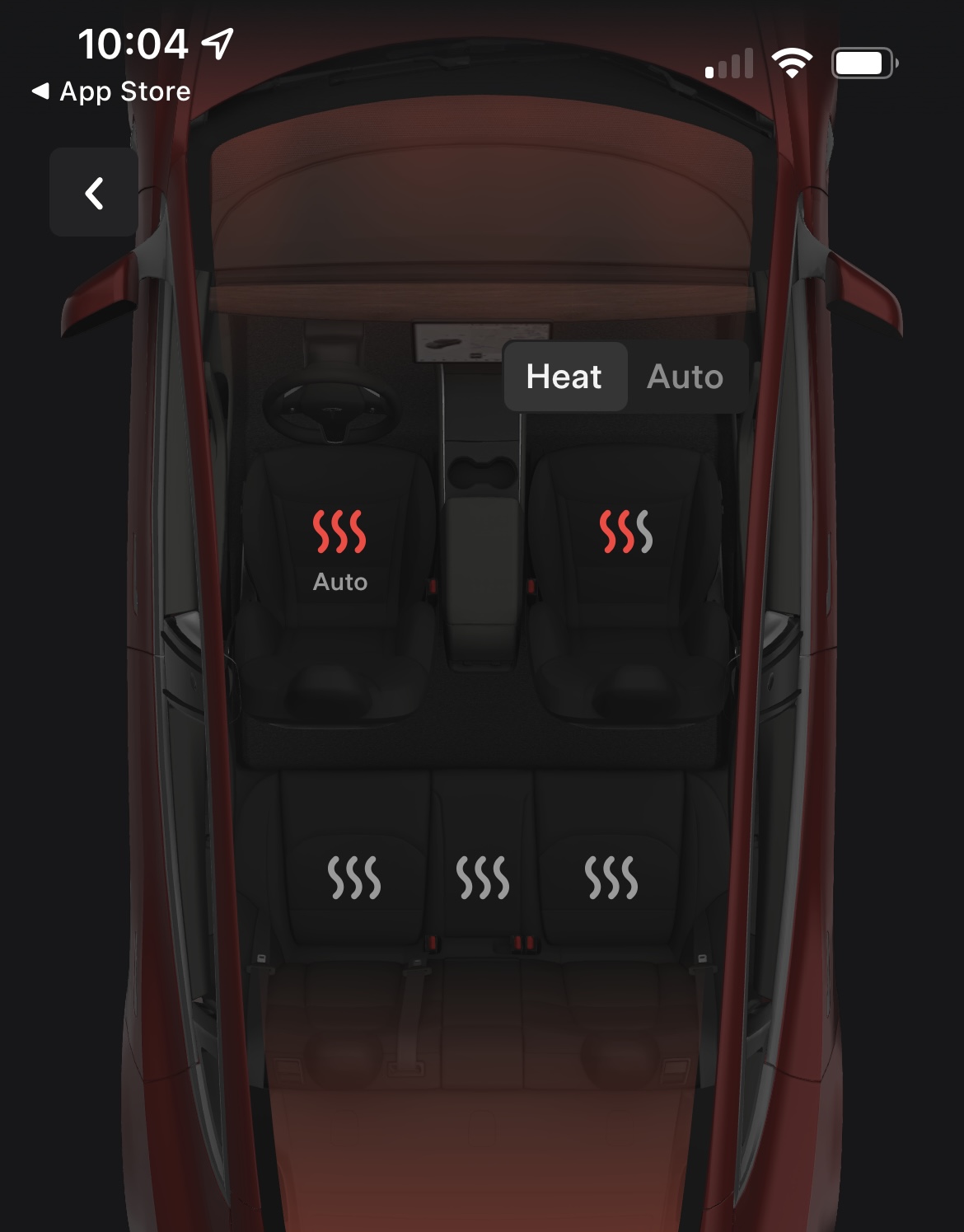 Tesla recently introduced the auto-seat heaters feature in the V11 software update. This feature automatically adjusts the temperature of the seats based on the cabin temperature.
When the cabin is still cold, the seat heater is automatically set to max. As the cabin warms up, the seat heater gradually lowers until the cabin is at the desired temperature, at which point the seat heater turns off completely.
Although not everyone loves the new automatic seat heaters, for those that do it has quickly become a convenient way to manage your seat heaters.
Until now, this feature has only been adjustable from the display screen but with the release of the latest Tesla app, you can now use automatic seat heaters in the app as well.
When going into the climate section of the app, you can now see whether automatic heated/cooled seats are enabled. You can also turn off the automatic seat temperature and adjust the seat manually.
When automatic seat heaters are enabled, you'll see the temperature that the seat is set to and 'Auto' will be displayed underneath.
You'll also be given the option to toggle to regular heated seat controls and manually control the seat temperature. This new feature will let you better manage your seat heater and brings feature parity between the Tesla app and the UI in the car.
This feature is only available in app version 4.7 and later.
Tesla has been adding numerous new features to the Tesla app lately. They've recently added the ability to manage and extend your lease, the ability to interact with your notifications, view charging stats and more.
There are also other features that we know are upcoming for the mobile app, which could launch soon.
Some of the upcoming app features include the ability to manage the name of your vehicles directly in the app without having to change it in the car.
Tesla is also working on letting you view your tire pressure in the Service section of the app, similar to how you can view them in the vehicle under the Controls > Service section. Tesla may also tie notifications to this feature as well, letting you know if your tires are under or over inflated.
Tesla has also started building out the ability to turn on Climate Keeper, Dog Mode and Camp Mode through the app.
Climate Keeper allows you to maintain the cabin temperature for an extended period of time. It's useful if you're just running into a store and would like to keep the cabin at a comfortable temperature.
You can read about all the new features in Tesla's latest app in our app release notes section.