By Gabe Rodriguez Morrison
Tesla has made a noteworthy change in one of their APIs in update 2022.4. According to Reddit user Wugz, Tesla's vehicle state API now includes data from the internal TPMS (Tire Pressure Monitoring System).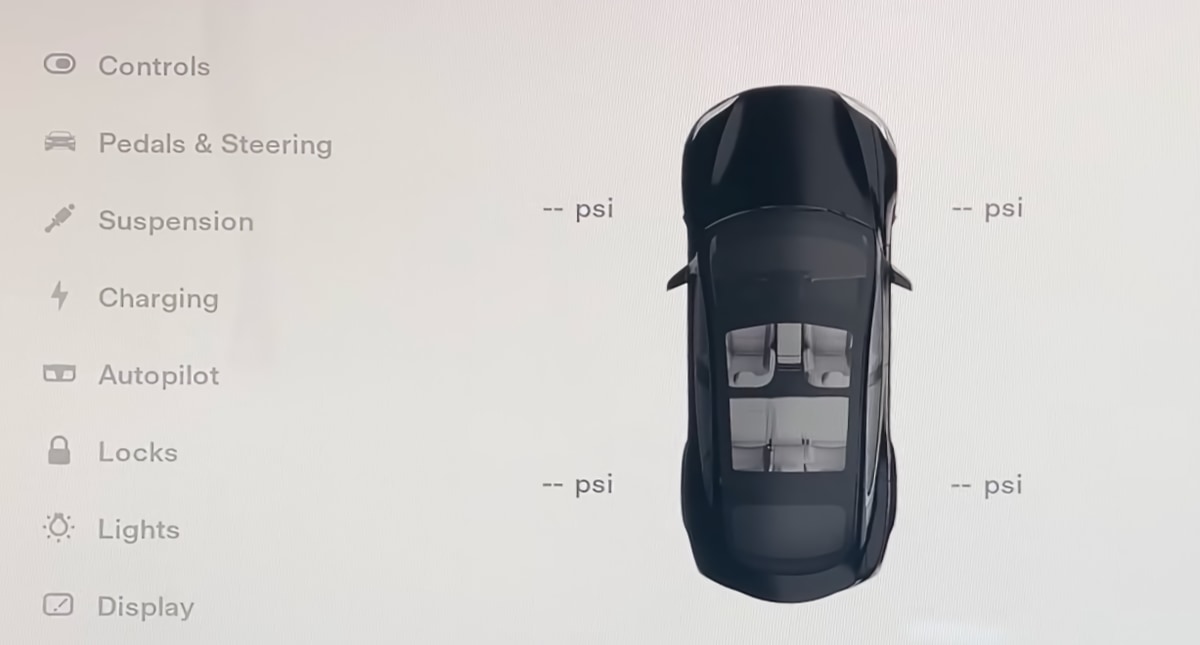 Tesla uses their APIs for creating the Tesla app, which means that tire pressure data will likely soon be available on the Tesla mobile app.
The current system alerts the driver when the PSI (pounds per square inch) of a tire is too low. The PSI can also be displayed on the touchscreen of the vehicle by navigating to Controls then Service.
Tesla recommends a tire pressure between 40-45 PSI. Depending on the model and vehicle configuration, this is typically the minimum amount of air pressure needed to support your vehicle at its maximum load.
In a potential update, users could be sent a notification if their tires are over or under-inflated.
Tire PSI can vary due to a variety of factors, including extreme climate conditions. Leaving a car parked in direct sunlight or hot weather can increase the pressure inside of a tire.
This update would also be helpful for Tesla owners in colder climates because tire pressure goes down one PSI for every 10° F (6° C) drop in outside temperature.
It is recommended to make tire pressure a part of your monthly maintenance because on average, tires lose approximately 1 PSI of tire pressure every month. In an upcoming mobile app update, Tesla owners could be notified before they start driving that their PSI is too low or too high.
Proper tire pressure is crucial for protecting tires from damage and maximizing the range of the vehicle. Over-inflation is usually less problematic than under-inflation. Under-inflation is the most common cause of tire failures including tire cracking, tread separation, or blowout. Under-inflation reduces the vehicle's range and tire tread life.
If you've ever tried to check your tire pressure while the vehicle is stopped, then you likely noticed that the vehicle doesn't show you tire pressure while the vehicle isn't in motion. This is done to preserve the battery life of the wireless tire pressure sensors that are located in each tire.
It's possible that with this update Tesla may allow the tire pressure sensors to turn on and report tire pressure readings even if the vehicle is stationary, or Tesla may simply report the last known tire pressure in the app.
You can expect this feature to appear in the Service section of the Tesla app.
With safety and range maximization at the forefront of Tesla's mission, it makes sense why important tire pressure data may soon be available in the Tesla app.