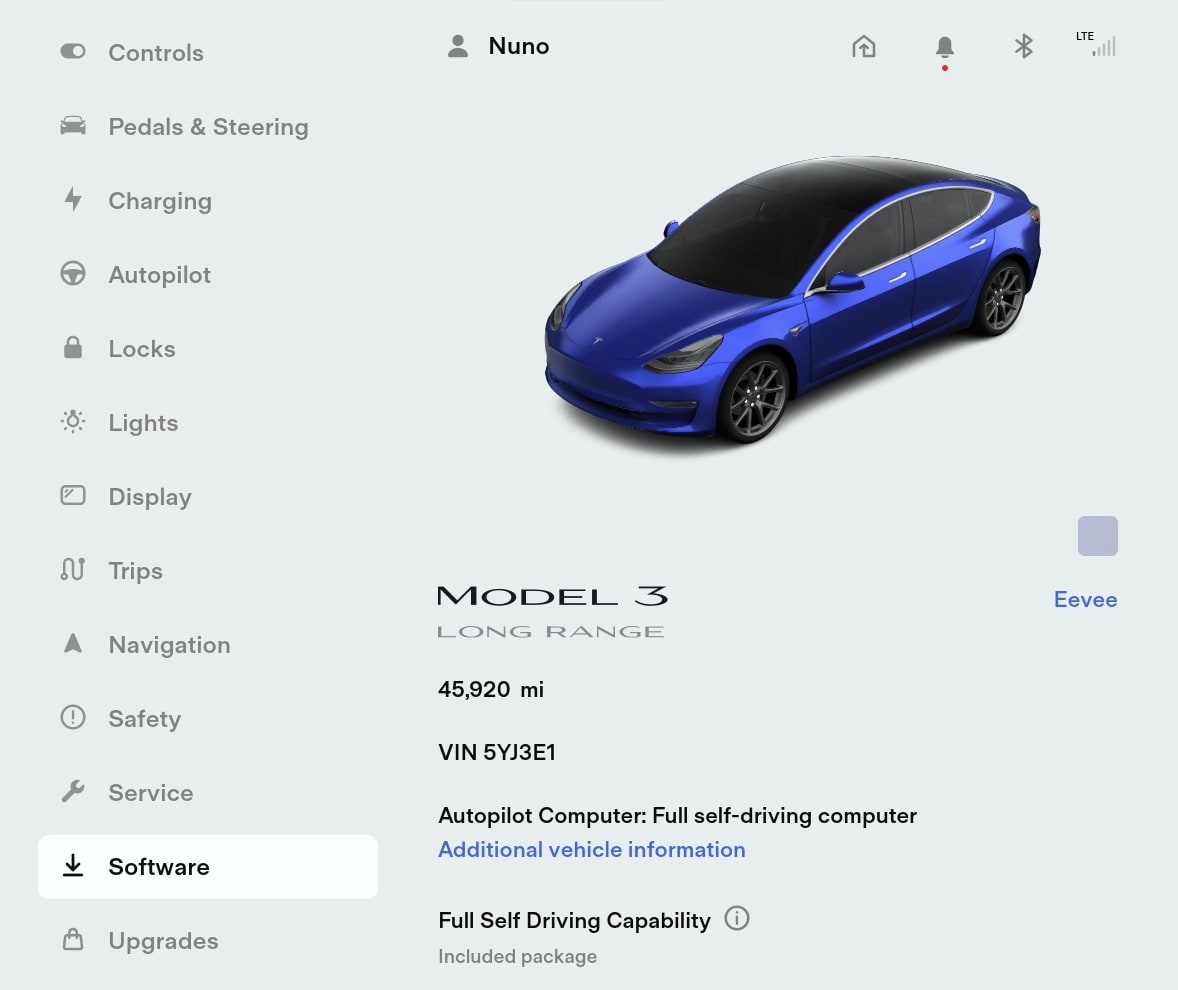 In the realm of electric vehicles, Tesla has always stood apart, not just for its cutting-edge technology and exquisite design but also the personalization it offers owners. One of the most endearing ways Tesla has allowed owners to embrace their vehicles is by allowing them to name them.
Your Tesla can bear a name that resonates with your personality and style. This guide will walk you through the process of naming your Tesla, reveal some hidden Easter Eggs, and offer a cornucopia of popular and creative names to inspire you.
How to Change the Name of Your Tesla
Whether you're cruising in a Model Y, Model 3, X, or S, the process of naming your Tesla remains the same. To assign a name to your Tesla, you can either be in your vehicle or use the Tesla app on your phone.
Change the Name in the Car
Tap the Car icon on the bottom left and proceed to the 'Software' section.
This space holds all vital information about your Tesla, from the hardware it's equipped with to any subscriptions you may have, such as Premium Connectivity or Full Self-Driving, and the current software version your vehicle runs on.
Locate the image of your car; you'll find your exact model name on the left and a spot for your car's name on the right, highlighted in blue. If your car is yet unnamed, you'll see the default text, 'Name your vehicle.' Tap on this, and a screen to rename your car will appear. Voila! Your Tesla is ready for its new identity.
Change the Name in the App
If you prefer to update your vehicle's name using the Tesla app, you can simply tap your vehicle's name at the top of the app. A prompt will pop up, asking you to rename your Tesla.
Unlock Easter Eggs By Setting Your Car's Name
Now, here's an interesting twist. Tesla has hidden a few Easter eggs related to the car's name. As a tribute to Monty Python, name your car "Patsy", "Rabbit of Caerbannog", "Mr. Creosote", "Biggus Dickus," or "Unladen Swallow" and watch the magic unfold. Fans of Douglas Adams' science fiction comedy, 'The Hitchhiker's Guide to the Galaxy,' aren't left out either. Tesla has something special waiting for you too!
Popular and Creative Tesla Names
Around the globe, Tesla owners have been bestowing upon their vehicles names that are as unique as they are. Drawing from pop culture, puns, personal tastes, and even color themes, here are some popular choices, along with a few creative ideas:
Tributes to Greats: Elon or Musk, no explanation needed, Nikola the inventor, not the truck, Edison, Jarvis (Iron Man's AI assistant), Eevee (the Pokémon), Vader (Star Wars fans, unite!).
Electricity Inspired Names
Sparky, Wattson, Bolt, Ohm Sweet Ohm, Volta.
Color Inspired Names
Snowy for white Teslas, Raven for black ones, Cherry for red, Sapphire for blue, and Quicksilver for silver.
Fierce and Powerful Names
Storm, Blitz, Thunder, Tornado.
Pop Culture References
KITT (Knight Rider), Batmobile, Herbie, Lightning McQueen (Cars), Black Panther, RoadRunner (Looney Tunes).
Space-Themed Names
Apollo, Galaxy, Starman, Astro, Orion, Supernova, Eclipse.
Eco-Friendly Names
Leaf, Gaia, EcoBeast, Wind Whisperer, Solar Flare.
Humorous Names
AutoPilot Prime, Car-y McCarface, Watt's Up, Broom Zoom, Charged & Ready.
Personal Touch
My Precious, Dream Rider, Freedom Machine, Serenity, Joyride.
The possibilities are truly endless. Let your imagination soar, and bestow upon your Tesla a name that mirrors your personality and style. Whether you're a movie buff, a science enthusiast, a lover of humor, or someone who appreciates the finer things in life, there's an ideal name for your Tesla. Let it reflect what you love, and let it speak volumes about who you are as you cruise down the streets in your one-of-a-kind, personally-named Tesla.