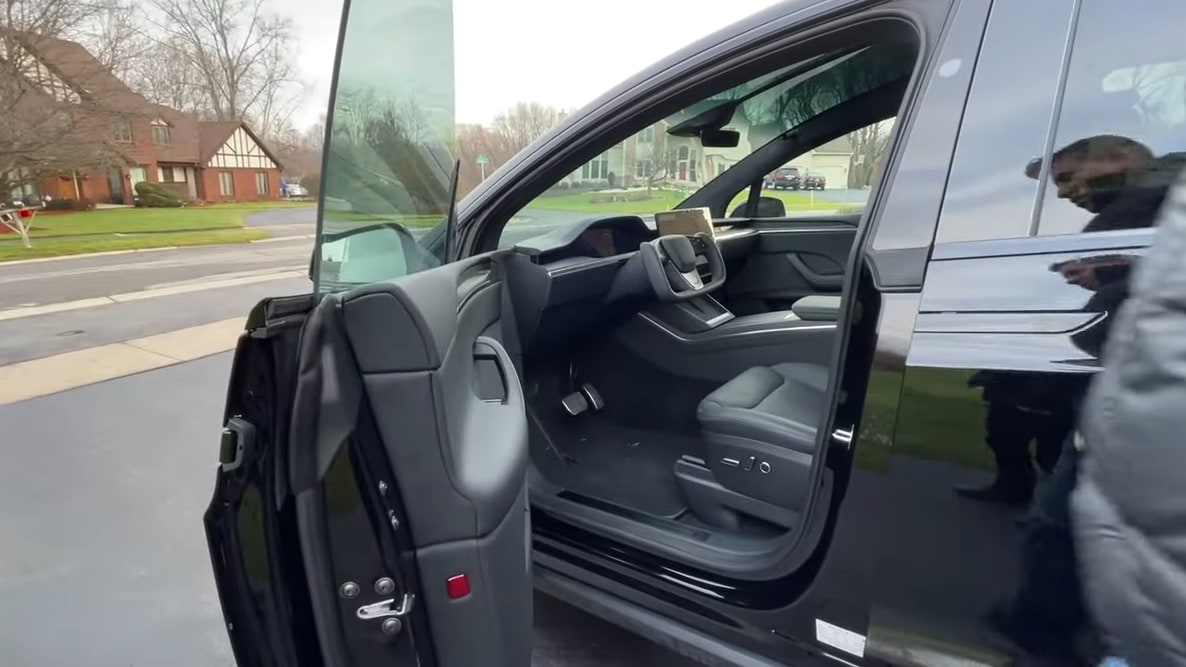 For recent Tesla Model X owners, there's been an ongoing issue since the removal of the ultrasonic sensors. The vehicle's front, auto-presenting doors now only open partially. These automatic doors, along with the iconic falcon-wing doors, have long been a standout feature of the Model X, often being the topic of admiration and intrigue. But, with Model X vehicles released after January 2023, something seemed amiss.
Previously, the Model X's auto-presenting doors would open completely if you walked alongside the car. This convenient feature allowed you to get in hands-free, which was especially useful if you had your hands full. Upon entering the car, you can then close the door by tapping on the brake pedal.
Auto-Presenting Doors in Action
However, newer Model Xs without the full array of ultrasonic sensors now merely prop open the front door, instead of swinging it open completely. This essentially removes the convenience of the feature since you still need to open the door the remainder of the way to have enough room to get in. Thankfully, you can still step on the brake pedal to close either of the front doors.
Customer Feedback and Tesla's Response
A Model X owner recently reached out to Tesla service to explain the situation with his car. Not only do his doors not open all the way, but if an open door remains untouched, it also doesn't close as it should, likely due to a lack of momentum. This reality contrasts sharply with the Model X's earlier promise: an elegant and full automatic door opening.
Tesla's response was interesting and hopeful. Tesla service told the customer that the issue is related to the transition to Tesla Vision and that the vehicle purposely only opens its doors ten degrees. The smaller opening is presumably to prevent the doors from hitting a nearby obstacle due to Tesla Vision's reduced accuracy compared to ultrasonic sensors.
Why am I just finding out that the Model X with no USS automatic door don't open all the way. They are limited to just a small crack. What makes this worse is when you have to manually open the door the rest of the way, there is a few seconds where the door won't move. The whole… pic.twitter.com/uvEXw6jIFk

— Jacob (@JacobB1290H) July 22, 2023
Improvements to Vision Coming
Tesla service goes on to say that Tesla is working on a software update that will allow the doors to open more. It's not clear whether they'll open as wide as they do on models with ultrasonic sensors, but it's evident that Tesla is working on improving the vision system to more accurately represent the distance from objects.
The Vision Update: More than Just a Door Fix

Tesla's upcoming "Vision Update" signifies more than just a fix to the door issue. Since the doors opening relies on knowing the distance to nearby objects, these improvements are expected to improve other Tesla features that rely on accurate distance measurements. Some of these features could be Park Assist, Smart Summon and Auto Park, which are currently unavailable on vehicles without ultrasonic sensors.
Tesla has several new features that are expected soon, which could all be tied into these vision improvements. Actually Smart Summon, has been talked about since last year, with Musk suggesting that it could be available by late summer of 2023.
However, there are also other features such as smarter Autopark and Reverse Summon, or Park Seek, that will let you be dropped off at the door and have the vehicle park itself.
There are a lot of recent Tesla owners who would love to see improvements to Park Assist, but it looks like we may see more than just that in the (hopefully) near future.