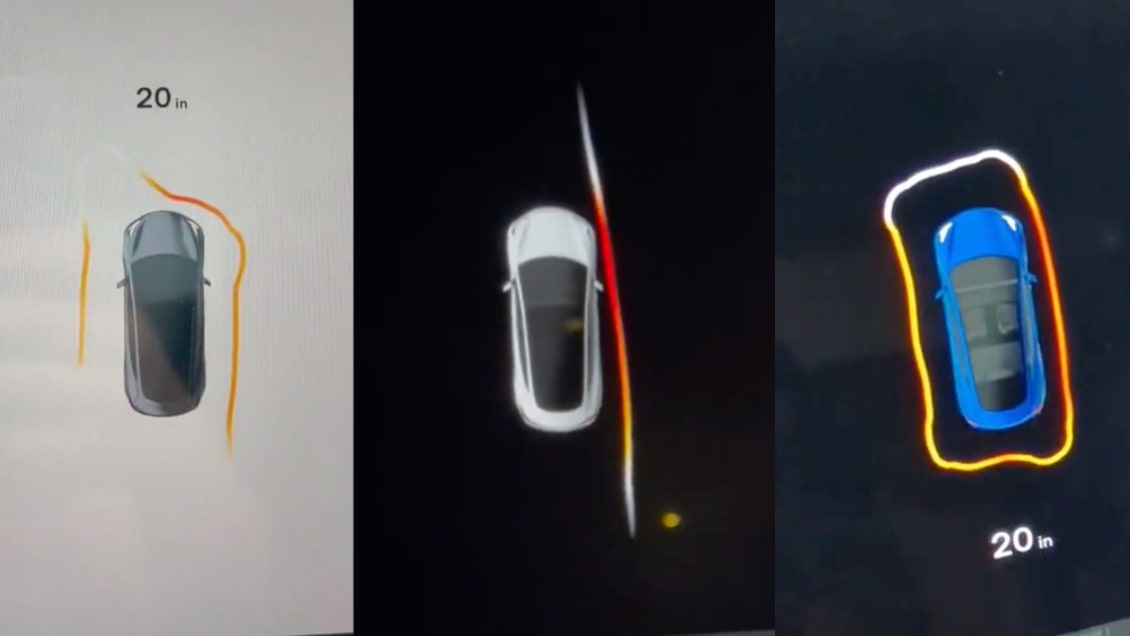 Tesla has unveiled the Vision Park Assist feature with its new software update, version 2023.6.9 for non-FSD Beta vehicles. This cutting-edge feature employs the car's cameras to measure distances to nearby objects, offering users valuable parking assistance.
When Tesla removed ultrasonic sensors (USS) from their vehicles six months ago, some owners expressed concerns regarding the loss of parking assistance. In response, Tesla embarked on the transition towards a vision-based solution, culminating in the introduction of Vision Park Assist.
Accuracy of Park Assist
Twitter user @EVBaymax couldn't wait till morning to test out the new Vision Park Assist feature. Equipped with his Model 3 and a measuring tape, @EVBaymax put the new technology to the test and shared it all on Twitter, providing some valuable insight into its performance. In one video, he said, "super-impressive what Tesla has been able to do. This is… Wow! I'm impressed." @EVBaymax was showing the car within an inch or two of what the reading said inside the car.
However, he did spot something less impressive. When shifting into drive or reverse after being parked for a few minutes, a message pops up that says: Park Assist is Loading. That load took 6-8 seconds as the system recalls what was around it before it was parked. The time is quite a lag compared to the USS-enabled systems. @EVBaymax is hopeful this is addressed. However, the vehicle did eventually load the data it had before it was turned off, showing the same distance to the curb that was in front of it, even though the curb was out of view of the cameras.
Several online videos show a significant difference in readings between USS and Vision. USS mostly displays smooth readings with straight edges, but vision does not display many straight lines. When backing up to a curb, @EVBaymax notes that the line representing the curb is "squiggly and is moving."
Availability
Although Park Assist was initially included in FSD Beta 11.3.2 and limited to North American markets, Tesla is rolling out Park Assist to additional markets with update 2023.6.9.
Currently, the Vision Park Assist feature is compatible with Model 3 and Model Y vehicles. Users also have the option to turn off Park Assist if they prefer, just like owners with USS. This innovative technology offers 360-degree detection, instead of just front and rear, as highlighted in our previous article.
Park Assist Detecting a Curb
One of the advantages of vision-based Park Assist is the ability to detect objects on the side of the vehicle. @EVBaymax does a great job illustrating that in this video below.
360 park assist at work, detecting curb on the side as I pull in pic.twitter.com/2Oyyc68O3A

— kEVin (@EVBaymax) March 24, 2023
Vehicles With USS
At this time, it appears that vehicles with ultrasonic sensors still offer a higher level of accuracy, however that could depend on the height of the object and the type of object itself.
Vision Park Assist does not currently apply to vehicles with ultrasonic sensors. However, since Vision Park Assist does provide some advantages over its hardware-based version, it'll be interesting to see if Tesla incorporates it into all vehicles in the future as the feature matures.
As more Tesla owners install and utilize Vision Park Assist, the feature is expected to improve. The company will use the collected data to enhance distance estimates, aiming for accuracy on par with sensor-based systems.
Tesla's Vision Park Assist offers visual and auditory alerts for objects in the vehicle's surroundings, utilizing the occupancy network to generate high-definition object outlines. However, it is essential to remember that this feature should be treated as guidance, not as a substitute for an attentive driver.