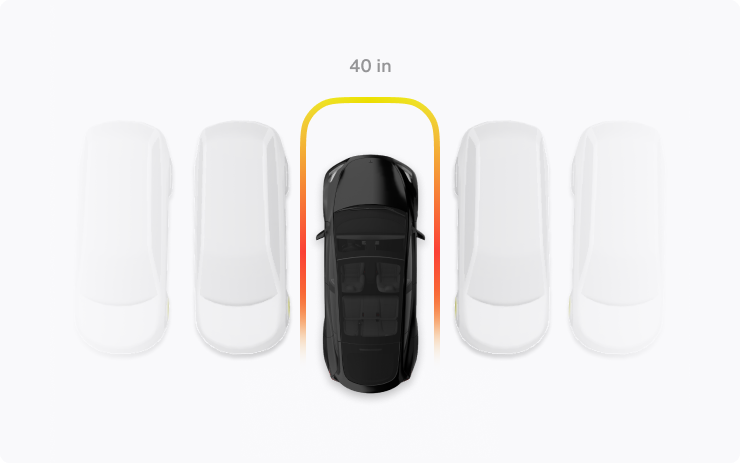 Tesla has taken another significant step forward in its commitment to vision-based technology by introducing Tesla Vision Park Assist. This new feature reinstates the Park Assist distance measurements for Tesla vehicles without ultrasonic sensors (USS).
In October 2022, Tesla removed USS from Model 3, Model Y, and later, Model S and Model X, as part of the shift to its camera-based Autopilot system, Tesla Vision. However, the accompanying software to measure distances to nearby objects wasn't ready at the time, leaving owners of cars without USS to estimate their distance to surrounding things while parking.
The Latest Update Gets Even Bigger
The wait for a solution is finally over with the release of software version 2022.45.11, which includes the latest FSD Beta v11.3.2. As confirmed by well-known Tesla hacker @greentheonly, Tesla Vision Park Assist has been added to this update for vehicles without USS.
Improvements Over Ultrasonic Sensors
Although Tesla's vision-based approach is expected to not be as accurate as having ultrasonic sensors, at least initially, it does offer one improvement for the hardware-based solution.
The vision-based Park Assist system not only measures distances to objects at the front and rear of the car but also detects objects on the sides where there is no USS, providing 360° coverage around the vehicle.
It's not clear whether Tesla plans to add vision-based object detection to the sides of vehicles that have ultrasonic sensors in a future update.
The current release is limited to cars testing FSD Beta without USS, while vehicles with USS continue to operate with their sensors enabled. Although it might take some time for the feature to be deployed fleet-wide, Tesla Vision Park Assist demonstrates Tesla's progress in refining vision-based technology for parking assistance.
Who Will Get It
According to @greentheonly, the new Park Assist system is currently only available to customers in the United States and Canada who have purchased FSD and applied for access to the FSD Beta program. It is also currently limited to the Model 3 and Model Y. However, with visual and audio alerts of surrounding objects and the use of the occupancy network to predict high-definition outlines of objects around the vehicle, the vision-based system could eventually prove superior to Tesla's previous USS-based solution.
The release notes for Park Assist in 2022.45.11 state:
Tesla Vision Park Assist provides visual and audio alerts of surrounding objects. This feature uses the occupancy network to predict high-definition outlines of objects 360 degrees around the car.
Note: Tesla Vision Park Assist is for guidance purposes only and is not a substitute for an aware driver. Please be attentive and avoid obstacles as required.
Last year, Tesla's shift to a vision-only approach resulted in temporarily limiting or disabling some features, such as Summon, Smart Summon, Autopark, and Park Assist. Park Assist, which alerts drivers to nearby objects when traveling at less than five mph, appeared to be the easiest to implement. Now that Tesla has released Park Assist for vision-only vehicles, it is likely that Autopark, Summon, and Smart Summon will follow suit for Teslas without ultrasonic sensors in due course.
With Tesla Vision Park Assist, Tesla owners without ultrasonic sensors can now enjoy improved parking assistance, making it easier and safer to navigate tight parking spaces. As the feature continues to roll out and improve, Tesla demonstrates its dedication to advancing its vision-based technology for the benefit of its customers.