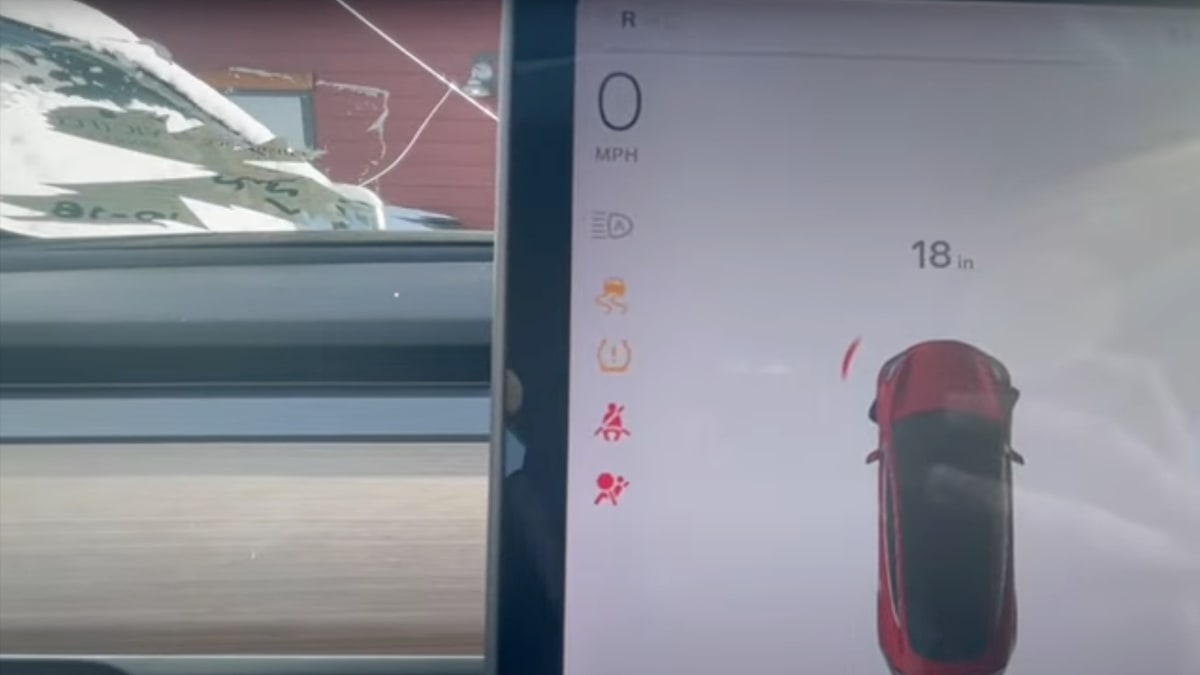 Tesla owner and EV mechanic Occupy Mars shared a video of their salvaged 2018 Tesla Model 3 detecting distances without its ultrasonic sensors (USS).
Occupy Mars shared a 10.5-minute video explaining how they discovered this anomaly. Even though the vehicle was running version 2022.28.2, which was released in September 2022, the vehicle managed to measure distances without the use of USS.
Occupy Mars moved the vehicle out of their garage without the front bumper and confirmed that all ultrasonic sensors were disconnected. However, they noticed that their Model 3 was accurately detecting a vehicle next to it and displaying the appropriate distances on the screen. This appears to confirm that Tesla is testing Tesla Vision to detect nearby objects and display distances, but only on vehicles with USS.
Confirming Camera Detection
Interestingly, Occupy Mars' vehicle only detected the distances while in reverse, although a lot of the car is taken apart, so this could have been due to early software or hardware issues. When pulling up closer to the garage, Occupy Mars noticed the Model 3 was not showing the distance between the car and the garage. Instead, it was detecting objects at the corners of the vehicle. This would make sense given the blindspot in front of the vehicle where cameras can not see.
To confirm that the vehicle was using its cameras to determine distances, Occupy Mars covered the front-facing and B-pillar cameras with tape. Once the vehicle's cameras were covered, the car immediately stopped displaying the arcs and distances from nearby objects.
Occupy Mars went a step further to rule out radar use and physically unplugged the vehicle's radar and with the cameras uncovered, the vehicle continued to detect objects and display distances.
Video Showing USS-like Detection Using Vision
The video below by Occupy Mars shows their vehicle detecting distances without utilizing any ultrasonic sensors or radar.
Running Vision in Shadow Mode
What appears to be happening is that Tesla is actively testing and collecting data from vehicles that are equipped with ultrasonic sensors, and it appears they've been doing so for several months. Previously, the USS were fully responsible for detecting distances for nearby objects, but it appears Tesla is now using an updated version of Tesla Vision in shadow mode. This lets Tesla run code in the background to assess its accuracy before having the vehicle or driver rely on it. Tesla then uses the vision-detected distances and compares those values to the output of the vehicle's ultrasonic sensors, letting them assess the new system's accuracy before releasing it publicly.
The Removal of Ultrasonic Sensors
On October 4th, 2022, Tesla announced that they were removing ultrasonic sensors from their vehicles and beginning the transition into their own proprietary "Tesla Vision." According to Tesla's announcement, Model 3 and Model Y vehicles built in October 2022 and beyond no longer included the USS. Later, Tesla removed USS from the Model S and Model X as well.
This came as a bit of a shock to drivers and automotive experts, namely the team from Munro Live. The USS are standard in modern vehicles. They're used to detect distances in tight spaces to enhance the safety of the vehicle. But Tesla believes they can maintain a similar level of safety and accuracy without the USS, despite some outcry from the Tesla community and experts.
Savings Due to the Removal of Ultrasonic Sensors
Tesla is saving an estimated $114 per vehicle by removing the USS, equating to roughly 100 million dollars per year based on Tesla's volume, per Munro Live. This effort makes sense as Tesla is revamping its Model 3 to cut costs so prospective buyers can take advantage of the new federal tax credit.
Front Blindspot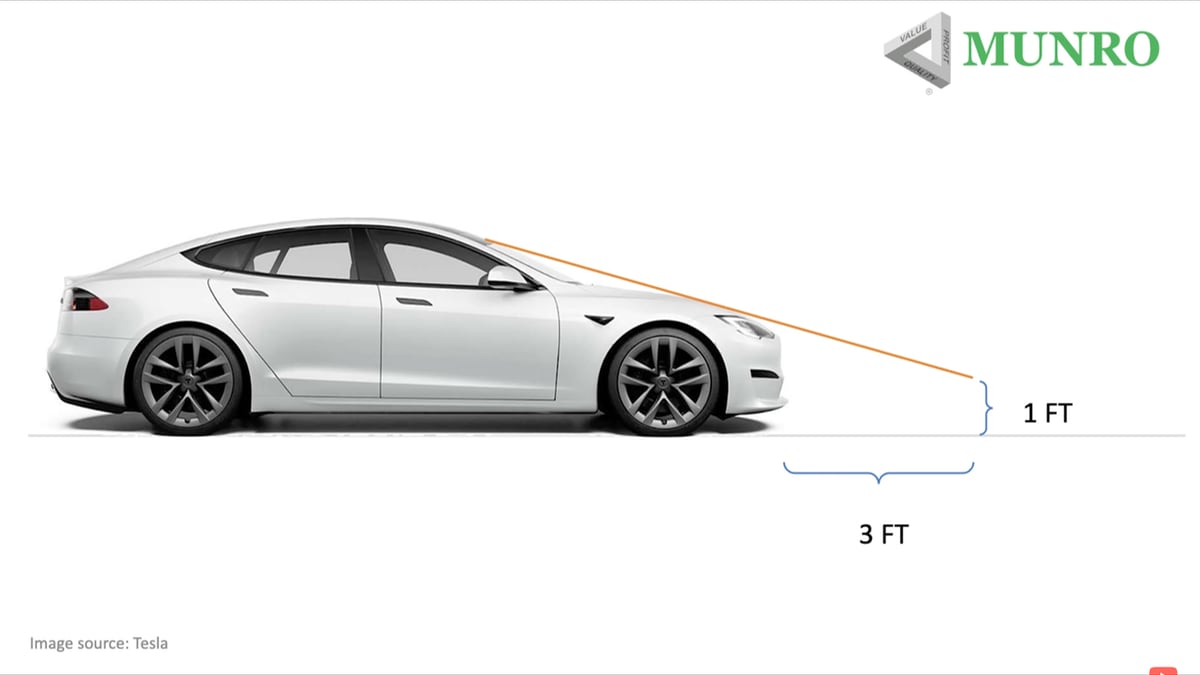 As pointed out in the Munro Live video, there is a three-foot blindspot in the front of the vehicle. Tesla's rumored solution for the three-foot blindspot is to have the vehicle remember what it sees when driving toward an object. But if the vehicle is parked for an extended period and something is placed in front of it, how will the vehicle know where it's placed or if it has moved?
Tesla could continue processing camera data while parked as they do in Sentry Mode, but this would cause significant battery usage over time.
Tesla may also just leave out the ability to detect objects in front of the vehicle when the vehicle is first started.
Upcoming Update
More recently Tesla owner and hacker GreenTheOnly found code of Tesla testing vision-based USS-type detection in update 2022.40, so it's clear that Tesla plans to address the lack of USS, but it appears the fix is taking longer than expected. Although nothing has been officially communicated by Tesla, we could be close to receiving the long-awaited update that restores USS-type detection.