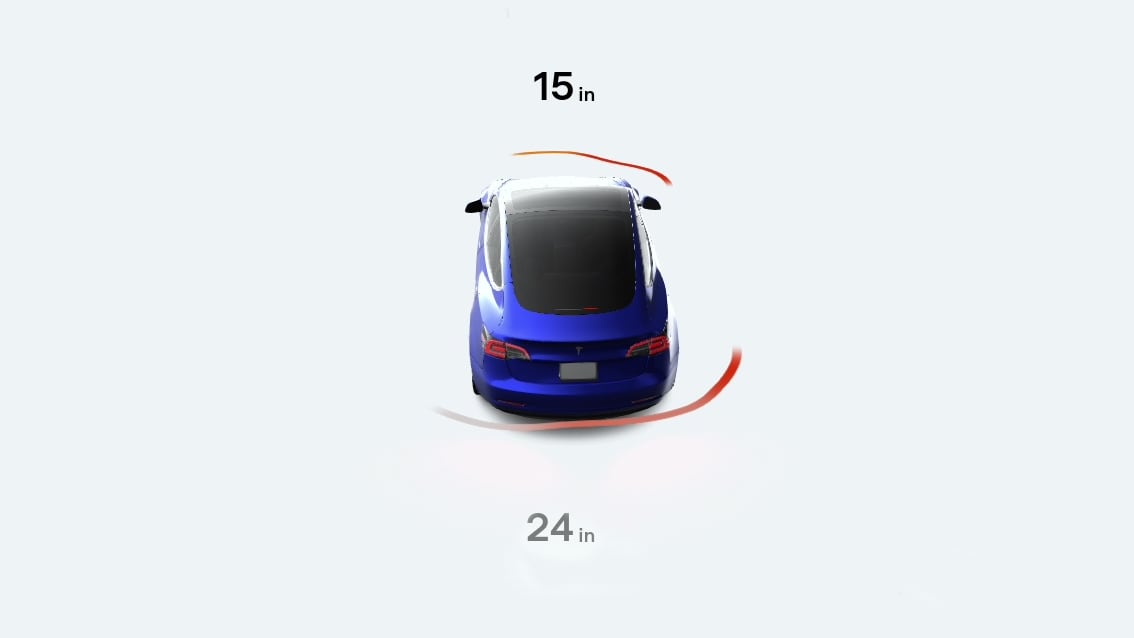 Shiny new Model 3s started appearing last month, missing the small, round polka dots on their bumpers. The circles were gone after the company announced it was removing the ultrasonic sensors (USS) to move to strictly Vision. However, after a few weeks in the wild, evidence suggests the company will mimic what USS used to perform and display.
Twitter user @EZebroni tweeted a helpful video demonstrating the difference between a Tesla with and without USS. It's noticeably different then what Tesla drivers are used to seeing. The distance lines are gone, and even the images of what is beside the non-USS Tesla are not there, just a lot of white screen.
As seen in the video, a vehicle without USS will not display any information to the driver regarding nearby objects. The distance to nearby objects is not displayed on the screen nor are the colored arcs that usually display when an object is nearby.
However, update 2022.40.4 appears to reintroduce some functionality to owners of these vehicles, at least in shadow mode.
Twitter user @greentheonly, a well-known Tesla hacker, tweeted: 2022.40.4 merges no-ultrasonics code into "mainline," now receives parking distances from Autopilot (where not equipped with proper ultrasonics).
From Green's findings, it looks like Tesla is preparing to mimic ultrasonic sensors with Tesla Vision, which essentially means that the vehicle is likely to display not only the arcs when an object is nearby, but also the distance to the given object.
Greentheonly was asked several questions after tweeting this information. Someone wanted to know if the Tesla no-ultrasonics code was working in shadow mode, a blend or pure AutoPilot. Green said that it is not a blend, but he needed to figure out what is displayed on USS-less cars, encouraging someone with a new Model 3 or Model Y to try 2022.40.4.
Although the code is available in 2022.40.4, it's not clear yet whether Tesla is running this code in shadow mode, meaning that the code is run in the background without notifying the user, or if distances are now being shown on vehicles without USS.
Blind spot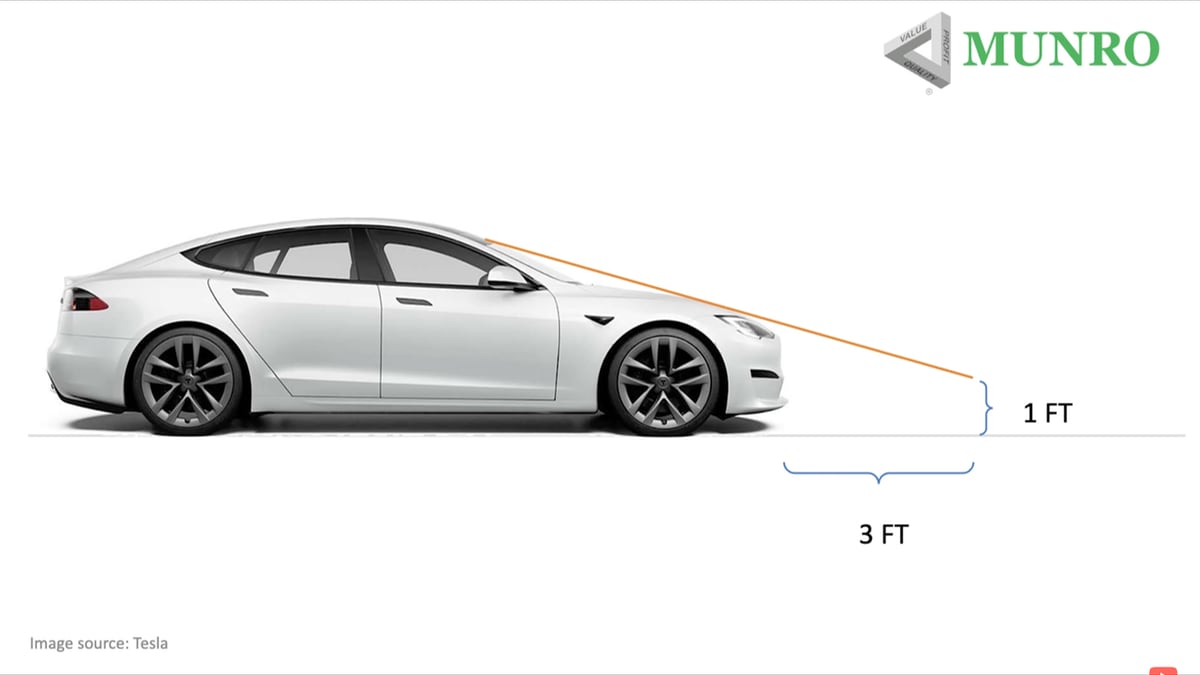 One of the biggest questions that remains is how Tesla will solve the roughly 3 foot blind spot in front of the vehicle where cameras can't see.
Some speculate that Tesla will fill in this gap by taking the information the cameras saw before the vehicle got closer to the object, but this may not work in all circumstanes.
Others think that Tesla may be able to have the car back up in the rare situations where objects in front of the vehicle may have changed, such as when summong a parked vehicle. As these USS-less vehicles make it into more hands and update to 2022.40.4 we should have answers to some of these questions, however Autopark, Summon and Smart Summon remain unavailable on these vehicles, even with the latest update.
Will Tesla stop utilizing ultrasonic sensors like they did radar?
Another Twitter user asked if this would make the USS on the existing vehicles "ornaments?" This has been a widespread concern since the non-USS cars started showing up. Tesla addressed this matter when it announced it was removing USS. It states on the company website: At this time, we do not plan to remove the functionality of ultrasonic sensors in our existing fleet.
At this time USS have only been removed from the Model 3 and Model Y, but they will also be removed from the Model S and Model X in 2023. Green also believes the existing USS will remain operational, tweeting: not any time soon, I imagine. Also, the front ones still cover an area where the cameras don't see.
Another user questioned, does it only take information from the moving/static object networks, or is it able to use the occupancy, and road edge networks as well? To which Green responded that he had not looked into that kind of detail yet.
The new world of non-USS is upon us, and there will be many questions. This revelation is likely the first of a long line of updates to assist Vision in making up what was lost with ultrasonic sensors.