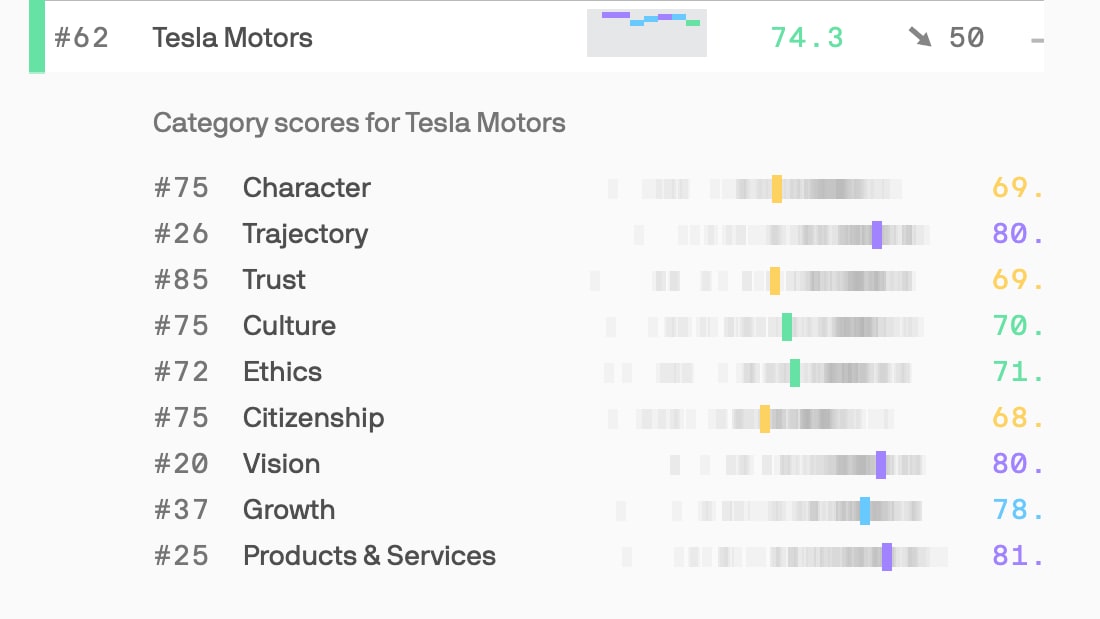 Tesla took a significant dip in this year's Axios Harris Poll 100 reputation rankings, dropping from number 12 to number 62, which places the company in the "Good" category. This significant dip comes amidst a shifting landscape for the EV industry, Elon Musk's Twitter takeover, and concerns over the CEO's focus. Before we go too far, it's important to note that the information for this study was compiled from March 13 to 28.
The Axios Harris Poll is a respected annual survey that measures the reputations of America's most visible brands. This year, the survey compiled the opinions of 16,310 Americans. Respondents were asked to rate the companies that, in their opinion, stand out for having the best and worst reputations today.
Despite the drop, Tesla did achieve "Excellent" scores in the trajectory, vision, and products and services categories, signifying a strong appreciation for the company's innovations and future-focused mindset. However, it received "Fair" marks in trust, character, and citizenship.
Musk's Twitter Takeover and the Impact on Tesla
This decline coincides with Tesla CEO Elon Musk's takeover of Twitter. According to Axios' Sara Fischer, the shift in reputation could be attributed to several factors related to Musk's decision. First, the stock dump necessary for the Twitter acquisition raised eyebrows. Second, shareholders have accused Musk of neglecting Tesla, calling for him to appoint a new CEO for Twitter to refocus his attention on the EV manufacturer.
Again, important to note that the situation has already changed. Musk has appointed Linda Yaccarino as Twitter's new CEO. Musk also rebuffed rumors that he would leave Tesla, stating that the new Twitter CEO will allow him to spend more time at Tesla.
Tesla's Continued Strength in Innovation Amidst Challenges
Furthermore, Tesla's status as the unrivaled trailblazer in the EV field is being increasingly challenged. Major traditional automakers, like Ford, Honda, and Toyota, have begun to invest heavily in electric vehicles, chipping away at Tesla's "shiny new object" status. As a result, these automakers have surpassed Tesla in this year's reputation rankings, with Ford at number 32, Honda at 13, and Toyota landing a coveted spot at number 6.
But as Axios and the 16,000 respondents fail to realize, Tesla is more than the king of EVs. Solar continues to grow in popularity, and Tesla is a major player in that space, and let's not forget Optimus. The company has fundamentally shifted the paradigm of what's possible in personal transportation. Tesla's innovative spirit remains its core strength, evidenced by its high scores in trajectory and vision.
Tesla's reputation has seen a hiccup in this year's Axios Harris Poll. While the Twitter takeover and concerns over Musk's dual CEO role have contributed to this decline, the competition from traditional automakers embracing EV technology should not be overlooked. As the industry evolves, Tesla must strategize to maintain its influential role and polish its public image to climb back up in future reputation rankings.