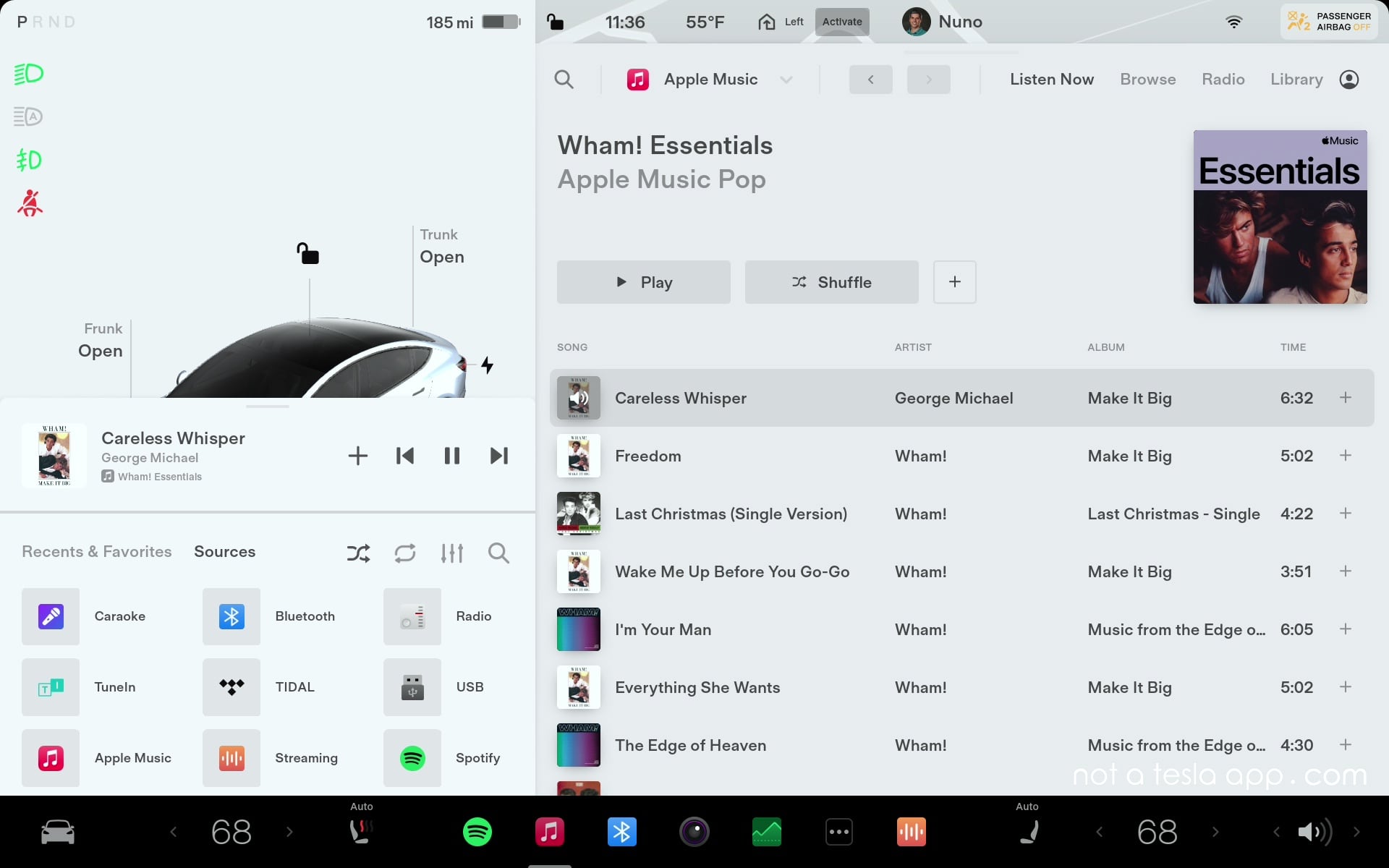 Tesla has now reportedly rebuilt parts of their in-car audio player using HTML, Javascript and CSS, but what exactly does that mean? Could this change mean more music streaming services coming down the pipeline? If so, we may see Amazon Music, Pandora, and other audio streaming services added to Tesla's vehicles in an upcoming software update.
Tesla launched Apple Music integration in their vehicles with the 2022 holiday update and according to Tesla hacker Greentheonly, parts of the music player have been rebuilt using web technologies.
Apple Music appears to be the only music service utilizing the new player at this moment, but it appears that Tesla is transitioning Spotify to their web-based player as well. The HTML-based audio player interface is almost identical to the native audio player in terms of design and behavior except for some small design changes.
While Apple Music is the only audio service leveraging Chromium for its interface, we believe Tesla will move all their music services to leverage this new player.
Why Use a HTML Player?
So the question is why move to an HTML-based player when Tesla already has a working audio player and there are downsides to web-based apps, such as reduced performance?
The answer is development time and ease of updating. While web apps aren't a good choice for intensive tasks, a simple audio player could be.
Developing web software is usually much quicker and easier when compared to developing in a native language such as C or C++. The user interface is quicker to build and changes can also be implemented faster.
Since most streaming services like YouTube Music, Amazon Music, Pandora, SiriusXM and many others already offer web-based players, adapting these to work in Tesla's web player is a much easier process than porting the music service to work in another language. The APIs, streaming protocols and all the details needed are already available in these web apps and Tesla just needs to adapt the application to work with their user interface.
Web applications also have the advantage of downloading new data when a user connects, so it's much easier to roll out new features, updates and bug fixes. A web-based solution doesn't require the end user to download a software update either, so Tesla can fix any issues on the fly.
Video Streaming
When Tesla rolled out their video streaming services in Tesla Theater, they took the web route and loaded the streaming service's website in a Chromeless browser, creating almost zero development for the Tesla team. They leveraged what each streaming service already provides on the web and made it available in the car.
For audio, it's a similar concept, except Tesla wants to provide a consistent user interface regardless if you're listening to TuneIn, SiriusXM or Spotify. To do this Tesla still needs an additional layer that connects the audio controls to their UI, but the effort required is greatly reduced.
This change to leveraging the vehicle's browser to render more parts of the Tesla interface could be the reason why we've seen so many performance improvements to Tesla's Chromium-based browser.
New Music Services
With this upgrade and transition already taking place, I'd be surprised if we didn't start to see the addition of many music streaming services integrated with Tesla's vehicles in the near future.
This could mean that we may see additional music services such as YouTube Music, Pandora, Amazon Music, and even a streaming version of SiriusXM in the near future.