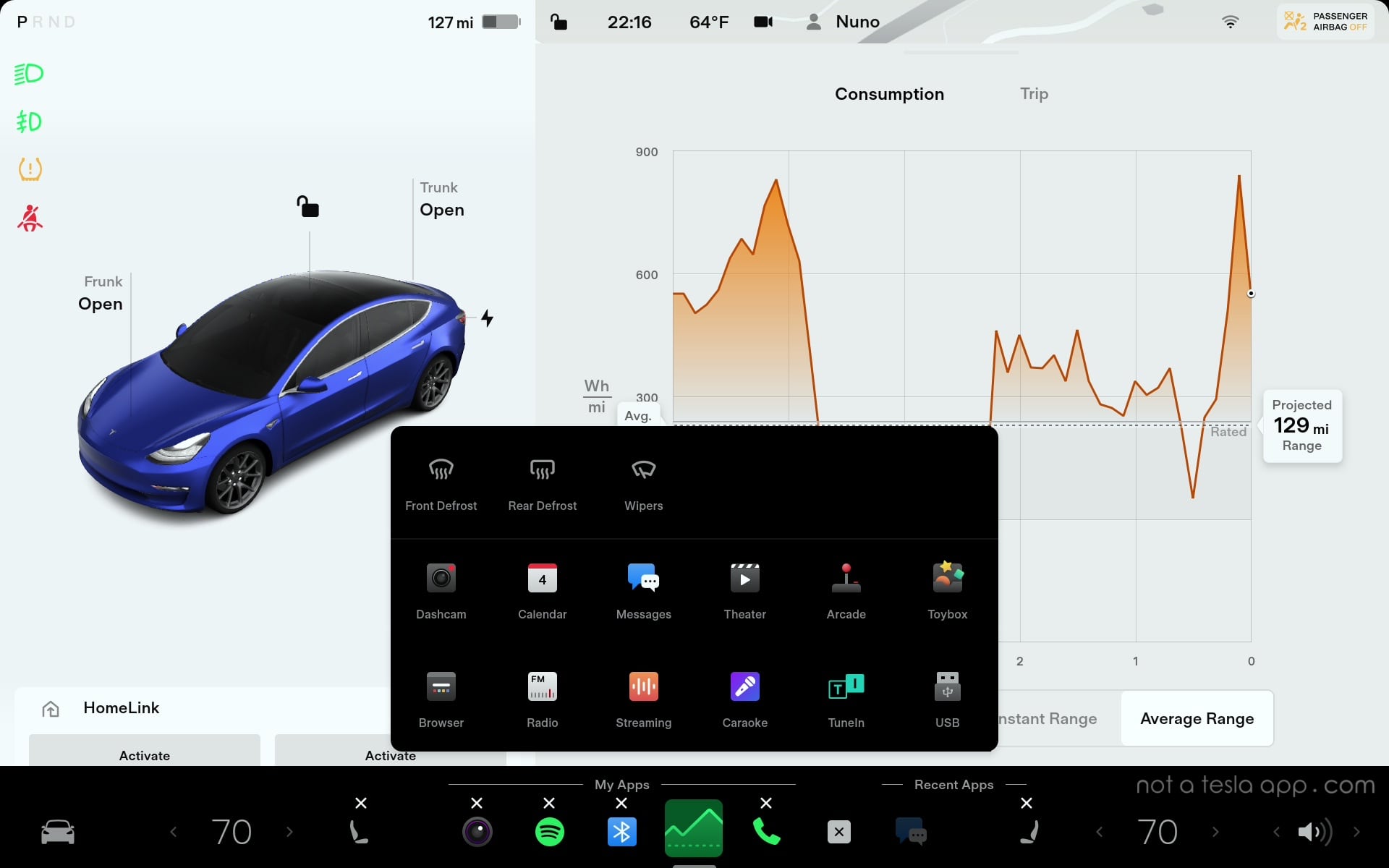 While Teslas are filled with a plethora of industry-leading features, new owners are often surprised by the incredible quality of the Tesla audio system and its audio features.
In fact, it is believed that Tesla's sound systems are on-par with premium Bang and Olufsen systems ($12,000 optional sound system in vehicles like the Audi A8). Elon Musk even admitted in a tweet that they used former Bang and Olufsen engineers to design the audio systems found in the Model 3 and Model Y.
Tesla continues to refine the audio experience for Tesla owners, as indicated by the release of the new subwoofer equalizer settings as of update 2021.44.25.
With this incredible audio experience standard across all models, it should come as no surprise that music streaming is a priority for Tesla.
Premium Connectivity
Part of the selling points of Tesla's Premium Connectivity is the seamless music streaming abilities offered by Tesla.
With a Premium Connectivity plan, drivers can easily stream audio without the use of cellphone pairing solutions or Bluetooth streaming.
Bluetooth Audio
If a Tesla driver chooses not to purchase the Tesla Premium Connectivity Plan, they can stream audio via Bluetooth from their cellphone.
Audiophiles would point out that the act of streaming via Bluetooth degrades the quality of the music to compress the data stream for wireless transmission. A physical connection with a USB cable connected to a cellphone is not currently supported by Tesla.
Hotspot
In addition, drivers can use their cellphone as a hotspot, allowing the vehicle to stream audio such as Spotify using their device's data connection.
When using your device as a hotspot, you'll have access to almost all of Tesla's features included in Premium Connectivity. These include audio and video streaming services like Spotify and Netflix (accounts with these services are still required), Caraoke and more.
The only options it doesn't include are live traffic visualizations and satellite-view maps.
Available Tesla Music Streaming Services
Like many modern vehicle manufacturers, Tesla has focused on developing an infotainment ecosystem that relies on streaming services to deliver music and podcast streams to the driver via Wi-Fi and cellular connections.
Many of these services are premium services not routinely found in standard car software. Currently, Tesla offers a direct stream from Apple Music, Spotify, Slacker, TIDAL, and TuneIn. This is in addition to FM radio and SiriusXM for the Model S and Model X.
Tesla Streaming (Slacker Radio)
While branded as a Tesla streaming service, Tesla has partnered with Slacker Radio to provide a free Slacker Plus account (ad-free) to Tesla Premium Connectivity customers. In the US, this music service shows up in the vehicle simply as "Streaming."
This account mirrors the features of a Slacker Premium account, enabling drivers to search for songs using voice commands, create and stream playlists, and enjoy curated streaming stations for their enjoyment.
Spotify
Arguably the most well-known of the streaming options, Spotify has built a reputation for exclusive high-quality podcasts and playlist management that makes them one of the most popular streaming services in the world (current market share of 31% of the global streaming market). While not known for its audio playback quality, Spotify's streaming service offers an industry-leading catalog of material that is popular with Tesla drivers.
Although Spotify offers the ability to stream songs with a higher bit rate (HQ), it is currently not available in Teslas.
Apple Music
Apple Music is the second most popular music streaming service in the U.S. It was notably absent from Tesla's software until recently. However, with the 2022 holiday update, Tesla finally added support for the popular music service.
Apple Music is offered on all Teslas, spanning all the way back to 2012 with the first Model S. It's also included in the Model 3, Model Y and Model X, however, availability does vary by country. It's available in most countries around the globe, but there are a few exceptions.
Although Tesla offers access to Apple Music in their vehicles, not all Apple Music features are available. Notably missing is support for Dolby Atmos and Apple Music Sing. You will be able to stream any song on Apple Music and access your own playlists as well as Apple's featured music and playlists. Apple Music, like every any other Tesla music service, is integrated into Tesla's voice commands, letting you play any song through the use of your voice.
TIDAL
Tidal's ad-free music streaming service is billed as a premium lossless music stream (indicating a higher quality audio experience when compared to other Tesla streaming partners).
Tesla users with a TIDAL HiFi subscription can stream audio files at 1411 Kbps using a lossless codec that doesn't sacrifice quality for streaming bandwidth speeds.
However, users have noted that streaming these lossless files over an LTE connection can cause frequent buffering issues due to the large file sizes.
TIDAL does offer the ability to download songs via Wi-Fi to prevent buffering issues.
TuneIn
A lesser-known subscription-based streaming product, TuneIn offers Tesla drivers ad-free streaming of music, news networks (CNBC, CNN, FOX News Radio, and MSNBC), and live play-by-play sports with no blackouts from the NFL, MLB, NBA, and NHL.
There is a free tier for TuneIn users interested in listening to their curated playlists and sports radio products.
You can simply navigate to TuneIn and start listening; no need to create an account.
SiriusXM
Popular for its large selection of curated music stations, talk radio catalog, and sports streaming, SiriusXM is a leading subscription and semi-ad-supported streaming solution for the U.S. and Canadian markets.
SiriusXM is only available in the Model S and Model X using a satellite receiver which is not available in the Model 3 or Model Y.
While there have been rumors of an internet-based SiriusXM streaming solution for other models, that solution has yet to appear in the Model 3 and Model Y.
Caraoke
Tesla Caraoke is Tesla's version of the popular karaoke format. The free service (requires Premium Connectivity or Wi-Fi) allows drivers to play and sing popular karaoke songs directly from their car's infotainment system.
USB Drive (Downloaded MP3s)
For owners who prefer to play their own downloaded music collection, Tesla also allows you to plug in a USB drive and play MP3s directly from your device.
This feature can be useful if you don't subscribe to Tesla's Premium Connectivity or sometimes drive in areas with poor reception.
Your USB drive will need to be formatted using exFAT for this to work. Once the drive is plugged in you'll be able to access your music via a new USB icon available in the launcher.
Tesla will then let you view your music by artist, album, song title, or even search for your favorite songs.
Hide Music Apps / Sources
If there are certain music sources that you don't use, you can prevent them from showing up in the vehicle's Apps menu in the launcher. Simply open your music player, select the right-hand most button for options, choose Sources and then unselect any sources you'd like to hide.
You can navigate back to this menu to re-enable sources at any time.
Missing Streaming Services
Amazon Music, the third most popular music streaming service in the U.S. remains absent from Tesla's streaming options. Pandora is also not yet available from Tesla's infotainment system.
While a YouTube video app is available in the Theater section of the Tesla infotainment system (while parked), YouTube's music streaming service, YouTube Music, is currently not supported.
It should be noted that workarounds exist for playing content from excluded streaming services like Pandora, Apple Music, Amazon Music, Youtube Music, etc. through the use of Bluetooth streaming.
FM & AM Radio
Tesla's also offer traditional FM radio. The Tesla interface will automatically show you all the available stations around you so that you quickly start listening to a station without having to use a dial.
Although older Model S and Model X vehicles had the ability to listen to AM radio, that capability is no longer available in newer cars. However, TuneIn has many stations available for streaming, so your favorite AM station may also be available to stream for free on TuneIn.
Apple AirPlay & CarPlay Rumors
Recently, Elon Musk indicated in a tweet that Tesla was considering the addition of AirPlay connectivity. While short of an Apple CarPlay integration, Apple Airplay would allow for improved audio streaming from iPhones when compared to current Bluetooth solutions.