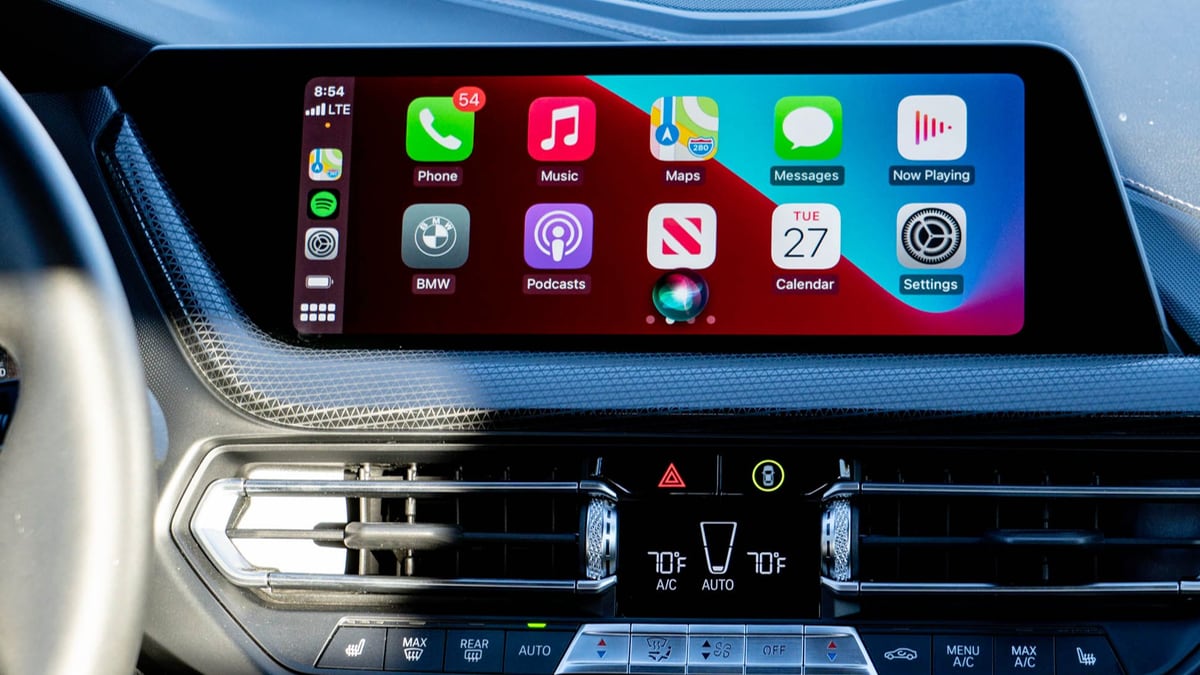 For everything that Teslas offer, these incredible vehicles are missing something available in nearly every other new automobile — Apple's CarPlay and Android Auto.
Apple and Google released their vehicle user interfaces back in 2014. Yet, eight years and countless requests later, Tesla still doesn't support CarPlay or Android Auto.
While Tesla's CEO, Elon Musk has never given an official explanation, there's plenty of speculation about why the dominant electric vehicle manufacturer does not support these features.
Why Tesla doesn't support CarPlay and Android Auto
First and foremost, Tesla develops its own software that is miles ahead of traditional car manufacturers.
The huge benefit that other manufacturers gain by integrating CarPlay just isn't as crucial in a Tesla, which already offers intuitive, responsive software with many features.
Many apps on a phone that would be useful in a vehicle are already available in a Tesla, from navigation, Spotify, phone integration, text messaging, karaoke, to a web browser and more. Although Tesla doesn't have a robust app store like Apple and Google, it does offer features that cover common use cases.
However, it's understandable the craving some users may have for CarPlay or Android Auto if Tesla doesn't support their favorite streaming service, such as Amazon Music, SiriusXM or even voice assistants like Siri and Google Assistant.
Although you're able to listen to music through Apple Music, and Spotify, watch Netflix and YouTube on the car's large display through Tesla's software, there will always be more options and features on a phone, regardless of how many features Tesla includes.
Seamless Experience
One reason for not integrating CarPlay or Android Auto into Teslas is that these systems would break up the Tesla experience.
CarPlay and Android Auto currently operate in their own, separate experiences. This requires you to first pull up CarPlay and then perform your desired task, such as setting your destination or switching music.
In traditional vehicles, this isn't much of an issue since CarPlay or Android Auto (AA) usually take over the middle infotainment display. This allows CarPlay or AA to remain on screen, which means that you can just tap the app you want.
However, in a Tesla, software features are very tightly integrated, and the addition of CarPlay/AA would break up the seamless experience Tesla currently offers.
For example, in a Model Y music and navigation are usually both displayed on the vehicle's screen at the same time, something that is not currently possible with CarPlay.
In addition, if the driver maximizes the music player or launches a different app in a Tesla, then Tesla displays navigation information on the left side of the screen, keeping the driver aware of the next turn.
If the driver receives a text message while driving, the driver can see and hear the message being received, regardless of which app is on screen.
However, since all of CarPlay's features only work in a CarPlay window, this kind of flexibility and integration isn't possible.
Duplicate Experience
Incorporating CarPlay or Android Auto duplicates a lot of features Tesla already has and removes the ability for Tesla to deep link apps and features.
For example, in a Tesla you could have the maps, phone, calendar, Spotify and other apps in the vehicle's launcher, giving you one-tap access to the app
For example, imagine if you had Google Maps open and you wanted to view your backup camera then open Spotify. In a Tesla, you'd tap the camera in the launcher, then tap Spotify. Two taps.
However, if you wanted to perform the same actions with CarPlay, this would take significantly longer. You'd first tap the camera icon in Tesla's launcher, then tap to go back to CarPlay, but you'd still have to go 'Home' on the CarPlay interface, then find Spotify. That's four taps, assuming Spotify was on the first page of CarPlay's home screen.
Since CarPlay acts as a secondary experience this will often increase the number of taps to get to certain information.
CarPlay also duplicates many features in a vehicle which results in some confusion since there are multiple apps for the same thing, such as navigation and music.
This issue is only exacerbated in a Tesla since Tesla offers so many of the same features as CarPlay such as maps, messages, phone, calendar, podcasts, etc.
New CarPlay Experience

Apple revealed a significantly improved CarPlay experience at the 2022 Worldwide Developers Conference. Emily Schubert, Apple's Senior Manager of Car Experience Engineering, said the company has "been working with automakers to reinvent the in-car experience across all the drivers' screens." The redesigned CarPlay appears much more customizable, and it's said to seamlessly integrate into vehicles instead of having a CarPlay window or taking over the entire screen.
This may be an experience that would suit Teslas much more than Apple's current offering, however, there's something else that is likely preventing Tesla from incorporating Apple's or Google's auto interface.
The Future of the Vehicle
Vehicles have traditionally been about getting you to your destination, however, that's now shifting. No one wants a car that just gets them to their desired location, they want to get there as safely as possible and be entertained on the way.
As this shift continues and we approach an autonomous future, vehicles will be much more about software and their entertainment offerings.
The next generation of car makers will not be decided by how they drive, but by how autonomous they are and what software features they offer.
Future Competition
While many pit Tesla against Volkswagen, Toyota and others, these are merely short-term obstacles for Tesla.
Tesla's true competitors have yet to emerge, but they'll be in the form of powerful tech companies such as Apple and Google. Companies that not only have strong design and AI foundations but also have access to a large user base and a dominant platform.
When a manufacturer incorporates CarPlay or Android Auto, they're giving up a great deal of control to Apple or Google.
They're not only giving up control though, they're giving up the opportunity to build a vehicle platform and a loyal user base.
If Tesla added CarPlay and Android Auto to their vehicles, they'd be helping their upcoming competitors by giving them control of a market they already know will decide the next big players - the inside of the automobile.
AirPlay
But there is another solution that may keep Apple users and Tesla happy — the use of AirPlay. This capability enables pairing a phone to an audio device to stream music or podcasts. AirPlay is not available in cars yet, but it would not be much of a leap to include the option with Tesla already equipped with Wi-Fi capabilities. Elon Musk recently left the door open for that development.
In May 2022, Musk responded to a tweet. @JacobB1290H wrote: "The speaker system in Teslas are so good, but we are limited by the quality of Bluetooth. Could we have AirPlay added? It adds the ability for lossless streaming. The hardware necessary is already there."
Musk responded: "Will discuss this and other improvements with Tesla audio engineering. The new Model S and X sound system is incredible." His tweet generated 11.6k likes and 440 retweets.
Will Tesla Need to Give In?
At least one developer has created a workaround to add CarPlay to Teslas. Michal Gapinski developed a solution that allows you to take a Raspberry Pi and connect it to your vehicle to incorporate CarPlay into the vehicle's browser.
While the solution is great, it does require some tech knowledge to get working. While this gives some users what they want, it puts even more pressure on Tesla to develop a native solution.
During the 2022 Apple event, the company stated that CarPlay is a must-have feature for people who are car shopping. According to Apple, 79 percent of buyers in the United States would only consider a vehicle that is CarPlay-capable. The company also says that CarPlay is already available in 98 percent of cars in the U.S.
These numbers put Tesla and other EV manufacturers such as Rivian in a difficult position. They understand the future of the EV, but at the same time, their users are demanding access to CarPlay and Android Auto.