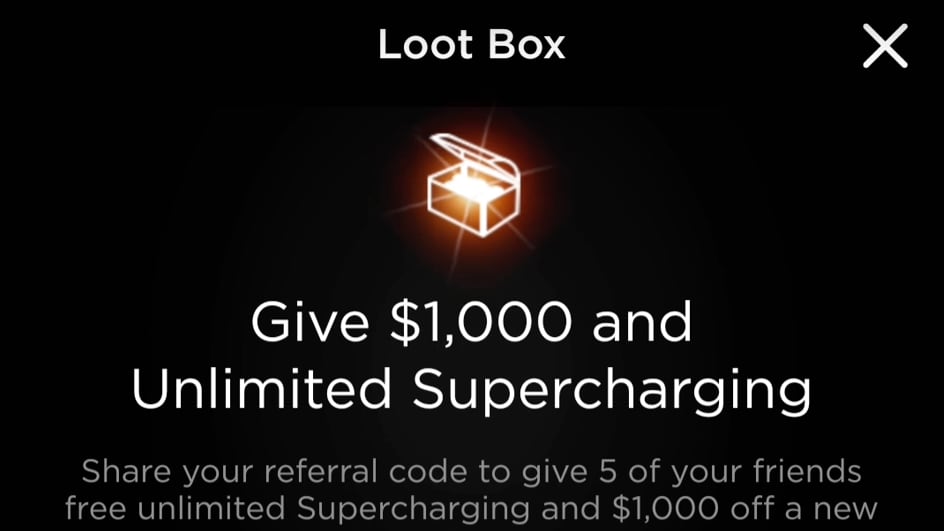 Tesla pushed version 4.14.1 of its mobile app yesterday. The update was only expected to be bug fixes, but a deeper dive into the code revealed that the referral program is getting some welcomed attention.
The Tesla App Updates (iOS) Twitter account dug into the code and found that Tesla is giving its referral program some much-needed upgrades. According to Tesla App Updates, the upcoming referral program updates may allow users to redeem referral points/credit for merchandise, accessories, or Supercharger miles.
"Okay one string that may provide some insight," writes Tesla App Updates (iOS) on Twitter. "'referral_share_sheet_refer_text': 'Use my referral link to purchase a Tesla product and get free credits you can redeem for awards like Supercharging miles, merchandise and accessories.'"
This would be a welcomed improvement to Tesla's referral program. Last year, Tesla removed the 1,000 free Supercharging miles referral rewards. In its current form, referrers and purchasers will receive $300 for Solar Roof and Solar Panels upon activation. When the program was offering free Supercharging miles, both the referrer and purchaser would receive 1,000 miles for free.
Tesla's mobile app code suggests that referrers will be able to use their credits to purchase certain items, although there is no way to know what items will be eligible for purchase.
"From the strings it looks like you will be able to visit a digital shop and use your referral credits to get certain items," writes Tesla App Updates (iOS). "We are going to examine the actual code later to see if there is a way to pull these items being offered, but no promises."
Tesla removed free Supercharging from the program last year, citing that it was getting too expensive and they wanted to focus on lowering the costs of the Model 3.
Many Tesla owners pushed their referral codes quite heavily in social media content, YouTube videos, blog posts, and more. For those Tesla influencers that rose to the top, like Andy Slye and It's Kim Java (formerly Like Tesla), received unprecedented miles of free Supercharging and other benefits, like free Founders Edition Roadsters.
Slye frequently discussed the inconsistencies in Tesla's referral program, such as not being able to share his 1 million Supercharging miles with other Tesla owners, or the program being limited to receiving rewards for certain vehicle model orders.
On December 4, 2018, Slye became the world's top Tesla referrer with more than 200 referrals.
On Dec 4, 2018 I became the world's top Tesla referrer with over 200 referrals.

Tesla ended their referral program not too long after I became the top referrer, but they brought it back in 2019 with some revised rules. https://t.co/BcB0DfXIBB

— Andy Slye (@slye) January 10, 2021
In addition to offering free Supercharging miles for each referral, Tesla had a "Secret Tier." Once achieved with 55 referrals, the referrer would receive a free Founders Edition Roadster, which costs $250,000 and is still waiting to go into production. This was limited to two Roadsters per referrer, and Tesla is no longer offering this perk.
How Andy Slye Earned Two Roadsters