By Gabe Rodriguez Morrison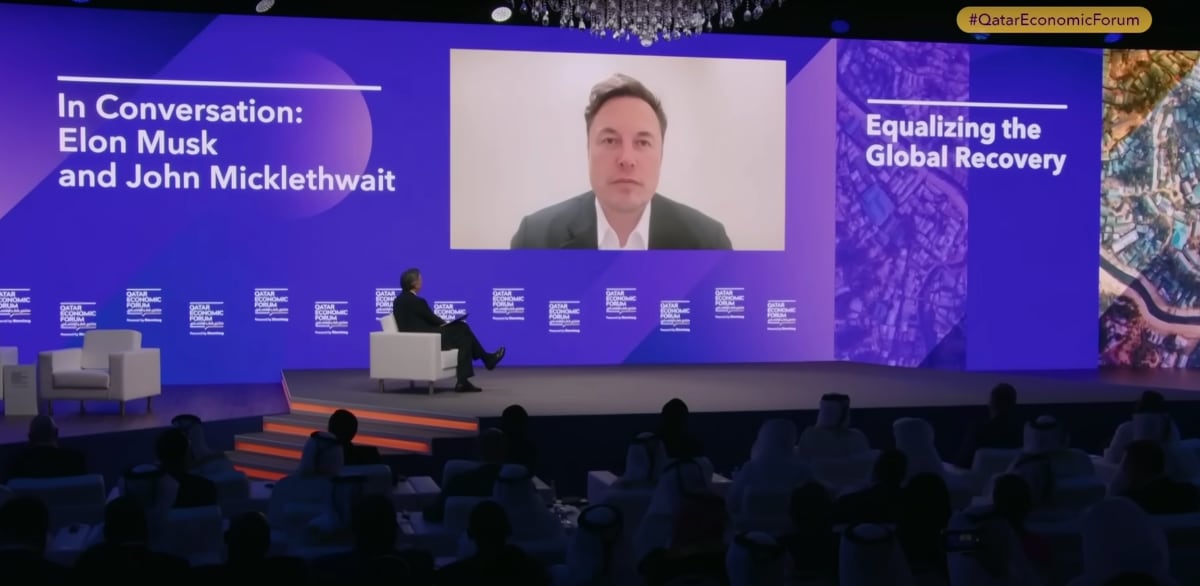 Tesla CEO Elon Musk recently attended Bloomberg's Qatar Economic Forum focused primarily on the diversification of the world economy and the development of renewable energy.
Elon Musk spoke about a variety of topics, including recession fears, Tesla Job cuts, growth and competition and the recent Twitter buyout.
Elon Musk said that a recession in the U.S. "is inevitable at some point. As to whether there is a recession in the near-term, that is more likely than not."
Musk also shared more details on the recent Tesla job cuts:
"Tesla is reducing its salaried workforce roughly 10% over the next three months or so. We expect to grow our hourly workforce. We grew very fast on the salaried side, grew a little too fast in some areas."
He added, "A year from now, I think our headcount will be higher both in salaried and hourly" workers, but for now the headcount reduction will be '3% to 3.5%.'"
When asked about Bloomberg's own forecasts of Volkswagen overtaking Tesla, Musk disagreed:
Elon On Bloomberg Intelligence Forecasting VW Taking Over Tesla. The Absolute Best From Qatar Economic Forum ???????? @elonmusk $TSLA pic.twitter.com/z4dB4h6XmT

— ???????? ???????? Umbisam Urges FSDBeta in EU ???????? ???????? (@Umbisam) June 21, 2022
Musk also spoke about Tesla's growth in relation to global supply constraints. He said that this was a bigger issue than competition from rival automakers. "Our constraints are much more in raw materials and being able to scale up production."
Later on at the same event, CEO of Qatar Investment Authority, H.E. Mansoor Bin Ebrahim Al- Mahmoud was asked about Musk's bid to take over Twitter. He replied: "We believe in Elon's leadership, and that's why we have committed on this transaction."
The vote of confidence is much appreciated

— Elon Musk (@elonmusk) June 21, 2022