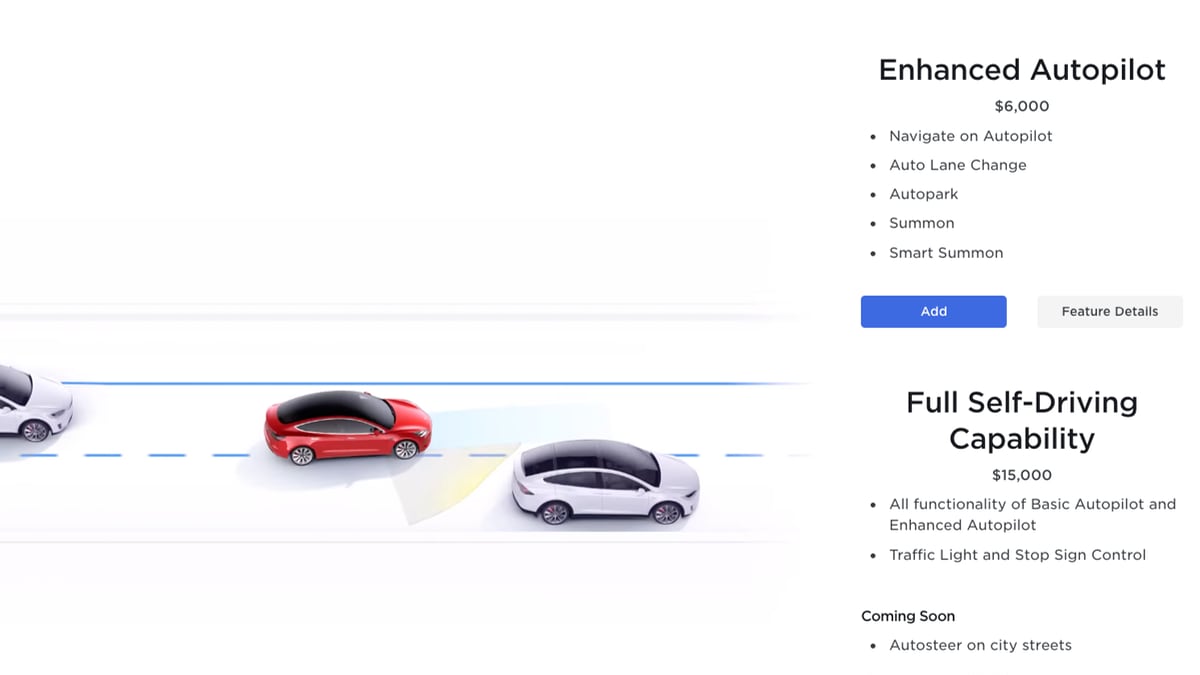 The cost of Tesla's Full Self Driving has increased 200% since it was revamped and made available to buy in 2019. Those lucky enough to buy FSD in April 2019 got it for the bargain basement price of $5,000 - it now costs $15,000 in the United States.
Elon Musk warned consumers through Twitter that FSD would be more expensive. On August 21 2022, he tweeted: After wide release of FSD Beta 10.69.2, price of FSD will rise to $15k in North America on September 5. Current price will be honored for orders made before September 5 but delivered later.
Tesla reorganized its Autopilot and FSD packages three years ago; basic Autopilot was introduced and became standard on every vehicle, while FSD was priced at $5,000. Enhanced Autopilot was removed as an option at the time, but was later reintroduced as a $6,000 option in June of 2022.
Before 2019 FSD was an add-on that required also buying Enhanced Autopilot. Enhanced Autopilot cost $5,000 and FSD was a $3,000 option on top of that if ordered with the vehicle. If you ordered FSD after taking delivery then it cost $4,000, which later went up to $5,000.
It can only be assumed that there were a lot of buyers for FSD when Tesla rearranged their offerings in 2019, as the price for FSD went up the following month and has been on the rise since.
In fact, Tesla raised the price again three months after the first release, and eighteen months later, it had doubled to $10,000. 2022 started with another jump to $12,000 in January, and now nine months later, the price has gone up again.
Historical FSD Prices
Historical FSD prices since Tesla revamped its FSD offering in 2019.
| Date | FSD Cost |
| --- | --- |
| April 2019 | $5,000 |
| May 2019 | $6,000 |
| August 2019 | $7,000 |
| July 2020 | $8,000 |
| October 2020 | $10,000 |
| January 2022 | $12,000 |
| September 2022 | $15,000 |
Tesla's CEO has made no qualms about the value of the program. At a shareholders' meeting in August, he said Tesla's engineers are producing breakthroughs in artificial intelligence. "We're solving a very important part of AI and one that can ultimately save millions of lives. And prevent 10 of millions of serious injuries by driving just an order of magnitude safer than people," said Musk. Since its inception and to this day, Musk believes that Teslas will be fully autonomous. He sees a future where your car would drive you to work, then operate as a ride share until you need to go home.
While Musk said the price would increase to $15,000 in North America, it skyrocketed to $19,500 in Canada, more than a 50% boost from what it cost in August. Although there is a monthly subscription offered in the U.S., there currently isn't one offered north of the border.