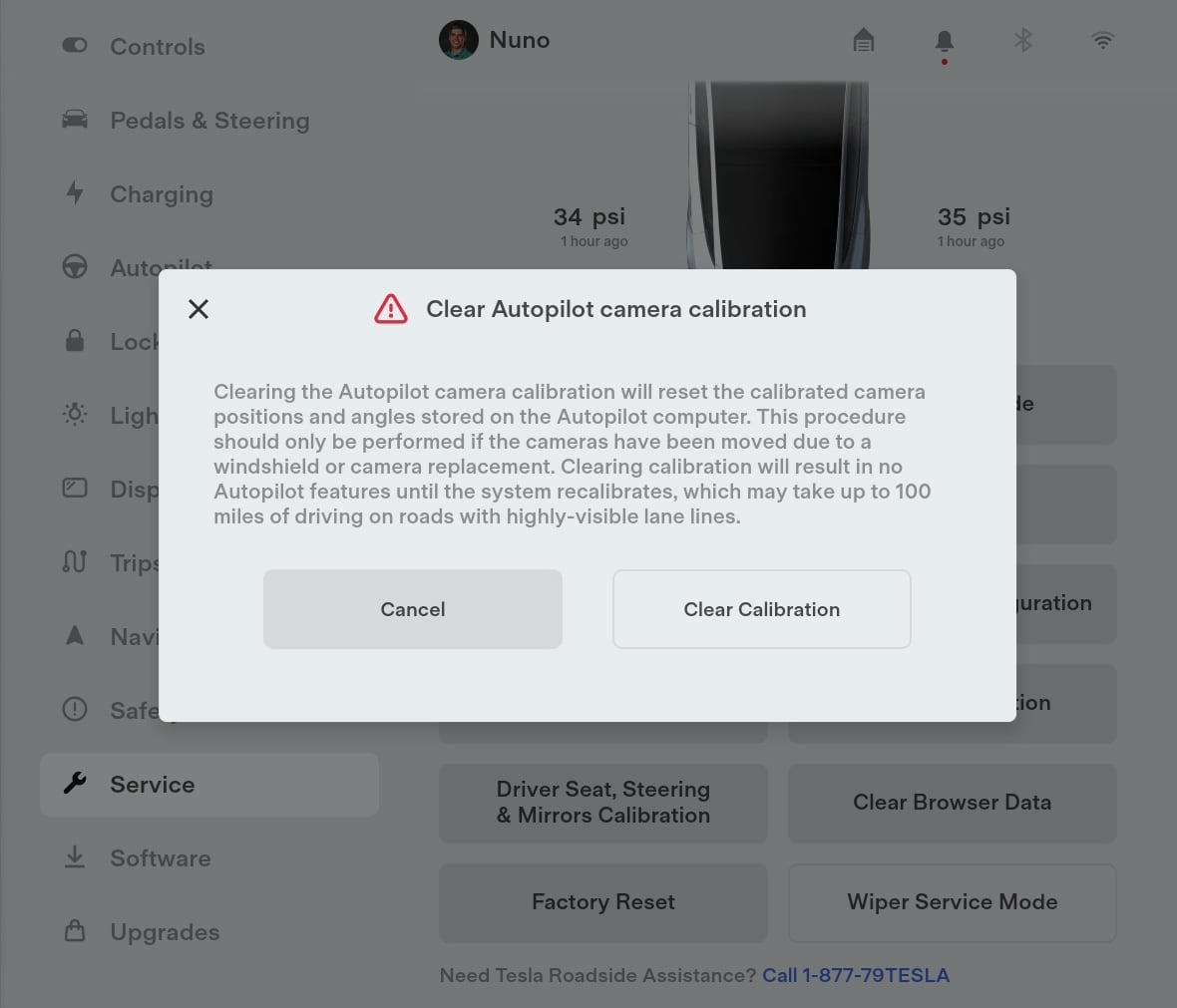 If your Tesla is not recognizing objects correctly, if it appears to be performing abnormally, or if you're receiving errors related to your cameras or Autopilot, you may want to calibrate your vehicle's cameras.
The process may take a while to complete, but it's quick and easy to begin.
How Many Cameras Does a Tesla Have?
Teslas with Autopilot 2 or higher have eight cameras around the vehicle, excluding the cabin camera. The cabin camera was initially added with the Model 3 in 2017, and Tesla later enabled its use via a software update.
The cabin camera does not directly impact Autopilot's performance while engaged. Instead, it's solely used to help monitor the driver and confirm that they're paying attention while Autopilot is engaged.
Tesla initially equipped its vehicles with ultrasonic sensors, but the Austin-based automotive company is transitioning its vehicles to leverage Tesla Vision exclusively. In 2022 Tesla begin to omit ultrasonic sensors entirely and now uses the vehicle's cameras exclusively.
How to Calibrate Your Tesla's Cameras
To calibrate your vehicle's cameras, follow the steps below. Keep in mind that although you can drive your vehicle immediately after performing these steps, some features that depend on the vehicle's cameras will not be available until after calibration is completed.
Go to "Controls" (the car icon)
Tap "Service"
Tap "Camera Calibration"
Once you've tapped "Camera Calibration," a warning message will pop up with the following text:
"Clearing the Autopilot camera calibration will reset the calibrated camera positions and angles stored on the Autopilot computer. This procedure should only be performed if the cameras have been moved due to a windshield or camera replacement. Clearing calibration will result in no Autopilot features until the system recalibrates, which may take up to 100 miles of driving on roads with highly-visible lane lines."
When you're ready, tap "Clear Calibration."
Note: If possible, drive on a long straight road with multiple lanes (like a controlled-access highway) with easily visible lane markings for quicker and more accurate calibration. According to Tesla, "Clear Calibration may not resolve all camera and sensor concerns."
How Long Does It Take to Calibrate the Cameras?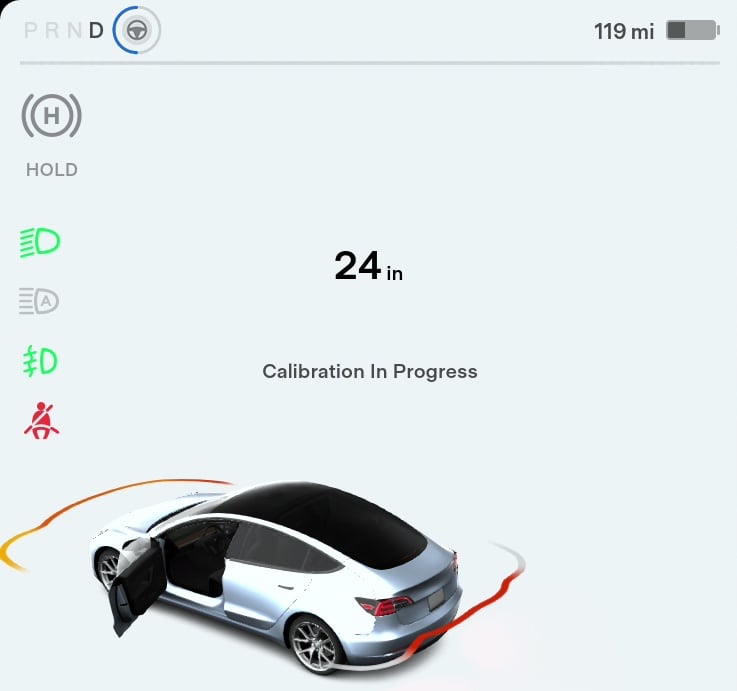 First, you will not be able to use Full Self-Driving, Enhanced Autopilot, or Basic Autopilot. These will all be disabled while the cameras are recalibrated.
The steering wheel icon that previously showed whether Autopilot was engaged will now show a blue ring. As the vehicle gathers data and the software adjusts, the ring will adjust to show the calibration progress. Although it may take up to 100 miles of driving to calibrate your cameras, it's usually much quicker. To be safe, you should plan for the calibration process to take 2-3 hours of driving to complete.
Camera Calibration Stuck at 99%
The ring may get to 99% complete and then get 'stuck.' This is normal. Be patient and allow the car to complete the process. It will resolve itself and the vehicle will notify you when calibration is complete.
If after a few drives and more than 100 miles the recalibration is still stuck, contact Tesla to set up a service appointment. They'll be able to determine whether the issue is software or hardware-related. Tesla may be able to diagnose your vehicle remotely and push an update to help fix any issues.
Why Do Cameras Need to be Calibrated?
The cameras placed strategically around the vehicle need to be aligned perfectly in order to function properly. Each video feed from the cameras is joined together to form a 360-degree view of the vehicle's environment. If there's a gap between cameras or an extension overlap, it could cause the vehicle to not see certain areas or see "double." It's like taking multiple pictures with your phone and then stitching them together. It's how astronomers edit and stitch pictures together from the James Webb Space Telescope.
The calibration process doesn't actually move the cameras, but instead, it crops and adjusts each camera's feed so that the vehicle sees a single unified image. That's why the slightest millimeter of miscalibration could cause issues.
What Does Recalibrating Tesla's Cameras Fix?
Recalibrating the cameras in your Tesla may fix a number of things, including phantom braking, inability to properly detect surrounding objects, Autopilot faults, and various error messages.
Tesla states in their Model 3 instruction manual that a few limitations may cause Autopilot's functionality to be limited. They include:
Poor visibility (due to heavy rain, snow, fog, etc.).
Bright light (due to oncoming headlights, direct sunlight, etc.).
Damage or obstructions caused by mud, ice, snow, etc.
Interference or obstruction by object(s) mounted onto the vehicle (such as a bike rack).
Obstruction caused by applying excessive paint or adhesive products (such as wraps, stickers, rubber coating, etc.) onto the vehicle.
Narrow or winding roads.
A damaged or misaligned body panel.
Use of gray or aftermarket glass.
Interference from other equipment that generates ultrasonic waves.
Extremely hot or cold temperatures.
If you've just received delivery of your Tesla, your vehicle may still be calibrating its cameras. Look for the blue ring around the Autopilot icon to see if your vehicle is still calibrating its cameras.
Hopefully, after recalibrating your cameras, the issues you were experiencing are fixed. Although recalibrating your cameras does not fix all issues, it's usually a good first step to try.
As always, if you continue to experience issues, you should schedule an appointment with Tesla service through the Tesla app.