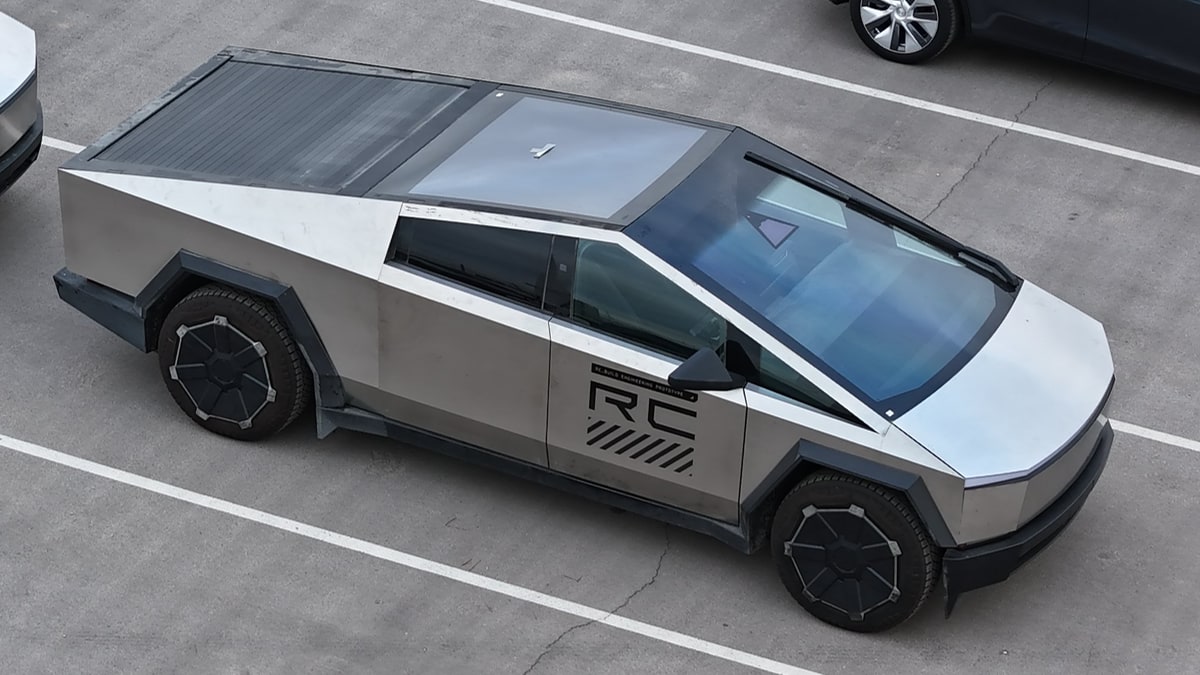 Another day, and more strategic leaks of Tesla's Cybertruck. With the delivery event scheduled for the end of the month, the leaks are nearing a deluge. The latest courtesy of an anonymous insider was brought to the public eye by the YouTube channel TFLEV.
The Cybertruck, with a total length of 18.6 feet and an overall width of 79.9 inches without mirrors, positions itself adeptly between mid and full-size pickups, undercutting the size of giants like the Ram 1500 and F-150 Lightning by several inches. The overall height at a medium suspension setting is 70.5 inches, with a wheelbase of 143 inches, indicating a truck with a lower profile and potential for increased maneuverability compared to today's larger trucks.
The Weight of Innovation: Curb Weights and Battery Implications
Despite its smaller size, the Cybertruck's curb weight of 6,670 pounds for the dual-motor and 6,890 pounds for the tri-motor variants suggests a heavy-duty build. The numbers match up to what Elon Musk recently stated on Joe Rogan. This weight, slightly less than the Rivian R1T but more than most F-150 Lightning trims, reflects its robust stainless steel body and unknown battery size. With Tesla's history of offering multiple battery configurations, the weight could vary depending on the final battery options released.
The towing capacity stands at a solid 11,000 pounds with a max tongue weight of 1,110 pounds, which is on par with the Rivian R1T and above the base F-150 Lightning trims but below the 14,000 pounds suggested by Tesla's website and the top-trim F-150s. This may indicate different capabilities across various Cybertruck models.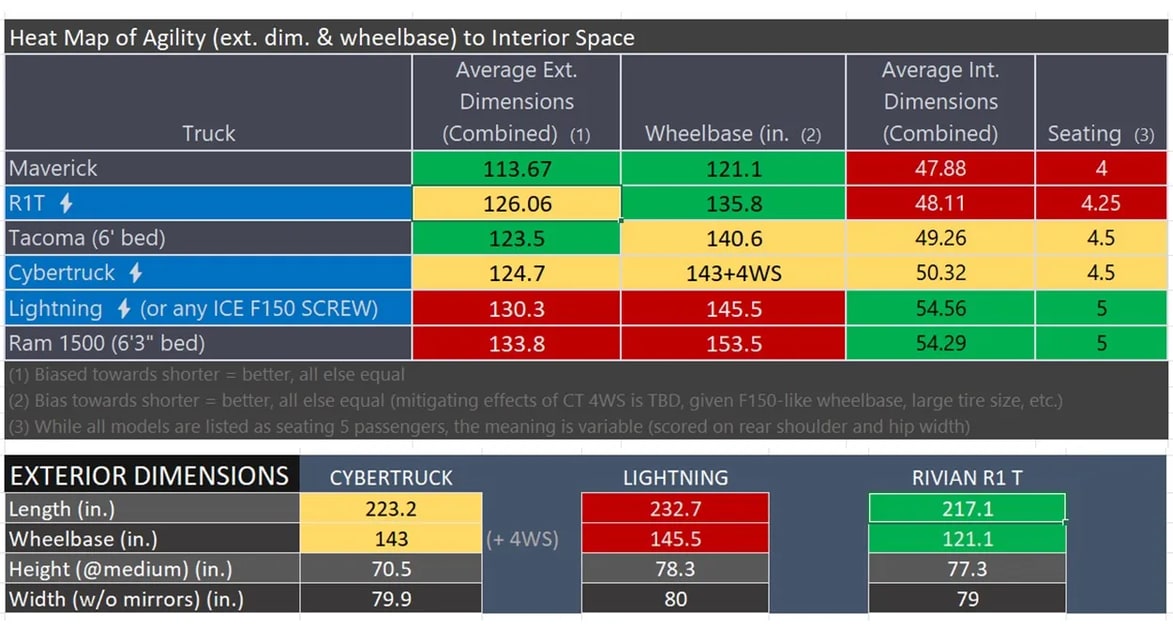 Cybertruck Specs
Overall length: 18.6 feet
Overall width (no mirrors): 79.9 inches
Overall height (medium setting): 70.5 inches
Wheelbase: 143 inches
Dual-Motor Curb Weight: 6,670 lbs
Tri-Motor Curb Weight: 6,890 lbs
Tow rating: 11,000 lbs
Max tongue weight: 1,110 lbs
Interior and Cargo Space
The bed length is over six feet at 72.8 inches, with a width of 51 inches, offering substantial cargo space despite the sloping sides that may impact the overall usability. The frunk, with a volume of 7.1 cubic feet and a weight capacity of 420 pounds, is designed for easy access to heavy or wide items, which could double as a bench, albeit with potential obstruction from the hood.
Regarding interior space, the Cybertruck offers leading headroom with 41.6 inches in the front and 39 inches in the rear and ample legroom of 41 inches front and 40.9 inches rear. The shoulder room is generous at 63 inches in the front and 62 inches in the rear, with a hip room of 57.2 inches for front and rear passengers. This positions the Cybertruck as a comfortable four-adult vehicle with spaciousness that belies its lower exterior height.
Bed and Frunk Specs
Bed length: 72.8 inches
Bed width: 51 inches
Frunk volume: 7.1 cubic feet
Weight capacity of frunk: 420 lbs
While not officially confirmed, the leaked specifications paint a detailed picture of the Cybertruck's design intentions and capabilities. The delivery event is scheduled for November 30th.