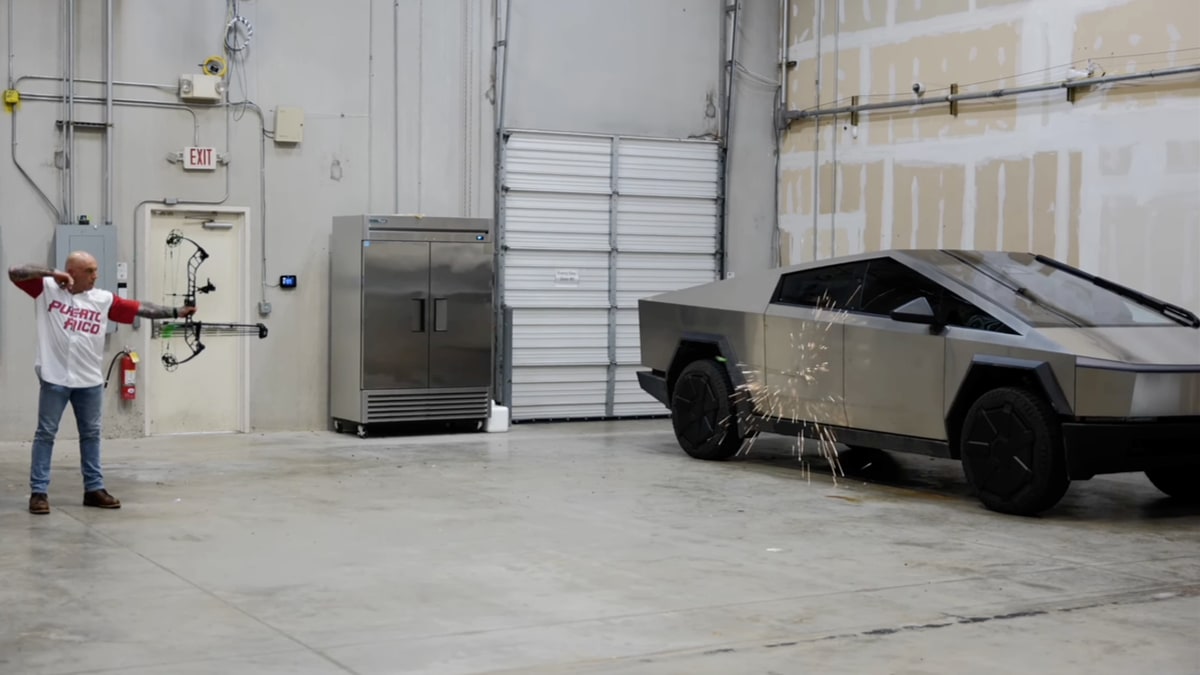 Elon Musk drove his Cybertruck to the Joe Rogan Experience podcast studio, not expecting that it would be tested yet again. The Tesla stainless steel beast demonstrated its "near-invulnerability" in the most unconventional ways to date.
The Cybertruck's Mighty Exoskeleton
Cybertruck has already survived a Tommy Gun test "Al Capone style," Musk proved that the futuristic pickup's exterior is arrow-proof. Musk's claims were put to the ultimate test when Rogan, known for his archery skills, unleashed an arrow from his 80lb compound bow directly at the Cybertruck's panel. The aftermath? A shattered arrow, a flattened broadhead, and Musk's smirk. In the words of a stunned Rogan, there was "barely a scratch." There actually appeared to be a small dent on the Cybertruck where the arrow struck the truck, but it didn't pierce the Cybertruck's exterior.
Unveiling the Beast: The Cybertruck's Details
While Musk was keen on keeping some details reserved for the official delivery event (scheduled for November 30), he couldn't help but give up a few details. Here are some highlights:
Weight: Depending on the configuration, meaning dual or triple motor, the Cybertruck's weight is estimated between 6,000 to 7,000 pounds, or a similar weight to a Ford F-250.
Acceleration: Tesla's ambition for the Cybertruck goes beyond just a rugged exterior. Musk revealed the existence of a 'beast mode' aiming for a 0-to-60 mph time of less than 3 seconds. If this holds, the Cybertruck might just outrun some of the industry's most coveted sports cars.
Production: Musk gave a production figure estimate of 200,000 Cybertrucks per year. While this is a slight dip from previous goals, it underscores Tesla's commitment.
However, Musk repeatedly, in his own words, "sounds like a broken record," talking about the manufacturing process. He wants a movie to be made so people understand just how hard it is to produce vehicles. This sentiment echoes his statements during the third quarter earnings call when Musk stated, "We dug our grave for Cybertruck."
Interestingly, other people inside Tesla knew this would happen when Musk ordered the Cybertruck to be the company's pickup truck. That's why a rogue group of engineers started building a second Tesla pickup. Odds are that truck would be on the road already, but it certainly wouldn't have the fanfare and attention the Cybertruck has created.
Where Legends Meet
This wasn't Musk's first rodeo on the JRE podcast. Previous episodes have often been a blend of unexpected revelations, candid moments, and sometimes controversies. Whether it's Musk's infamous joint-smoking moment or revelations about the Cybertruck's design adjustments, the combination of Musk and Rogan never fails to capture the audience's imagination.
Musk discussed the influence of what he termed a "mind virus," which is reminiscent of the "woke" philosophy. He linked this mindset to a decline in civilization and asserted that the old management at Twitter suppressed moderate and right-leaning viewpoints, functioning like a "state publication."
Musk also called out Meta CEO Mark Zuckerberg. The two CEOs were once slated to have an MMA match, "Zuck pulled out. He used the pull-out method. I'll fight him any place, anywhere, under any rules," said Musk.
Shooting for the trifecta, Musk also had much to say about billionaire philanthropist George Soros, the primary sponsor of the Democratic Party in the US. Musk went as far as to say that Soros 'hates humanity on a fundamental level.'
Watch Musk on the Joe Rogan Experience
You can watch the first two hours of the episode below, which deep dives into various aspects of other quintessential Musk insights.
Podcast with the great and powerful @elonmusk #ad Full episode is 2 hours and 41 minutes, first 2 hours is available here on https://t.co/AIkGSaxVMA pic.twitter.com/DQh0GGNyaO

— Joe Rogan (@joerogan) October 31, 2023