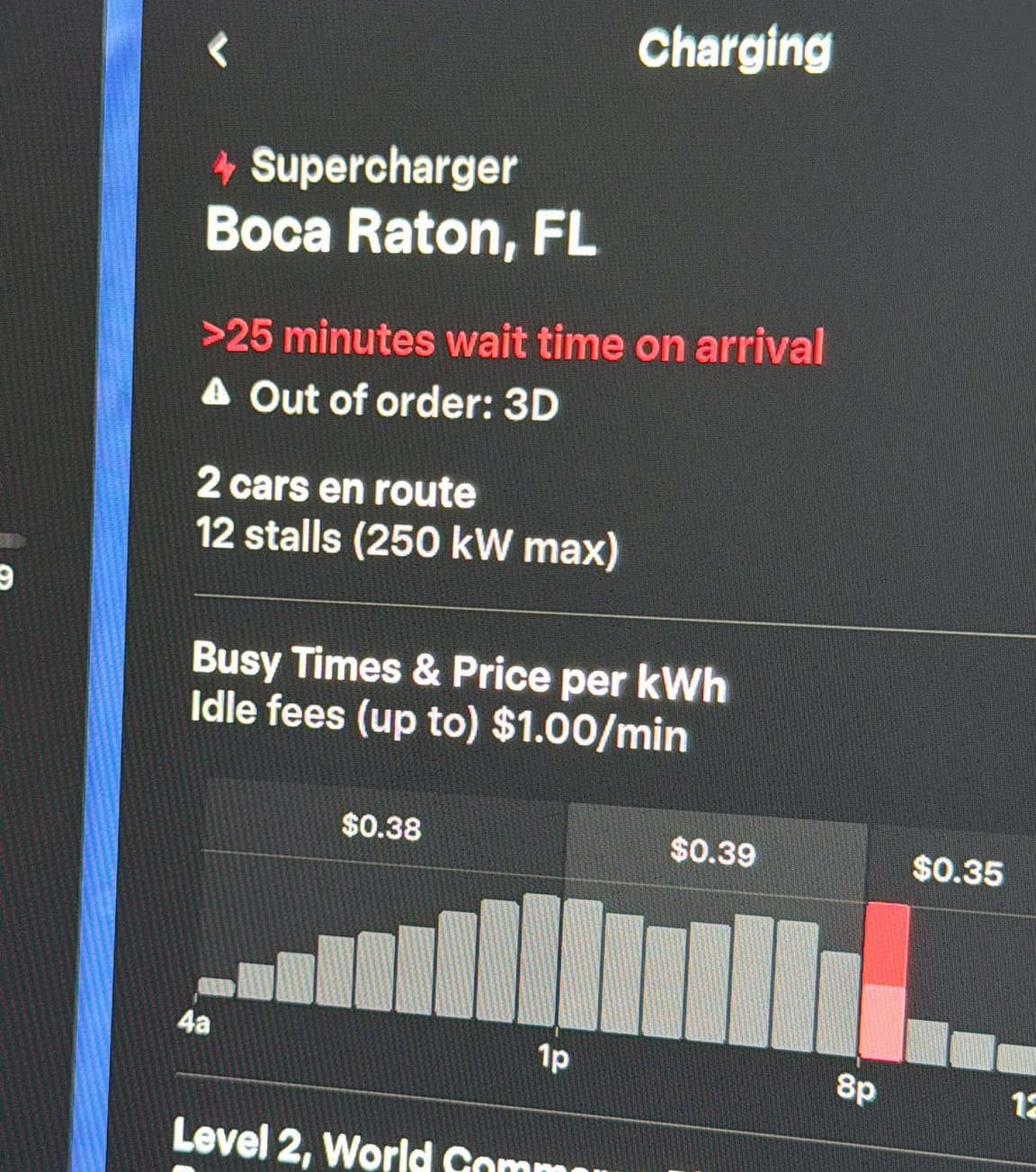 Tesla has now released update 2023.38 to roughly half of its fleet. Now that the update is in the wild, a couple additional enhancements have been spotted that are only available in certain regions.
Predictive Charger Availability
Tesla has continually improved Supercharger information in the vehicle. In the past couple years they've added the ability to view the number of chargers available at site Supercharger location, as well the number of stalls that are out of order. They also show how busy the Supercharger is at various points throughout the day.
If you thought live data was the best Tesla could do, they have a surprise in store in update 2023.38. If you're navigating to a Supercharger, Tesla will now predict how many Supercharger stalls will be available at your arrival, and display the predicted wait time, if any.
Tesla says they will factor in your travel time to the Supercharger, as well as other Tesla vehicles' travel times, to predict the charger's availability when you arrive.
Tesla continues to open up Supercharger to other electric vehicles, and while the number of non-Teslas charging at Superchargers may be a small percentage right now, that number is expected to increase as more manufacturers adopt Tesla's charging port. It'll be interesting to see how well Tesla can predict Supercharger availability when they may not be aware of all vehicles routing to each charger.
This feature is currently limited to the U.S., but is likely to expand to other regions as Tesla gathers more data and determines its accuracy.
Updated Hazard Lights Pattern
We recently talked about Tesla's upcoming update to hazard lights. It looks like Tesla will use the updated light pattern, which flashes up to about three times quicker, if the vehicle is involved in an accident.
When Tesla officially announced the feature on X, it wasn't clear which update the feature would feature the updated feature, but it has now been spotted in update 2023.38. The updated light pattern is currently only be available in select countries, including the U.S. It appears to not be available in most of Europe at this time, but that may change in a future update.
Vampire Survivors: Multiplayer Gaming
Update 2023.38 also brings other features, such as an update to Vampure Survivors. Just in time for Halloween, Tesla owners and their passengers can team up in a co-op mode, mowing down hordes of the undead. The gameplay allows up to four passengers to participate, turning your vehicle into a virtual battleground against zombies. This feature, however, has its prerequisites.
It requires MCU 3, making it exclusive to the recent Model S/X and 3/Y models. For those ready to dive into this electrifying experience, shift the Tesla into Park (P), navigate to the Tesla Arcade, and then choose Vampire Survivors. Remember, each player needs their own controller, which can now be wired or Bluetooth.
Location Sharing: Enhanced Transparency
Update 2023.38 also notifies drivers if they are being crept on, known as location sharing. A new icon now appears at the top of the touchscreen when any app — including the official Tesla app — requests live location data from your vehicle.
This icon will also show up if future third-party services have access to your vehicle's location.
Windows Adjustment
Tesla also introduces a practical modification that could prevent window or door damage during a vehicle update. We know that the window goes down just a little bit when the door opens and closes because of the distinct frameless door design. However, the windows can not adjust during software updates, increasing the chances of window damage. This update brings down the windows just a little bit to facilitate door opening and closing. Once the update concludes, the windows revert to their former position.
With every update, Tesla gets just a little bit better. We are just a few months away from the epic Christmas update. The countdown is on!